PM News, Lagos, 22 March 2012
Court orders Nigerian phone thieves caned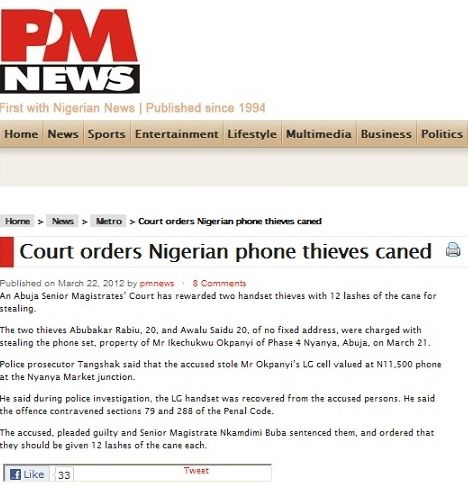 Click to enlarge
An Abuja Senior Magistrates' Court has rewarded two handset thieves with 12 lashes of the cane for stealing.
The two thieves Abubakar Rabiu, 20, and Awalu Saidu 20, of no fixed address, were charged with stealing the phone set, property of Mr Ikechukwu Okpanyi of Phase 4 Nyanya, Abuja, on March 21.
Police prosecutor Tangshak said that the accused stole Mr Okpanyi's LG cell valued at N11,500 phone at the Nyanya Market junction.
He said during police investigation, the LG handset was recovered from the accused persons. He said the offence contravened sections 79 and 288 of the Penal Code.
The accused, pleaded guilty and Senior Magistrate Nkamdimi Buba sentenced them, and ordered that they should be given 12 lashes of the cane each.
Country files: Judicial corporal punishment in Nigeria