The Korea Times, Seoul, 9 January 2012
Student rights ordinance up for re-discussion
By Yun Suh-young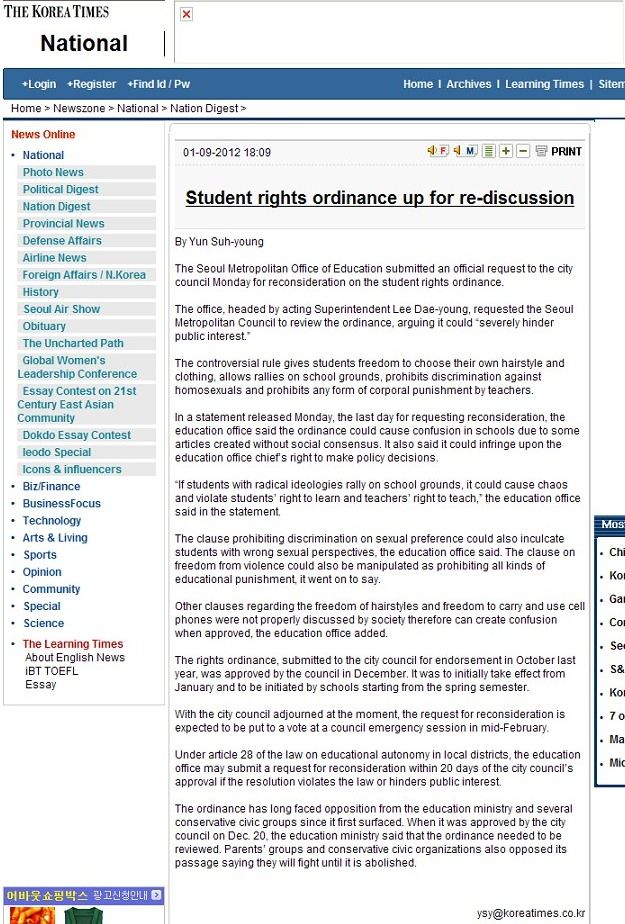 Click to enlarge
The Seoul Metropolitan Office of Education submitted an official request to the city council Monday for reconsideration on the student rights ordinance.

The office, headed by acting Superintendent Lee Dae-young, requested the Seoul Metropolitan Council to review the ordinance, arguing it could "severely hinder public interest."

The controversial rule gives students freedom to choose their own hairstyle and clothing, allows rallies on school grounds, prohibits discrimination against homosexuals and prohibits any form of corporal punishment by teachers.

In a statement released Monday, the last day for requesting reconsideration, the education office said the ordinance could cause confusion in schools due to some articles created without social consensus. It also said it could infringe upon the education office chief's right to make policy decisions.

"If students with radical ideologies rally on school grounds, it could cause chaos and violate students' right to learn and teachers' right to teach," the education office said in the statement.

The clause prohibiting discrimination on sexual preference could also inculcate students with wrong sexual perspectives, the education office said. The clause on freedom from violence could also be manipulated as prohibiting all kinds of educational punishment, it went on to say.

Other clauses regarding the freedom of hairstyles and freedom to carry and use cell phones were not properly discussed by society therefore can create confusion when approved, the education office added.

The rights ordinance, submitted to the city council for endorsement in October last year, was approved by the council in December. It was to initially take effect from January and to be initiated by schools starting from the spring semester.

With the city council adjourned at the moment, the request for reconsideration is expected to be put to a vote at a council emergency session in mid-February.

Under article 28 of the law on educational autonomy in local districts, the education office may submit a request for reconsideration within 20 days of the city council's approval if the resolution violates the law or hinders public interest.

The ordinance has long faced opposition from the education ministry and several conservative civic groups since it first surfaced. When it was approved by the city council on Dec. 20, the education ministry said that the ordinance needed to be reviewed. Parents' groups and conservative civic organizations also opposed its passage saying they will fight until it is abolished.
---
The Korea Herald, Seoul, 26 January 2012
Seoul proclaims controversial student rights ordinance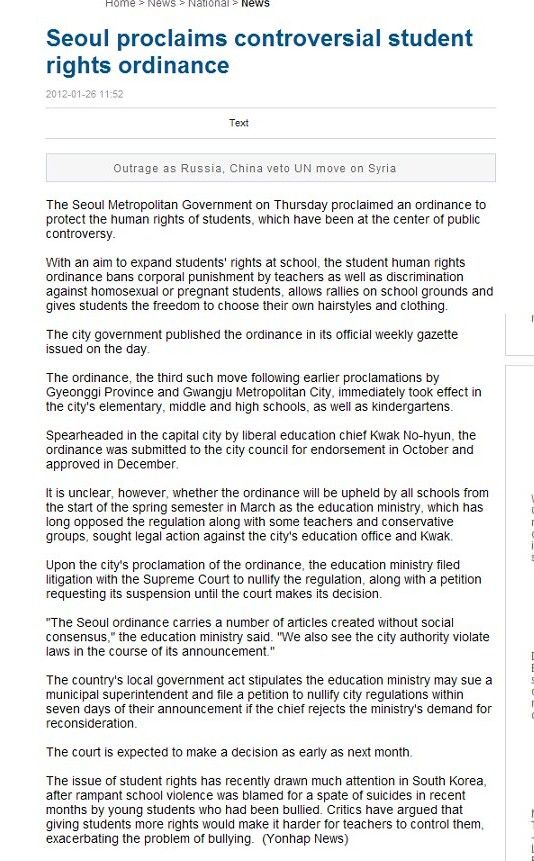 Click to enlarge
The Seoul Metropolitan Government on Thursday proclaimed an ordinance to protect the human rights of students, which have been at the center of public controversy.

With an aim to expand students' rights at school, the student human rights ordinance bans corporal punishment by teachers as well as discrimination against homosexual or pregnant students, allows rallies on school grounds and gives students the freedom to choose their own hairstyles and clothing.

The city government published the ordinance in its official weekly gazette issued on the day.

The ordinance, the third such move following earlier proclamations by Gyeonggi Province and Gwangju Metropolitan City, immediately took effect in the city's elementary, middle and high schools, as well as kindergartens.

Spearheaded in the capital city by liberal education chief Kwak No-hyun, the ordinance was submitted to the city council for endorsement in October and approved in December.

It is unclear, however, whether the ordinance will be upheld by all schools from the start of the spring semester in March as the education ministry, which has long opposed the regulation along with some teachers and conservative groups, sought legal action against the city's education office and Kwak.

Upon the city's proclamation of the ordinance, the education ministry filed litigation with the Supreme Court to nullify the regulation, along with a petition requesting its suspension until the court makes its decision.

"The Seoul ordinance carries a number of articles created without social consensus," the education ministry said. "We also see the city authority violate laws in the course of its announcement."

The country's local government act stipulates the education ministry may sue a municipal superintendent and file a petition to nullify city regulations within seven days of their announcement if the chief rejects the ministry's demand for reconsideration.

The court is expected to make a decision as early as next month.

The issue of student rights has recently drawn much attention in South Korea, after rampant school violence was blamed for a spate of suicides in recent months by young students who had been bullied. Critics have argued that giving students more rights would make it harder for teachers to control them, exacerbating the problem of bullying. (Yonhap News)
Country files: School corporal punishment in S. Korea
Other months for school CP in South Korea:
March 2002
June 2002
May 2003
September 2003
September 2006
March 2007
August 2010
September 2010
December 2010