The Sowetan, Johannesburg, 28 September 2011
Pupils want the rod back
High school pupils in Gauteng's third biggest region have come out overwhelmingly in support of the reinstatement of corporal punishment.
By Tebogo Monama
Sowetan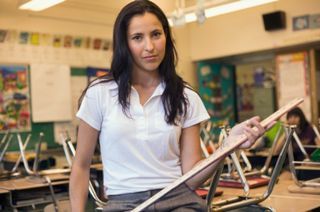 A study commissioned by the Gauteng legislature's portfolio committee on education has found that pupils in the West Rand region believe that a little bit of the forbidden cane would help instill discipline in schools.
The research findings released this week are based on data collected from among 400 pupils last year.
Pupils said the Department of Education should devise new methods to discipline them. Corporal punishment was banned 15 years ago.
Despite the ban, a pupil from Badirile Secondary School confirmed that the school had on some occasions used the cane, leading to improved discipline.
"The corporal punishment for coming late has really improved the school. When we are corporally punished we try to come to school earlier. It really helped."
The report does not say whether the government should reintroduce corporal punishment. It says "something" must be done. It also blames the Gauteng department of education for not discussing openly the impact of sexual relationships between teacher and pupils.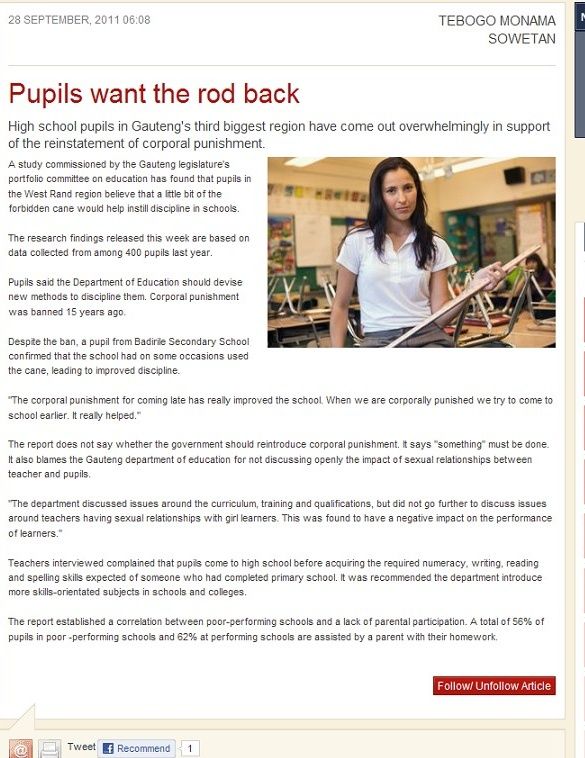 Click to enlarge
"The department discussed issues around the curriculum, training and qualifications, but did not go further to discuss issues around teachers having sexual relationships with girl learners. This was found to have a negative impact on the performance of learners."
Teachers interviewed complained that pupils come to high school before acquiring the required numeracy, writing, reading and spelling skills expected of someone who had completed primary school. It was recommended the department introduce more skills-orientated subjects in schools and colleges.
The report established a correlation between poor-performing schools and a lack of parental participation. A total of 56% of pupils in poor-performing schools and 62% at performing schools are assisted by a parent with their homework.
© 2011 AVUSA, Inc. All rights reserved.