The Post-Standard, Syracuse, New York State, 8 August 2011
Court Notebook
Judge Tony Aloi suggests teen deserves a spanking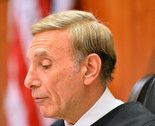 Judge Tony Aloi
By Jim O'Hara
The Post-Standard
Syracuse, NY -- Corporal punishment is not among the options available for judges to impose in criminal cases. But Onondaga County Judge Tony Aloi said he thought it would have been appropriate in one case last week.
Anthony Steves was before Aloi pleading guilty to a felony charge of second-degree burglary for breaking into a home in East Syracuse in May.
Click to enlarge
Steves is to be sentenced as a youthful offender to five years' probation and the time he's already served in jail covering a "shock" incarceration term.
It was when the judge noted Steves had burglarized his own parents' home that the issue of corporal punishment came up.
"If I could impose it, you should get a spanking," Aloi told the 18-year-old, adding he at least owes his parents an apology.
Copyright 2011 syracuse.com. All rights reserved.