National Mirror, Lagos, 24 February 2011
Corporal punishment in schools
By Tunbosun Ogundare and Funmilayo Otolorin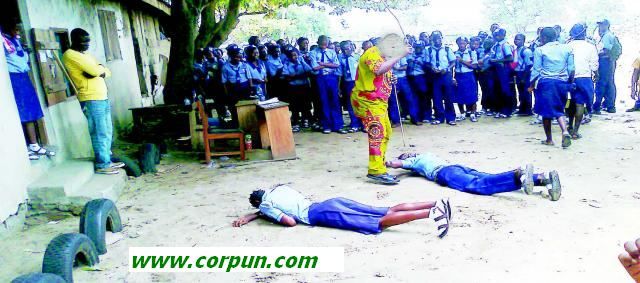 A teacher punishing students at Ojora Memorial Senior Secondary School, Tolu Complex, Lagos recently
Teaching in schools goes beyond gathering students for lecture. It is all encompassing and discipline forms a major part of it. For Africans, especially in Nigeria, not sparing the rod is one essential aspect of discipline.
Unfortunately, flogging as a disciplinary measure is fast declining in most Nigerian schools, a situation many attribute to the decadence among students these days. Many teachers believe flogging students has no place in today's education. To them, the advancement of technology has made it imperative that teachers develop better ingenious ways of correcting students when they err instead of resorting to corporal punishment while others believe that teaching must necessarily include the use of the cane in a world indiscipline has eaten too deep into the moral fabric of the society.
Mr. Rueben Adelowo, a teacher in one of the secondary schools in Lagos still believes in the use of cane as the right correctional measure. The practice is employed by him and some of his colleagues at the school, owned by the state government. Another teacher at Yaba Model College, Surulere, Lagos told National Mirror that though continuous use of the cane on students is not encouraged by government, teachers at the school still use it in rare cases. The teacher says he and his colleagues are forced to cane the student they deliberately refuse to do home work, find cheating in exams or steal valuable things. For the head teacher, Olowu Nursery, Primary and Secondary School,Surulere, Mrs. Otesile Olubunmi, sometimes students of the school are flogged but he alone does that in the entire school. She says junior colleagues may ask students to kneel down, do frog jump, to close their eyes or give some other light punishments but in cases where beating is necessary, she does it alone and in moderation.
On her part, Proprietress of Northville School, Oko-Oba, Lagos, Mrs Omolala Ogunjuyigbe, says flogging in its entirety is outdated. "Even we that run private schools don't beat students any longer. We believe it is not until when you flog students or children for that matter that they will change from doing wrong things. These days, students don't want to be flogged. They don't like it. And I always tell my teachers not to punish students when they are angry because they may overdo this and the consequence may turn out negative such as inflicting severe injuries on them. "So teachers are freed to give students light punishments especially withdrawing them from participating in those things they love doing most, like games. Many of them find punishment like this more painful. All is to make them remorseful so as to avoid the repeat of such wrong act," Mrs. Ogunjuyigbe declared. These are few opinion on what is obtainable in most of our primary and secondary schools across the country. However, President of the Hug for the Needy Foundation, Mr. Felix Olorunda, says there is nothing wrong if children whether in school or at home are flogged with cane. According to him, many children nowadays are very stubborn and correcting them many times with ordinary words of mouth no longer has any effect except when they are caned. "So it is acceptable to me to cane children as a way of correcting them," he said.

Click to enlarge
"However, it will become unacceptable when flogging gets to the extreme." He explains that some teachers are just too harsh and over a little provocation, they descend on students and beat them with any kind of stick available and in the process inflicting severe injurious on their body, the scars of which may have to live with them forever. Such types of correctional measure, Olorunda said, should not be allowed in school and also at home. On her part, Mrs. Janet Okekwukwu, a petty trader, also strongly supports the use of cane not only on students but children in general. She says because the school her two children attend doesn't cane students, her children are regular late comers to school. "And they are not the only ones, many of their colleagues even from other schools around are walking gently on the street around 8.30am whereas they are supposed to be in school latest 7.30am," Mrs. Okechukwu says. "So, there was a particular day I went with them to school to know why the school tolerate late coming and their teacher told me that they (teachers) had been warned by the school authority not to beat any student." She says she was told that three weeks earlier, a student of the school whose class teacher only pulled his ear had reported to his parents at home that he was feeling some sensation in the ear and that he could no longer hear well. The mother came to the school with the intention to fight the teacher but only softened after much pleading by other teachers.
Nevertheless, nowadays, the poorly paid teacher had found that flogging a child from a wealthy home, no matter how bad the child behaves, could be at his own peril. Affluent parents have been known to pull strings that could easily end such a teacher's career. A senior lecturer at the Department of Psychology, University of Lagos (UNILAG), Dr Kehinde Ayenibiowo identifies creation of fear and poor learning as the major ones. He explains that it is not only by flogging that one can discourage students from doing bad things, According to him, there it is better to identify where the problem lies for the purpose of addressing them than beating always. For instance, he says, beating students for poor performance in exams may not be a right approach "because it could be that it is the teacher that does not teach well, or the child has the problem from home, or is psychologically disturbed over something else. So, beating children on those conditions may not get any result," he says. The psychologist therefore says flogging erring students should be only when necessary and in moderation. But in those days, flogging was part of learning both in schools and at homes. Even the holy books, particularly the Bible in Prov. 22:5, also support it, calling it a way of chastising loved children. Indeed, many high profile persons in the Nigerian society were at one time or the other flogged either in schools or by their parents.
For instance, the Vice Chancellor, University of Lagos, Prof Babatunde Sofoluwe confessed being flogged many times in his secondary school days. He told National Mirror recently that the experience when he was flogged by the school principal for making noise in the class with other colleagues at CMS Grammar School, Bariga, Lagos, had remained in his memory till date. "Unknown to us, our principal was in the next class as we were making noise. He just rounded us up and gave each of us three strokes of the cane on our buttocks," the renowned computer scientist don recalled. "The beating was really painful but it was part of the disciplinary measures in those days." In Nigeria, corporal punishment is lawful in the home and in schools under article 55 of the Penal Code (North) and article 295 of the Criminal Code (South). Though a few states including Rivers have reportedly prohibited the practice, it is more of paper work than reality. A lawyer, Mr Abidemi Oyesanya of the Bank Oki Oyesanya and Coy told National Mirror that flogging students or children in Nigeria is not unlawful unlike in countries like America and England where peoples' rights better are protected.
Other external links: School CP