Nigerian Observer, Benin City, Edo State, 2 December 2011
2 Brothers Receive 26 Strokes Of Cane For Theft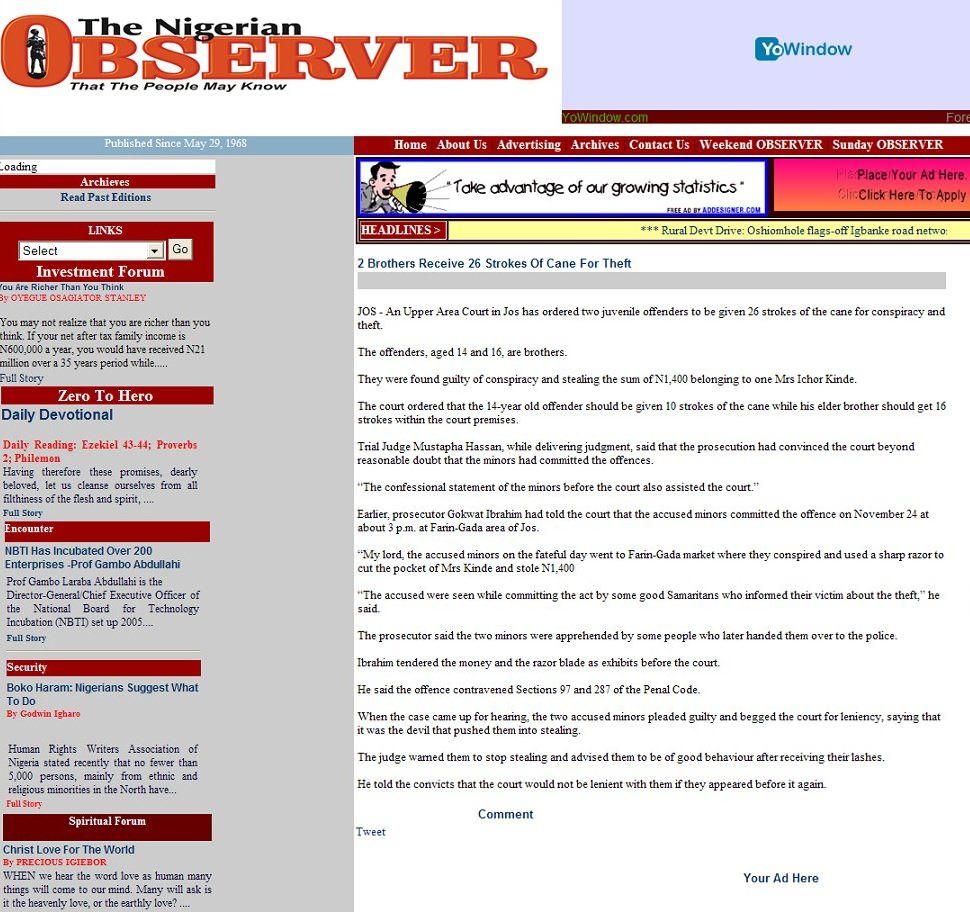 Click to enlarge
JOS - An Upper Area Court in Jos has ordered two juvenile offenders to be given 26 strokes of the cane for conspiracy and theft.
The offenders, aged 14 and 16, are brothers.
They were found guilty of conspiracy and stealing the sum of N1,400 belonging to one Mrs Ichor Kinde.
The court ordered that the 14-year old offender should be given 10 strokes of the cane while his elder brother should get 16 strokes within the court premises.
Trial Judge Mustapha Hassan, while delivering judgment, said that the prosecution had convinced the court beyond reasonable doubt that the minors had committed the offences.
"The confessional statement of the minors before the court also assisted the court."
Earlier, prosecutor Gokwat Ibrahim had told the court that the accused minors committed the offence on November 24 at about 3 p.m. at Farin-Gada area of Jos.
"My lord, the accused minors on the fateful day went to Farin-Gada market where they conspired and used a sharp razor to cut the pocket of Mrs Kinde and stole N1,400
"The accused were seen while committing the act by some good Samaritans who informed their victim about the theft," he said.
The prosecutor said the two minors were apprehended by some people who later handed them over to the police.
Ibrahim tendered the money and the razor blade as exhibits before the court.
He said the offence contravened Sections 97 and 287 of the Penal Code.
When the case came up for hearing, the two accused minors pleaded guilty and begged the court for leniency, saying that it was the devil that pushed them into stealing.
The judge warned them to stop stealing and advised them to be of good behaviour after receiving their lashes.
He told the convicts that the court would not be lenient with them if they appeared before it again.
Copyright 2010-2011 @ Bendel Newspaper Company Limited