Leadership, Abuja, 11 October 2011
Court Orders 12 Strokes Of Cane On Convict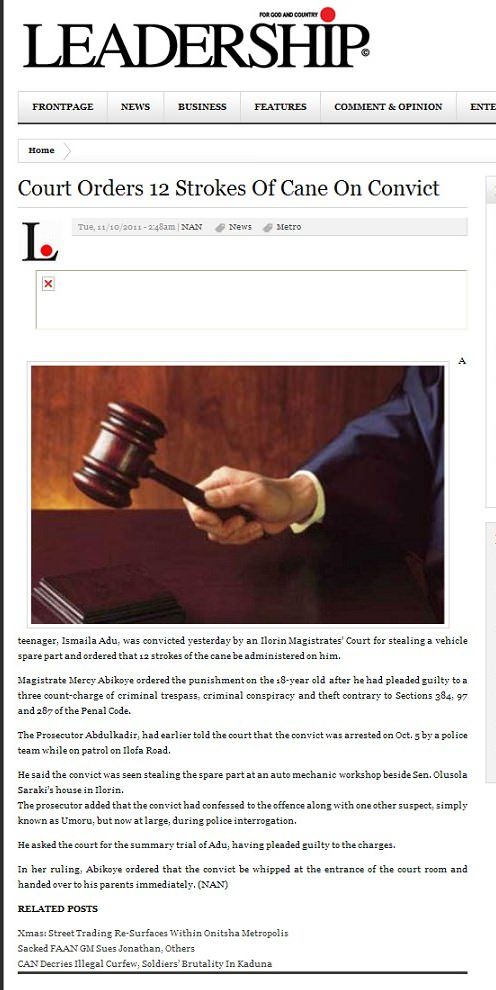 Click to enlarge
A teenager, Ismaila Adu, was convicted yesterday by an Ilorin Magistrates' Court for stealing a vehicle spare part and ordered that 12 strokes of the cane be administered on him.
Magistrate Mercy Abikoye ordered the punishment on the 18-year old  after he had pleaded guilty to a three count-charge of criminal trespass, criminal conspiracy and theft contrary to Sections 384, 97 and 287 of the Penal Code.
The Prosecutor Abdulkadir, had earlier told the court that the convict was arrested on Oct. 5 by a police team while on patrol on Ilofa Road.
He said the convict was seen stealing the spare part at an auto mechanic workshop beside Sen. Olusola Saraki's house in Ilorin.
The prosecutor added that the convict had confessed to the offence along with one other suspect, simply known as Umoru, but now at large, during police interrogation.
He asked the court for the summary trial of Adu, having pleaded guilty to the charges.
In her ruling, Abikoye ordered that the convict be whipped at the entrance of the court room and handed over to his parents immediately. (NAN)
© 2011 Leadership Newspapers Group, Abuja - All Rights Reserved