The Daily Times, Lagos, 5 May 2011
Teenager sentenced to 20 strokes of the cane for stealing
The accused pleaded guilty to having stolen a bag from a mosque
By Valerie Anofochi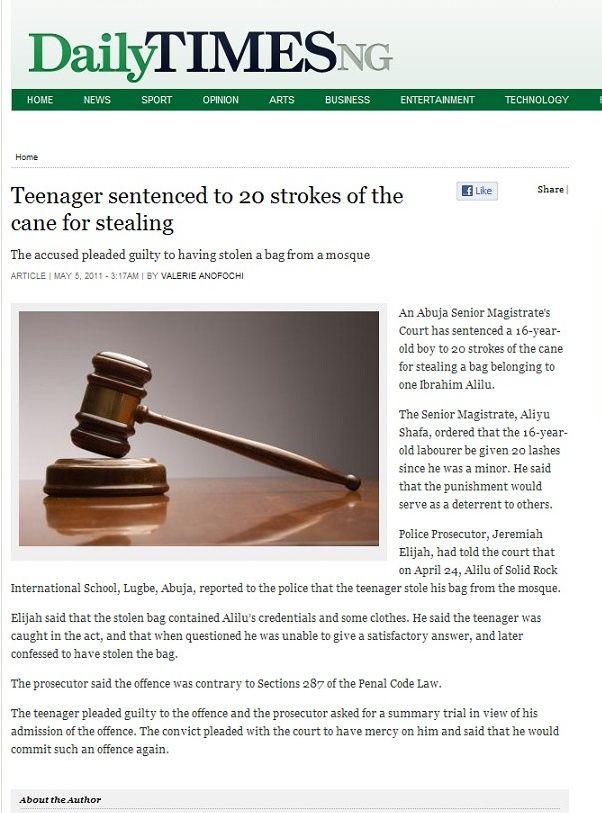 Click to enlarge
An Abuja Senior Magistrate's Court has sentenced a 16-year-old boy to 20 strokes of the cane for stealing a bag belonging to one Ibrahim Alilu.
The Senior Magistrate, Aliyu Shafa, ordered that the 16-year-old labourer be given 20 lashes since he was a minor. He said that the punishment would serve as a deterrent to others.
Police Prosecutor, Jeremiah Elijah, had told the court that on April 24, Alilu of Solid Rock International School, Lugbe, Abuja, reported to the police that the teenager stole his bag from the mosque.
Elijah said that the stolen bag contained Alilu's credentials and some clothes. He said the teenager was caught in the act, and that when questioned he was unable to give a satisfactory answer, and later confessed to have stolen the bag.
The prosecutor said the offence was contrary to Sections 287 of the Penal Code Law.
The teenager pleaded guilty to the offence and the prosecutor asked for a summary trial in view of his admission of the offence. The convict pleaded with the court to have mercy on him and said that he would commit [sic] such an offence again.