Daily Trust, Abuja, 11 January 2011
Minors flogged for hawking
By Itodo Daniel Sule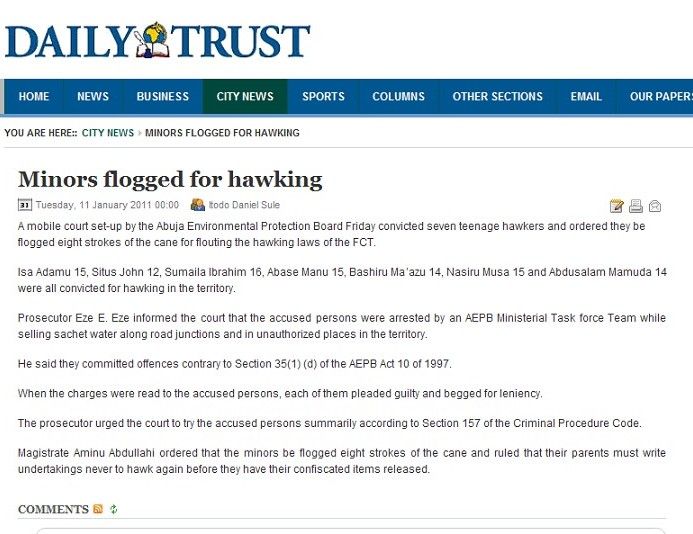 Click to enlarge
A mobile court set up by the Abuja Environmental Protection Board Friday convicted seven teenage hawkers and ordered they be flogged eight strokes of the cane for flouting the hawking laws of the FCT.
Isa Adamu 15, Situs John 12, Sumaila Ibrahim 16, Abase Manu 15, Bashiru Ma'azu 14, Nasiru Musa 15 and Abdusalam Mamuda 14 were all convicted for hawking in the territory.
Prosecutor Eze E. Eze informed the court that the accused persons were arrested by an AEPB Ministerial Task force Team while selling sachet water along road junctions and in unauthorized places in the territory.
He said they committed offences contrary to Section 35(1) (d) of the AEPB Act 10 of 1997.
When the charges were read to the accused persons, each of them pleaded guilty and begged for leniency.
The prosecutor urged the court to try the accused persons summarily according to Section 157 of the Criminal Procedure Code.
Magistrate Aminu Abdullahi ordered that the minors be flogged eight strokes of the cane and ruled that their parents must write undertakings never to hawk again before they have their confiscated items released.
---
---
Leadership, Abuja, 28 January 2011
Fornication: Man Bags One Year, 100 Strokes Of Cane
Click to enlarge
A 28-year-old man, Sama'ila Garba of Sabuwar Kofa quarters in Katsina, yesterday  bagged one year jail term and 100 strokes of the cane for fornication.
The police docked Garba before Sharia Court I, Katsina, for the alleged offence.
The arraignment of the accused followed a complaint lodged by one Hussaina Isa, also of  Sabuwar Kofa quarters, on Nov. 12, 2010, alleging that Garba impregnated her.
The prosecutor, Sgt. Abubakar Mamman, said the complainant also alleged that the accused lured her to have sex with him, which resulted in a pregnancy and subsequent delivery of a baby.
However, the accused pleaded guilty to the charge, accepting that he had an affair with the girl.
Delivering judgement, Khadi Mustapha Saulawa, said the court had found Garba guilty of committing fornication through his confessional statement.
Saulawa said that based on Qur'anic injunction and the sharia code, the court sentenced him to one year imprisonment without an option of fine and he should also receive 100 strokes of the cane.
The khadi, however, ordered that the convict be given 20 strokes of the cane instantly, while the remaining 80 be administered while in prison.
This, he said, was because the convict might not withstand all the lashes at a go and directed the prison officials to complete the strokes. (NAN)