The Borneo Post, Kuching, 6 January 2011
Man jailed seven years for statutory rape
By Anasathia Jenis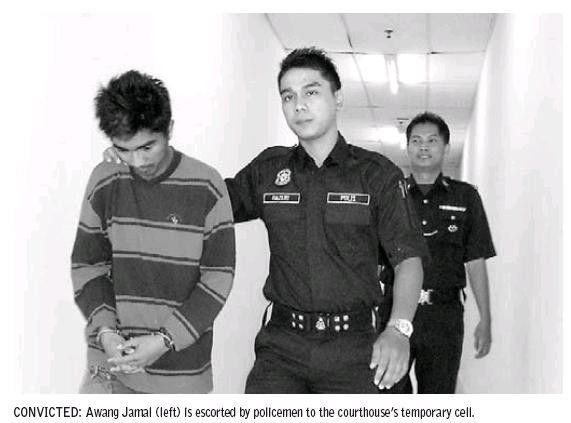 KUCHING: A Sessions Court yesterday sentenced a 23-year-old jobless man to seven years' imprisonment for the statutory rape of his girlfriend last year.
Awang Jamal Awang Abdul Rahim of Gedong admitted committing the offence before Judge Shahrizat Ismail.
At the time of the offence, the victim was only 13.
Shahrizat also ordered the accused be given five strokes of the rotan.
The jail term took effect from the date of arrest.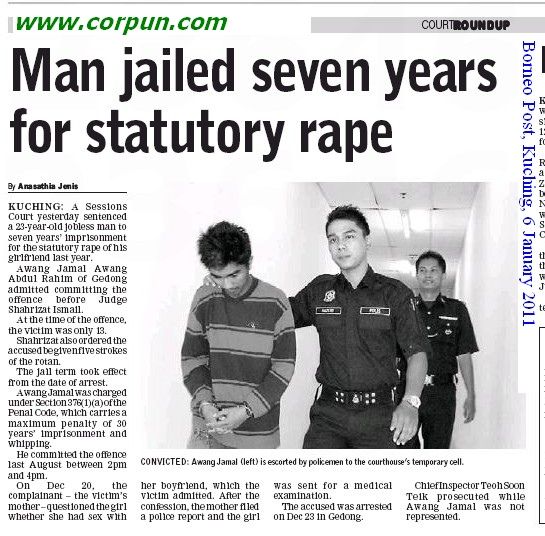 Click to enlarge
Awang Jamal was charged under Section 376(1)(a) of the Penal Code, which carries a maximum penalty of 30 years' imprisonment and whipping.
He committed the offence last August between 2pm and 4pm.
On Dec 20, the complainant -- the victim's mother -- questioned the girl whether she had sex with her boyfriend, which the victim admitted. After the confession, the mother filed a police report and the girl was sent for a medical examination.
The accused was arrested on Dec 23 in Gedong.
Chief Inspector Teoh Soon Teik prosecuted while Awang Jamal was not represented.
Copyright 2010-2011 BorneoPost Online. All Rights Reserved.
---
---
The Borneo Post, Kuching, 20 January 2011
5 years, 8 strokes for robbing man of RM1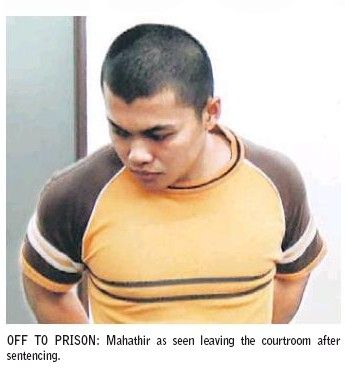 KUCHING: A 23-year-old jobless man who pleaded guilty to committing robbery was sentenced to five years' imprisonment and will be given eight strokes of the cane.
Mahathir Wahar from Bintawa Ulu appeared before Sessions Court Judge Nixon Kennedy Kumbong who convicted him under Section 394 of the Penal Code.
The brief facts of the case stated that the accused had asked some money from a pedestrian who was walking near a cafe at Kuching Waterfront.
The complainant, who is the victim Mohd Suffian, ignored him but when the accused kept following him and demanded for money, he gave him RM1.
However, the complainant who at the same time was reluctant to give the money had angered the accused.
He then took a six-centimetre screwdriver and stabbed the victim who was seriously injured due to the stab at his back.
Members of the public who were witnessing the incident at the scene apprehended the accused and surrendered him to the police.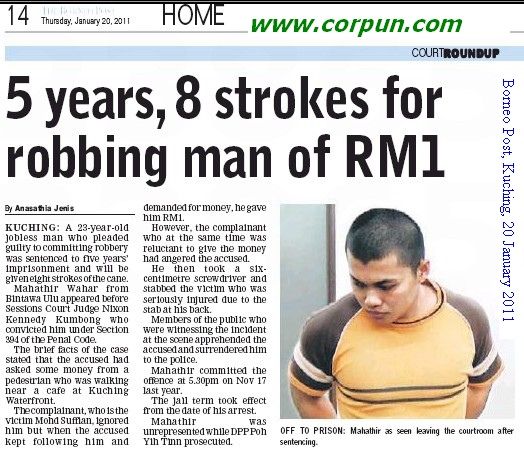 Click to enlarge
Mahathir committed the offence at 5.30pm on Nov 17 last year.
The jail term took effect from the date of his arrest.
Mahathir was unrepresented while DPP Poh Yih Tinn prosecuted.
Copyright © 2009 The Borneo Post. All rights reserved.