The Star, Nairobi, 25 August 2011
Resume corporal punishment, Muslim leaders say
By Shaban Makokha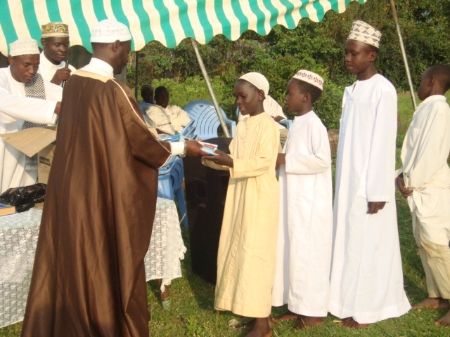 Muslim leaders from Kakamega County have called upon the government to reintroduce corporal punishment in schools. The leaders who converged at Mumias Jamia mosque blamed the poor behaviour among Kenyan youth for lack of discipline. Mumias Muslim community chairman Ismail Muchelule, Angorom Islamic school director Omar Alfarouq and University of Nairobi lecturer Abdulmajid Wangara said adoption of Western culture has largely contributed to lack of good morals among the youth.
The Muslim leaders called on parents to strictly instill discipline to their children so that they may grow up to be responsible citizens. "Our government erred when it adopted the Western system by restraining the cane from class. This has resulted in increased cases of indiscipline which include burning of schools by learners," said Muchelule.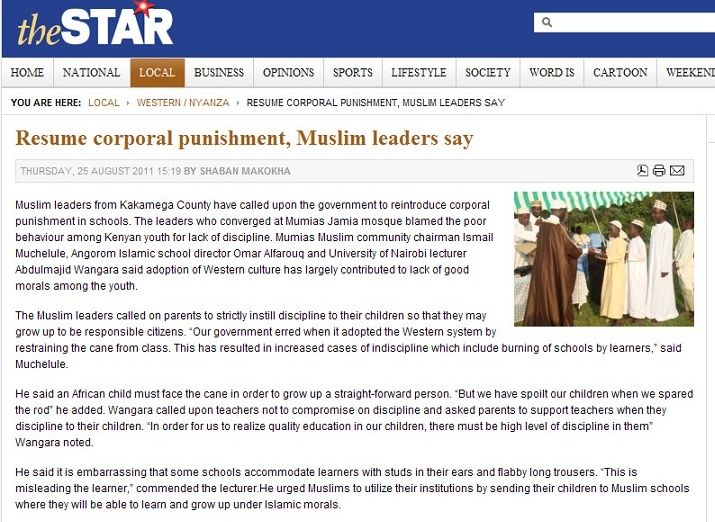 Click to enlarge
He said an African child must face the cane in order to grow up a straight-forward person. "But we have spoilt our children when we spared the rod" he added. Wangara called upon teachers not to compromise on discipline and asked parents to support teachers when they discipline to their children. "In order for us to realize quality education in our children, there must be high level of discipline in them" Wangara noted.
He said it is embarrassing that some schools accommodate learners with studs in their ears and flabby long trousers. "This is misleading the learner," commended the lecturer. He urged Muslims to utilize their institutions by sending their children to Muslim schools where they will be able to learn and grow up under Islamic morals.
Country files: School corporal punishment in Kenya
Other external links: Kenya school CP