Corpun file 24289 at www.corpun.com
Ghana News Agency, Accra, 6 September 2011
Boys prefer corporal punishment in schools -- Survey
(extracts)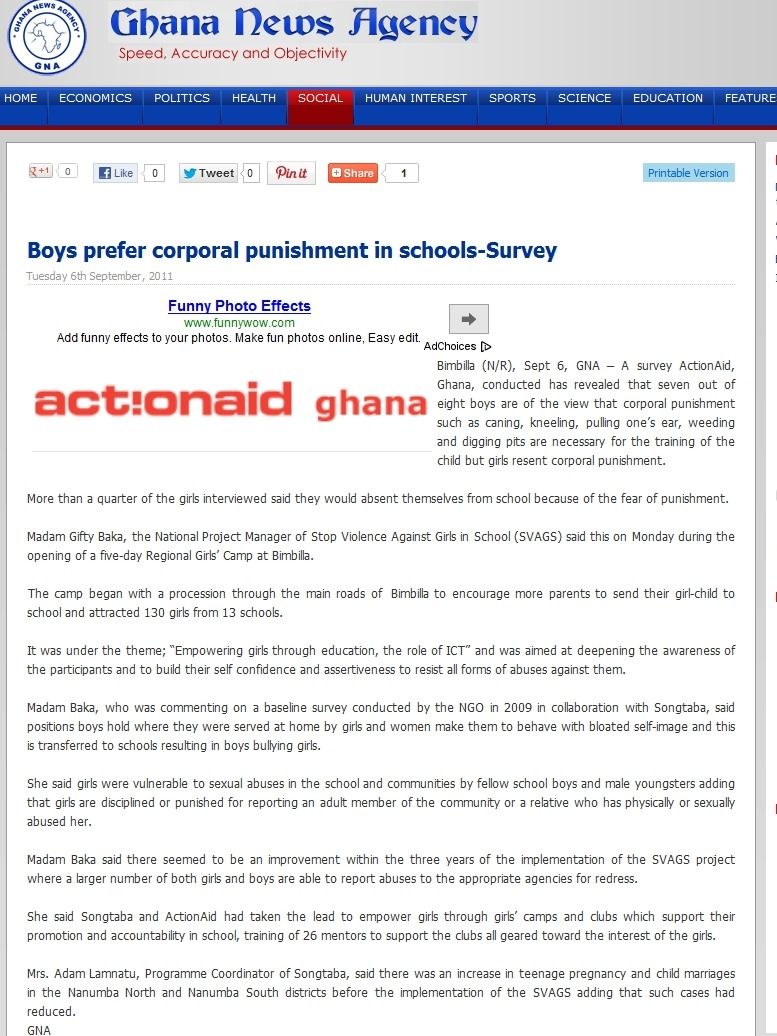 Click to enlarge
Bimbilla (N/R), Sept 6, GNA -- A survey ActionAid, Ghana, conducted has revealed that seven out of eight boys are of the view that corporal punishment such as caning, kneeling, pulling one's ear, weeding and digging pits are necessary for the training of the child but girls resent corporal punishment.
More than a quarter of the girls interviewed said they would absent themselves from school because of the fear of punishment.
Madam Gifty Baka, the National Project Manager of Stop Violence Against Girls in School (SVAGS) said this on Monday during the opening of a five-day Regional Girls' Camp at Bimbilla.
The camp began with a procession through the main roads of Bimbilla to encourage more parents to send their girl-child to school and attracted 130 girls from 13 schools.
[...]
Madam Baka said there seemed to be an improvement within the three years of the implementation of the SVAGS project where a larger number of both girls and boys are able to report abuses to the appropriate agencies for redress.
[...]
GNA
©2012 Ghana News Agency