(English translation below)
La Dépêche du Midi, Toulouse, 20 October 2011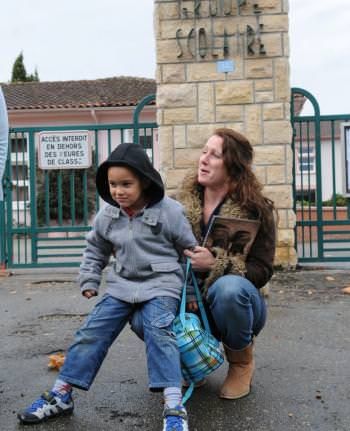 Nogaro et sa région
La fessée met le feu à l'école
Le 11 octobre, en rentrant de l'école maternelle de Nogaro, dans le Gers, Jonathan Hill, 4 ans, a dit à sa maman que la maîtresse lui avait mis une fessée cul nu devant les autres enfants, dans la cour. La maman affirme que d'autres enfants auraient été victimes de sévices (cheveux tirés, pincements aux larmes, fessées). Quatre familles ont retiré leurs enfants de l'école et ont voulu porter plainte hier matin. L'institutrice les avait devancées pour porter plainte pour dénonciation calomnieuse, et avait aussi averti l'inspection d'académie. Cette dernière a ouvert une enquête interne et a proposé un rendez-vous aux familles ce soir, à Auch.
Hervé Bouquet, secrétaire général de l'inspection d'académie, ne veut pas donner son avis tant que les familles n'ont pas été entendues, mais il rappelle que la fessée est interdite. La maîtresse mise en cause serait expérimentée, avec dix-huit ans d'ancienneté à l'Education nationale. Le parquet a été avisé. L'enquête judicaire a été confiée à la gendarmerie de Nogaro.
Translation:

Spanking causes outrage at school


Click to enlarge

On 11 October, when he came home from infants' school at Nogaro in the Gers, Jonathan Hill, 4, told his mother the teacher had spanked his bare bottom in front of other the children in the playground. The mother says that other children had allegedly been abused (pulled hair, pinching until they cried, spankings). Four families took their children out of the school and wanted to make a complaint yesterday morning. The teacher had got in first, accusing them of slander, and contacted the school inspectorate, which has started an internal inquiry and offered the families a meeting in Auch this evening.

Hervé Bouquet, General Secretary of the school inspectorate, declined to comment until he had spoken to the families, but he confirmed that spanking is not allowed. The teacher in question apparently has 18 years' experience in the national education service. The public prosecutor has been informed. An inquiry will be carried out by the Nogaro gendarmerie.
Country files: Corporal punishment in France
Other external links: school CP
Other months for school CP in France:
August 2008