France24.com, Paris, 27 December 2011
Ivory Coast
Ivorian students take a beating from their headmaster - with the help of soldiers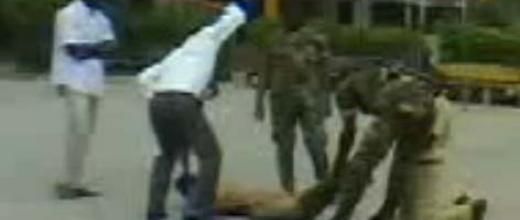 A video sent by one of our Observers in Ivory Coast shows a secondary school headmaster beating two students who had set off firecrackers in the school's courtyard. Soldiers were on hand, helping the headmaster carry out the punishment.
This video was filmed at the Voltaire secondary school, in the Marcory neighbourhood of Abidjan. The beating took place on December 14, one week before Christmas break. Two students were caught setting off firecrackers, which scared their fellow students. In Ivory Coast, students often set off firecrackers before the holidays in the hope that the chaos they create would allow them to go home early. However, with the country just coming out of a civil war, the sound of firecrackers now touches a raw nerve, as it closely resembles that of gunfire.
This video shows the two students being violently beaten with a tube [sic] by the school's headmaster, Honoré Amousso. He told us his version of the incident.

Click to enlarge
"These students first set off firecrackers at the secondary school in Treichville [an adjacent neighbourhood] with the help of friends in that school. Then, they came to this school to do the same thing. These two students attended Treichville's school last year, but were kicked out due to disciplinary problems and enrolled in ours."
The headmaster meted out the beating himself. He explains:
"Their parents were present and wanted to punish their children themselves, but as the school's headmaster, it was my duty to carry out the punishment. The parents and I agreed on ten spankings for each."
The video shows that the punishment wasn't spanking so much as a full-on beating. The headmaster was helped out by a member of the school staff and by soldiers from the Republican Forces of Ivory Coast (soldiers who were loyal to President Alassane Ouattara during the recent civil war.) They held the students down and tried to tie their feet together.
So why were these students so severely beaten? And what were the soldiers doing at the school? The headmaster explains:
"When the students set off their firecrackers, everybody in the school panicked. The Republic Forces came to help us restore order; we were overwhelmed."
Toward the end of the video, the headmaster warns the dozens of students gathered around the headmaster, while the punished students remain lying on the ground:
"If anyone else dares to use a single 'banger' [a brand of firecracker] in this school before the Christmas holidays, you'll receive the same punishment you've just witnessed."
Firecrackers are illegal in Ivory Coast, but before the holidays, students manage to buy them from small vendors under the table. A firecracker created chaos on December 18 in the central city of Vavoua; five people died in the clashes that followed.
---
RELATED VIDEO CLIP

This is the two-minute video clip referred to in the above news item. The camera is somewhat at a distance from the proceedings, but the punishment does look fairly severe. As far as one can see, the implement being used -- referred to in the text above as a "tube", presumably a mistranslation -- is some kind of cane, applied mainly but not exclusively to the boys' buttocks: a few strokes appear to be aimed at the bare legs. After the caning, the headmaster is seen addressing the student body while the punished boys continue to lie on the ground.

UPDATE: A reader comments that the headmaster can be heard threatening to send these two students, and anyone else who causes trouble, to the Garde républicaine (military) to be "chicottés" (beaten with a whip).

HERE IS THE CLIP: