Mmegi, Gaborone, 24 November 2011
Female court bailiffs can flog male convicts -- Tshireletso
By Nelson Direng
Correspondent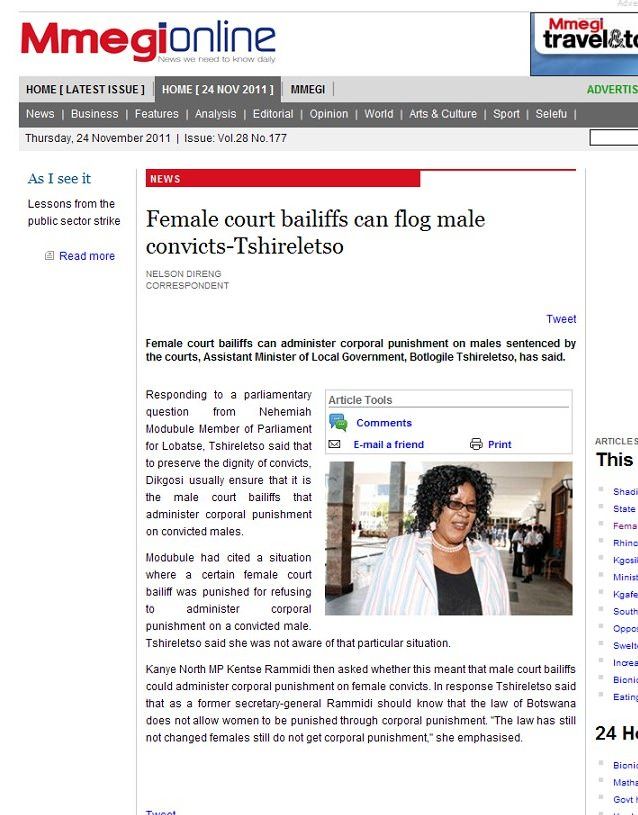 Click to enlarge
Female court bailiffs can administer corporal punishment on males sentenced by the courts, Assistant Minister of Local Government, Botlogile Tshireletso, has said.
Responding to a parliamentary question from Nehemiah Modubule Member of Parliament for Lobatse, Tshireletso said that to preserve the dignity of convicts, Dikgosi usually ensure that it is the male court bailiffs that administer corporal punishment on convicted males.
Modubule had cited a situation where a certain female court bailiff was punished for refusing to administer corporal punishment on a convicted male. Tshireletso said she was not aware of that particular situation.
Kanye North MP Kentse Rammidi then asked whether this meant that male court bailiffs could administer corporal punishment on female convicts. In response Tshireletso said that as a former secretary-general Rammidi should know that the law of Botswana does not allow women to be punished through corporal punishment. "The law has still not changed females still do not get corporal punishment," she emphasised.