The Canberra Times, 9 October 2011
ACT smack ban plan given big slap down
By Michael Inman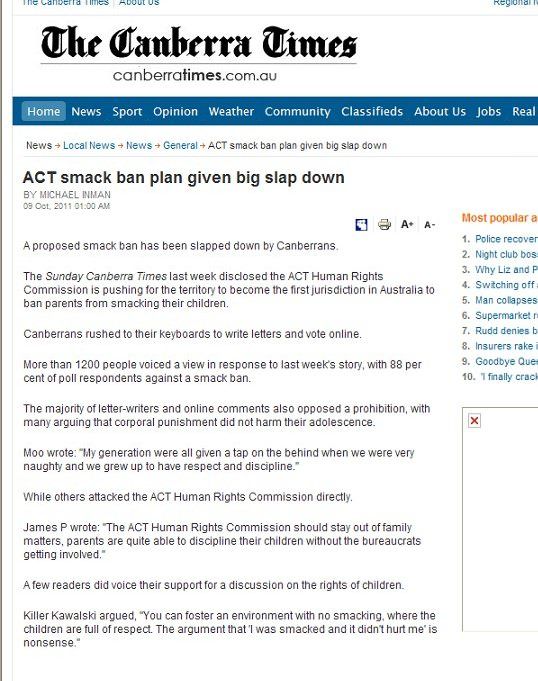 Click to enlarge
A proposed smack ban has been slapped down by Canberrans.
The Sunday Canberra Times last week disclosed the ACT Human Rights Commission is pushing for the territory to become the first jurisdiction in Australia to ban parents from smacking their children.
Canberrans rushed to their keyboards to write letters and vote online.
More than 1200 people voiced a view in response to last week's story, with 88 per cent of poll respondents against a smack ban.
The majority of letter-writers and online comments also opposed a prohibition, with many arguing that corporal punishment did not harm their adolescence.
Moo wrote: "My generation were all given a tap on the behind when we were very naughty and we grew up to have respect and discipline."
While others attacked the ACT Human Rights Commission directly.
James P wrote: "The ACT Human Rights Commission should stay out of family matters, parents are quite able to discipline their children without the bureaucrats getting involved."
A few readers did voice their support for a discussion on the rights of children.
Killer Kawalski argued, "You can foster an environment with no smacking, where the children are full of respect. The argument that 'I was smacked and it didn't hurt me' is nonsense."