Beeld, Johannesburg, 5 October 2010
Polisielede slaan seun glo op rug en boude
By Hilda Fourie
[Text in Afrikaans -- English translation below]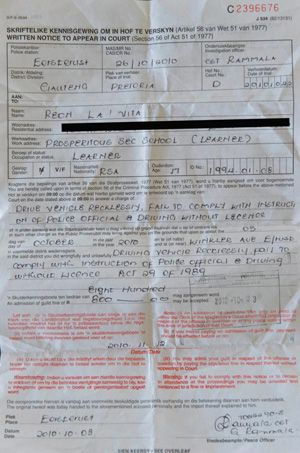 So lyk die skriftelike kennisgewing dat Reon oortree het en in die hof moet verskyn.
By Hilda Fourie
'n Polisieman het glo 'n 16-jarige seun se kop tussen sy bene vasgedruk terwyl 'n kollega sy bene in die lug opgetel en 'n ander kollega die seun se skoen uitgetrek en hom daarmee oor die rug en boude geslaan het.

Terwyl diť drie polisiemanne Reon La'Vita (16) na bewering aangerand het, het 'n ander polisieman aan sy ma in die aanklagkantoor van die Eersterust-polisiekantoor in Pretoria gesÍ haar seun is fine.

"Toe my kind daar uitkom, was hy histeries. Reon kon nie regop loop nie soos wat hulle hom geslaan het," het mev. Vanessa La'Vita gister gesÍ.

Pienk merke was gister nog duidelik op Reon se rug te sien.

'n Polisieman het eergistermiddag by Reon stilgehou en sy rybewys gevra. Reon het voor vriende se huis op die sypaadjie in sy motor gesit.
Die motor het nog geluier.

Reon, 'n gr. 10-leerling aan die Prosperitus SekondÍre Skool, het nie 'n rybewys nie.

"Die polisieman het gesÍ ek moet die motor afsluit. Ek het aan hom gesÍ ek kan nie, want die motor kan nie 'start' nie," het Reon gesÍ.

"Hy het die sleutel gevat, my uit die motor gehaal en agter in die polisiewa gesit. Hy het die motor probeer 'start', maar kon nie. Hy het my sleutel aan 'n vriend (17) van my gegee wat ook nie 'n lisensie het nie."

Reon is nie gearresteer of geboei nie. Hy is na die Eersterust-polisiekantoor geneem.

Intussen het Reon se vriend sy ouers vertel wat gebeur het.

Volgens Reon is hy die eerste keer by die Eersterust-polisiekantoor aangerand.

"'n Polisieman het my in die gesig geslaan en op die maermerrie geskop.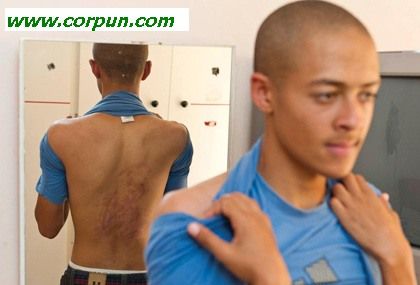 Die pienk slaanmerke was gister nog duidelik op Reon La'Vita se rug te sien nadat hy glo deur polisielede aangerand is.
Foto's: Craig Nieuwenhuizen
"Nog twee polisiemanne het bygekom. Een het my kop tussen sy bene vasgedruk. Nog een het my bene opgelig en 'n derde het my skoen uitgetrek en my oor die rug en boude geslaan.

"Terwyl ek in die sel gesit het, het twee polisievroue daar aangekom en my in die gesig geslaan.

"Ek wou net keer. Keer ek die kant, dan slaan die een my van die ander kant af. As ek daar keer, slaan nog een my."

Twee uur later is Reon vrygelaat met 'n kennisgewing om later vandeesmaand in die Pretoriase landdroshof te verskyn.

Reon het 'n saak van aanranding teen die polisielede ingedien.

Lt.kol. Lungelo Dlamini, Gautengse polisiewoordvoerder, het gesÍ hy sal vandag op die bewerings kommentaar lewer.
© 2011 24.com. Alle regte voorbehou.
English translation:

Policemen allegedly beat boy on back and buttocks

A policeman allegedly held a 16-year-old boy's head between his legs while a colleague held the boy's legs in the air and another colleague picked up the boy's shoe and beat him on the back and buttocks with it.

While the three policemen were allegedly assaulting Reon La'Vita (16), another policeman told his mother in the charge office of Eersterust police station in Pretoria that her son was "fine".

"When my child got out of there, he was hysterical. They beat Reon so that he could not walk upright,"said Mrs. Vanessa La'Vita yesterday.

Pink marks were still visible on Reon's back yesterday.

The day before yesterday, a policeman stopped Reon and asked for his driver's licence. Reon was sitting in the car on the pavement in front of his friend's house. The engine was still running.

Reon, a 10th-grade student at Prosperitus Secondary School, did not have a licence.

"The policeman told me to stop the engine. I told him I couldn't because the car would not start", said Reon.

"He took the key, pulled me out of the car and sat me in the back of the police van. He tried to start the car, but could not. He gave my key to a friend of mine (17) who also didn't have a licence."

Reon was not arrested or handcuffed. He was taken to Eersterust police station.

Meanwhile, Reon's friend told his parents what had happened.

According to Reon he was assaulted for the first time at Eersterust police station.

A policeman hit me in the face and kicked me in the shins.

"Two more policemen came. One held my head clasped between his legs. Another one lifted my legs and a third got my shoe and beat me on the back and buttocks.

"While I sat in the cell, two policewomen arrived and hit me in the face.

"I just wanted to turn away. When I turned to one side, they hit me on the other side. If I turned away, they hit me again"

Two hours later, Reon was released with a notice to appear later this month at Pretoria magistrate's court.

Reon has laid a charge of assault against the police officers.

Lt-Col. Lungelo Dlamini, spokesman for Gauteng police, said he will comment on the allegations today.