East London Daily Dispatch, 30 September 2010
Youngsters allege abuse by police
By Eddie Botha
Investigations Editor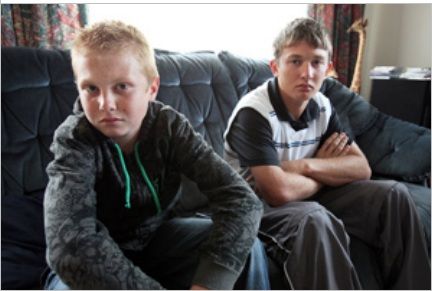 JOY RIDE ENDS IN TEARS: Gonubie schoolboys Dylan Watkins, left, and Quentin Belling were allegedly caned at the Gonubie police station after they were caught riding a motorcycle without a licence. Picture: ALAN EASON
A CLAIM by two schoolboys that they were hit with a sjambok by a policeman in a back office of the Gonubie police station after being caught riding a motorbike without licences, will be referred to the Independent Complaints Commission.
Acting Gonubie police station commander Captain Michael Sidzatane yesterday confirmed a police docket had been opened after a charge of assault had been laid against the policeman by resident, Marius Watkins, father of one of the boys.
Watkins yesterday said his wife Tracy phoned him in tears last Friday to tell him their son, Dylan, 15, and his friend Quentin Belling, 17, had been taken to the police station by two policemen who came to their 8th Avenue house.
This was after the two boys had gone for a ride on a 50cc motorbike, which Dylan got from a friend two days earlier.
Neither Dylan, who was riding the bike, nor Quentin, who sat on the back seat, has a licence.
Click to enlarge
According to the two, they were riding the motorbike in one of the side avenues when they were spotted by the two policemen in a police van.
Dylan said they rode the bike back to his parents' home and parked it in the backyard, where they hid.
Tracy Watkins said the policemen came to the front door to look for the kids. She admitted that she told them they were not home. She said they insisted on searching the house, despite her objections.
"One of the policemen walked into my bedroom, as well as into a spare room, and even searched in the wardrobes."
The boys later appeared from the backyard.
"The policemen said they were going to take the boys to the police station," said Tracy. "They said there was no need for me to accompany them, or worry, as they would only receive fines."
Both boys said that instead of being taken into the station charge office, they were taken to a back office.
There, they claim, in the presence of three policewomen, they were told to kneel with their heads touching the floor. "They didn't say anything. The one policeman first hit Quentin," said Dylan.
The boys claimed that at first they were both hit four times with a sjambok.
"The policeman who hit us then went out and came back later, hitting us both twice again. He then went out again, and came back and hit us twice again," said Quentin.
They said at one stage, they heard the voice of another person, who they could not see.
"He said in English that he did not want to interrupt a prayer session," said Quentin.
The boys said after the alleged incident, they were told to go home.
"One of the policemen later picked us up in the van and took us home," said Quentin.
According to a medical report completed by Dr Wilhelm Louw, a general practitioner at Medicross, "no cane marks (were) seen on (Dylan's) buttocks (but) some redness was observed". In the case of Quentin, the doctor noted: "Multiple cane marks on buttocks, (about) six to eight."