Corpun file 22216 at www.corpun.com
Virgin Islands Daily News, St Thomas, 27 April 2010
Teachers protest superintendent's policies
By Aldeth Lewin
Daily News Staff
(extract)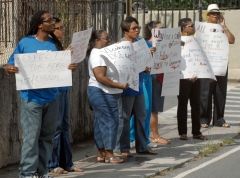 Teachers protest outside the Curriculum Center on Monday morning.
ST. THOMAS -- Unionized teachers gathered outside the Curriculum Center on Monday to protest policies crafted by St. Thomas-St. John District Superintendent Jeanette Smith-Barry that they say violate their contract and the Virgin Islands Code.

Corporal punishment, grading policies, coach stipends and a lack of monetary incentives to meet federal Adequate Yearly Progress standards were the main concerns of American Federation of Teachers members Monday.
Vernelle deLagarde, president of AFT St. Thomas-St. John local 1825, said that the V.I. Code allows teachers to administer corporal punishment but that Smith-Barry has instituted a policy to ban it. DeLagarde said that by banning corporal punishment in the district's schools, Smith-Barry has violated the law. If a change in policy is to be made, it must be made in the statute, she said.

Click to enlarge
The law states that teachers and principals in the territory's public schools have the same authority over pupils as parents or guardians do.

"The ramifications of this procedure must be carefully analyzed before this procedure is utilized," the law states.

Smith-Barry said she sent a memo to each principal this year, banning all corporal punishment in the St. Thomas-St. John District schools.

"Yes, I've been enforcing it, especially where the use of corporal punishment has not been justified," she said.

"We've had a couple of incidents that were most unfortunate and that gave evidence of the misuse," Smith-Barry said.

She said there was one instance where a teacher was taping three rulers together to hit the students with. In another case, a teacher lined up all the students and went down the line, beating each student for no justifiable reason, she said.

Smith-Barry said that the V.I. law on corporal punishment is outdated and that in most American jurisdictions corporal punishment is outlawed.

DeLagarde's argument Monday was that corporal punishment is necessary for teachers to maintain control in the classroom and taking the ability away leaves teachers with nothing else.

"There's no assistance or follow-through in a lot of cases," she said.

Smith-Barry disagreed. She said the department has offered extensive training for teachers on classroom management skills to provide alternatives to corporal punishment. She said research has proven that engaging students in learning through relevant activities works better than intimidation.

"It's a very weak teacher that has to rely on a paddle and an 'F' to get students to perform," Smith-Barry said.

St. Croix Superintendent Gary Molloy said the matter has not been a major issue in his district. In three years on the job, only two cases have been brought to him, he said. Last year, he sent out a memo to school personnel indicating the proper procedures for administering corporal punishment.

"It must only be used as a last resort," he said. "It's not something that we'd advocate."

He has not expressly banned it, however.

V.I. Board of Education Executive Director Carol Henneman said the board's student discipline policy merely reflects the code.

"That is an issue that the board will have to deal with on the code level," she said.
[...]
Copyright © 2010 Virgin Islands Daily News
---
Follow-up: 20 February 2014 - Bullying and Corporal Punishment Bills Discussed in Senate Committee
Country files: US Virgin Islands