Corpun file 22500 at www.corpun.com
Mount Airy News, North Carolina, 7 September 2010
Board gets first look at new budget
By Morgan Wall
(extracts)
DOBSON -- The Surry County Schools Board of Education got a look at the initial budget for the 2010-11 fiscal year at Tuesday night's meeting.
[...]
In other items on the agenda:
The board approved policy changes to eliminate corporal punishment in the school system. Some board members and administrators said they had received some feedback from the public against this change as well as letters of support for changing the policy from the Surry County Health and Nutrition Center and NC Action for Children.
[...]
© mtairynews.com 2010
---
---
Corpun file 22499 at www.corpun.com
The News-Record, Greenboro, North Carolina, 9 September 2010
Thomasville officials mull spanking policy
By High Point Enterprise
Click to enlarge
THOMASVILLE (MCT) -- The Thomasville Board of Education on Tuesday night delayed a vote on revisions to the system's policy for management of student behavior.
The board voted unanimously to table the policy change that would include guidelines for corporal punishment. The board is discussing the changes to the policy because of new state legislation approved earlier this year, said Thomasville City Schools Associate Superintendent James Carmichael.
"We are required to update our policy on the management of student behavior, but part of that is corporal punishment," Carmichael told the board. "... We are asking that you put it on the table for 30 days for comment as we do on the vast majority of policies here."
Board members did not discuss the updates to the policy.
According to Carmichael, the system does allow for the spanking of students as a last resort at its schools. Carmichael said the system had two cases last year when students were spanked by hand.
"The law as it reads right now doesn't prohibit school boards from using corporal punishment, but a local school board can adopt a policy that would," the associate superintendent said. "Ours has not. I think our superintendent and I agree with (the punishment) actually as long as it is not overused.
"I think there are times when other measures don't seem to work as well. Like I said, we always do it with parent permission and parent knowledge."
Carmichael said the principal in both cases last year felt like the spanking was justified. He said the principal could see a change in the behavior of the child after the spanking.
The proposed updates to the policy state corporal punishment will not be administered in the classroom with other students present. The student body also would be informed beforehand what general types of misbehavior could result in corporal punishment. An additional requirement would state that only the principal or assistant principal may administer the corporal punishment and it must be witnessed by another administrator or other certified school personnel.
A school administrator also must provide the student's parent with notification that corporal punishment has been administered, according to the proposal. Administrators also would be required to provide the student's parents with a written explanation of the reasons and the name of the second school official who was present within three school days of the request. Corporal punishment also would not be administered to a student who has a disability as defined by federal law.
Copyright © 2010 News & Record
---
RELATED VIDEO CLIP

2½-minute TV news report entitled "Thomasville City Schools Reviews Its Corporal Punishment Policy", from WFMY News 2, Greensboro, North Carolina, 9 Sep 2010. The Associate Superintendent, interviewed, explains the policy changes as set out in the above news item. These don't seem to amount to much, and overall it is a bit of a non-story. At the end of the clip are mentioned some other local districts that use CP and some that don't.

HERE IS THE CLIP:

IMPORTANT: Copyright in this video material rests with the original copyright holders. This brief excerpt is reproduced under the "fair use" doctrine for private, non-profit, historical research and education purposes only. It must not be redistributed or republished in any commercial context.
---
---
Corpun file 22495 at www.corpun.com
DeSoto Times Tribune, Mississippi, 10 September 2010
Schools average in paddling
By Jon Alverson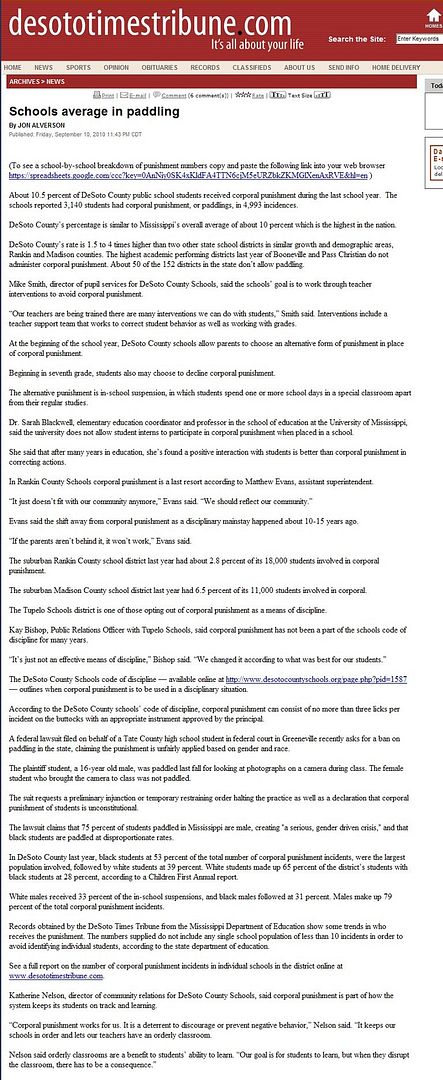 Click to enlarge
About 10.5 percent of DeSoto County public school students received corporal punishment during the last school year. The schools reported 3,140 students had corporal punishment, or paddlings, in 4,993 incidences.
DeSoto County's percentage is similar to Mississippi's overall average of about 10 percent which is the highest in the nation.
DeSoto County's rate is 1.5 to 4 times higher than two other state school districts in similar growth and demographic areas, Rankin and Madison counties. The highest academic performing districts last year of Booneville and Pass Christian do not administer corporal punishment. About 50 of the 152 districts in the state don't allow paddling.
Mike Smith, director of pupil services for DeSoto County Schools, said the schools' goal is to work through teacher interventions to avoid corporal punishment.
"Our teachers are being trained there are many interventions we can do with students," Smith said. Interventions include a teacher support team that works to correct student behavior as well as working with grades.
At the beginning of the school year, DeSoto County schools allow parents to choose an alternative form of punishment in place of corporal punishment.
Beginning in seventh grade, students also may choose to decline corporal punishment.
The alternative punishment is in-school suspension, in which students spend one or more school days in a special classroom apart from their regular studies.
Dr. Sarah Blackwell, elementary education coordinator and professor in the school of education at the University of Mississippi, said the university does not allow student interns to participate in corporal punishment when placed in a school.
She said that after many years in education, she's found a positive interaction with students is better than corporal punishment in correcting actions.
In Rankin County Schools corporal punishment is a last resort according to Matthew Evans, assistant superintendent.
"It just doesn't fit with our community anymore," Evans said. "We should reflect our community."
Evans said the shift away from corporal punishment as a disciplinary mainstay happened about 10-15 years ago.
"If the parents aren't behind it, it won't work," Evans said.
The suburban Rankin County school district last year had about 2.8 percent of its 18,000 students involved in corporal punishment.
The suburban Madison County school district last year had 6.5 percent of its 11,000 students involved in corporal.
The Tupelo Schools district is one of those opting out of corporal punishment as a means of discipline.
Kay Bishop, Public Relations Officer with Tupelo Schools, said corporal punishment has not been a part of the schools code of discipline for many years.
"It's just not an effective means of discipline," Bishop said. "We changed it according to what was best for our students."
The DeSoto County Schools code of discipline outlines when corporal punishment is to be used in a disciplinary situation.
According to the DeSoto County schools' code of discipline, corporal punishment can consist of no more than three licks per incident on the buttocks with an appropriate instrument approved by the principal.
A federal lawsuit filed on behalf of a Tate County high school student in federal court in Greeneville recently asks for a ban on paddling in the state, claiming the punishment is unfairly applied based on gender and race.
The plaintiff student, a 16-year old male, was paddled last fall for looking at photographs on a camera during class. The female student who brought the camera to class was not paddled.
The suit requests a preliminary injunction or temporary restraining order halting the practice as well as a declaration that corporal punishment of students is unconstitutional.
The lawsuit claims that 75 percent of students paddled in Mississippi are male, creating "a serious, gender driven crisis," and that black students are paddled at disproportionate rates.
In DeSoto County last year, black students at 53 percent of the total number of corporal punishment incidents, were the largest population involved, followed by white students at 39 percent. White students made up 65 percent of the district's students with black students at 28 percent, according to a Children First Annual report.
White males received 33 percent of the in-school suspensions, and black males followed at 31 percent. Males make up 79 percent of the total corporal punishment incidents.
Records obtained by the DeSoto Times Tribune from the Mississippi Department of Education show some trends in who receives the punishment. The numbers supplied do not include any single school population of less than 10 incidents in order to avoid identifying individual students, according to the state department of education.
Katherine Nelson, director of community relations for DeSoto County Schools, said corporal punishment is part of how the system keeps its students on track and learning.
"Corporal punishment works for us. It is a deterrent to discourage or prevent negative behavior," Nelson said. "It keeps our schools in order and lets our teachers have an orderly classroom.
Nelson said orderly classrooms are a benefit to students' ability to learn. "Our goal is for students to learn, but when they disrupt the classroom, there has to be a consequence."
Copyright © 2010 Desoto Times Tribune
---
---
Corpun file 22560 at www.corpun.com
katv.com (KATV Channel 7), Little Rock, Arkansas, 21 September 2010
Paddling as Punishment, How Schools Stack Up
(extracts)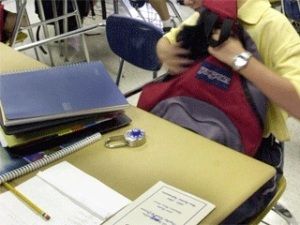 LITTLE ROCK, AR - Last school year, school districts across the state used the paddle nearly 35,000 times.
There were two violations of corporal punishment last week. In Cabot, a 13 yr. old boy was allegedly slapped across the face by a teacher's aide and in Dollarway a girl was allegedly hit several times with a paddle in front of her classmates.
"It can be a valuable tool as long as it's used properly," said spokesperson for the Family Action Council Jerry Cox. Cox worked as a high school teacher for more than ten years and said he never used it as a disciplining tool, but said it can be effective.
"I think most people over the age of 40 grew up in a school system where paddling was allowed and I think one can make the argument that the younger generation is more aggressive than the older generation," said Cox.
Guidelines differ from school district to school district. According to the Department of Education this is the law regarding corporal punishment.
"A. Corporal Punishment: Any teacher or school administrator in a school district that authorizes use of corporal punishment in the district's written student discipline policy may use corporal punishment in the presence of an administrator or his designee, provided only that the punishment is administered in accord with the district's written student discipline policy, against any pupil in order to maintain discipline and order within the public schools.
ADE 253-7 Agency # 005.15 See Ark. Code Ann. 6-18-503 (Repl. 1993), as amended by Act 333 of 1995. The following guidelines are recommended:
1. Before corporal punishment is administered, the student should be advised of the rule and infraction for which the student may be punished. The student should be allowed time to respond, and then the school administrator should take the action it deems is most appropriate. A formal hearing is not required prior to administering corporal punishment.
2. Parents may choose an option whether their child is given corporal punishment."
[...]
In Arkansas, the county with the most corporal punishment incidents was Jefferson. Educators used the paddle more than 2,500 times according to the Department of the Education statistics. The least amount was Pulaski County where all of the school districts have it banned. The Dept. of Ed. reported 3 cases there.
Senior Policy Analyst for Arkansas Advocates of Children and Families, Paul Kelly said, "It's part of the Southeastern culture. The states in the Southeast have the highest rates of corporal punishment."
All content © Copyright 2000 - 2010 WorldNow and KATV. All Rights Reserved.
---
RELATED VIDEO CLIP

2-minute TV news clip, "Paddling as Punishment, How Schools Stack Up", from KATV-7 Arkansas, 21 Sep 2010, of which the above is a text summary.

HERE IS THE CLIP:

IMPORTANT: Copyright in this video material rests with the original copyright holders. This brief excerpt is reproduced under the "fair use" doctrine for private, non-profit, historical research and education purposes only. It must not be redistributed or republished in any commercial context.
---
---
Corpun file 25772 at www.corpun.com
San Angelo Standard Times, Texas, 27 September 2010
Small but innovative
By Laurel L. Scott
(extracts)
Christoval High School students eat lunch in the cafeteria. The Christoval ISD consists of the high school with grades 6-12 and an elementary school. There are about 450 students in the district. Cynthia Esparza/Standard-Times
SAN ANGELO, Texas -- Public school districts are accustomed to change -- new students, new teachers, new rules from state and federal agencies every year -- but Christoval Independent School District has had to deal with more change than most.
Change at the administration level includes Christoval High School Principal John Choate, who has been at Christoval for three and a half years, Superintendent David Walker, who took on the job three years ago, and Tracy Knighton, who has been the elementary school principal for two and a half years.
[...]
With a district enrollment of 450, Christoval is classified as a rural school district, but unlike many rural schools in West Texas, Christoval ISD is growing at a steady rate of 3 percent to 4 percent a year, Choate said.
"What I've seen is parents coming out here, moving out here, almost all say, 'We're looking for a small school,'" he said.
He said much of the growth is coming from families moving into the community of Dove Creek. There are also about 100 transfer students attending Christoval schools, most of whom are from San Angelo, he said. Class size averages 17 students per teacher.
[...]
Click to enlarge
In another way, Christoval ISD is still "old school" -- students of all ages can get a paddling if they are deemed to have earned it.
"The perception is if you don't have corporal punishment, the kids will get out of control," Choate said.
One reason he favors it over in-school suspension is "it gets the kids back in the class."
"You've paid your debt to society, you're done," he said. "Our swat numbers aren't very high."
Walker said a small school has advantages in community support and student-teacher interaction and disadvantages in the way of programs and funding.
"You come to a small school, you're only going to have so much offered in the way of programs and services," Walker said. "But for the programs we offer, you're going to have the best service.
"When kids get behind here, we are used to doing whatever it takes to not let them fall through the cracks."
© 2014 The E.W. Scripps Co