The Anniston Star, Alabama, 2 May 2010
Three strikes and you're ... sore: A look at corporal punishment in area schools
By Patrick McCreless
Star Staff Writer
(extract)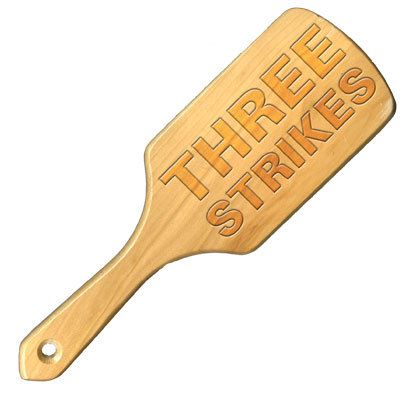 In any Calhoun County school office there is at least one paddle available to administrators. Each is hand-crafted of wood by the system's maintenance department.

School policy insists all have smooth surfaces and be of appropriate size and length.

No cracks or holes are allowed.

Though corporal punishment in public schools across the country has been fading away for years, Alabama is one of 20 states where the practice is still legal and administered.

Calhoun County is no exception.

Of the county's five systems, Calhoun County, Anniston, Oxford and Piedmont schools all have disciplinary policies that include corporal punishment, the act of physically punishing a student. Only Jacksonville forbids corporal punishment as a disciplinary tool.

"We have not had it for the last 20 years," said Jacksonville Superintendent Eric Mackey. "Corporal punishment has not really been an issue in decades. We have an exceptionally well-disciplined student body."

According to the most recent statistics from the U.S. Department of Education Office for Civil Rights, 223,190 school children in the country received corporal punishment between 2006 and 2007 -- a drop of 18 percent from statistics taken two decades ago.

Alabama had the third-highest percentage of students physically punished among states with corporal punishment according to the Education Department statistics, falling behind only Mississippi and Arkansas.

Calhoun County School statistics reveal that during the 180 days of the 2008-09 school year, 2,246 paddling incidents occurred in the entire school system. Of those, 1,324 -- about seven paddlings per day, on average -- occurred at the system's seven high schools. Another 922, or about five paddlings per day, occurred at the nine elementary and middle schools.

Statistics from Anniston City Schools indicate that in the 2008-09 school year, there were 528 paddling incidents for the entire school system, none of which occurred at Anniston High School.

"We've kind of gotten away from (corporal punishment) quite a bit," said Anniston Superintendent Joan Frazier.
The letter of the law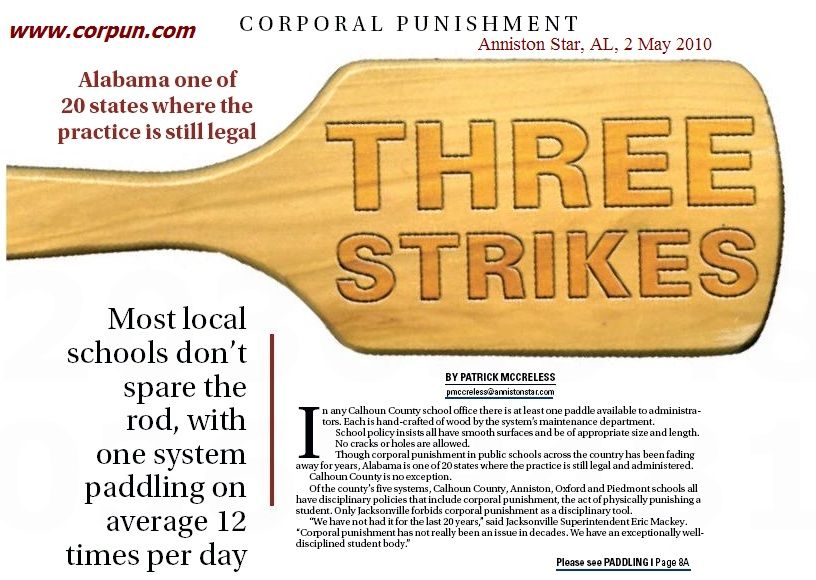 Click to enlarge
Alabama law provides for the option of corporal punishment in schools, but it is somewhat vague on what that punishment can and cannot entail.

The Alabama Code of Law, Section 16-1-24.1, which focuses on school discipline, states, "all local school boards must have a code of student conduct that includes specific grounds for disciplinary action and procedures to be followed for acts requiring discipline."

According to the law, except in the case of excessive force or cruel and unusual punishment, "no certified or non-certified employee of the state board of education or any local board of education shall be civilly liable for any action carried out in conformity with state law and system or school rules regarding the control, discipline, suspension and expulsion of students."

In addition, nothing in Section 16-1-24.1 "shall be construed to prevent a local board of education from promulgating more stringent rules and regulations than those adopted on the state level, in order to foster and maintain a safe and drug-free environment in the public schools."

Nothing in the law puts limits on corporal punishment specifically.

Malissa Valdes, public communications specialist for the Alabama Department of Education, said the department stays out of matters concerning the use of corporal punishment in schools.

"The general answer is the matter is left up to local education districts," Valdes said. "If they do allow corporal punishment, however, they must create a policy regarding it."
Local rules
All corporal punishment policies in Calhoun County's public school systems are similar. Corporal punishment typically is to be administered for minor infractions, such as talking incessantly and interrupting class, and is used on a case-by-case basis. A paddle provided by the school system should always be used, according to the policies.

A school administrator is only allowed to strike a student with a paddle three times on the buttocks during the punishment and only in the presence of another adult witness.

Each school system requires parents to approve the use of corporal punishment on their children.

All the school systems also use other forms of discipline, including internal and external suspension.

Calhoun County Schools Superintendent Judy Stiefel said her entire school system, from elementary to high school, uses corporal punishment. There has been no talk on the school board in recent years of removing it, she said.

Stiefel said to her, corporal punishment works to deter the misconduct of some students.

"For some students it does and for some students it does not," she said.

Piedmont Superintendent Matt Akin agrees with Stiefel that corporal punishment can be effective.

"It's a short-term deterrent that keeps kids in class," Akin said. "But after paddling a student two or three times, it's not that effective."

He noted paddling is not used often in Piedmont schools.

"We're fortunate we have pretty good kids," Akin said. "For the most part, our kids behave." Attempts to learn the number of times students were paddled in Piedmont in 2008-09 were unsuccessful.

To Frazier, the effectiveness of corporal punishment depends on a variety of factors.
Click to enlarge
"I think occasional use and using it when it is really warranted has the chance of improving behavior than overuse," Frazier said. "It also depends on the child. Corporal punishment is only a problem for school systems that rely solely on it for discipline."

Frazier said corporal punishment is used less in the Anniston school system than it was 10 years ago.

"We utilize several other options in addition to that," she said.

Frazier said her school system depends more on in-school and after-school suspensions for discipline.

Mackey said he has personal reservations against corporal punishment.

"I have practiced corporal punishment when I worked in the county -- I have seen it work as an effective deterrent," Mackey said. "But at the same time, I think there are other effective deterrents. I personally don't want to bring (corporal punishment) back."

Mackey noted in-school and after-school suspension were the main punishments used in Jacksonville.
[...]
---
---
WFAA-TV, Dallas, Texas, 6 May 2010
Substitute teacher takes a swing at reviving corporal punishment in Dallas ISD
By Jason Whitely
A substitute teacher is pushing Dallas ISD to reinstate corporal punishment to help restore classroom order.
Gilbert Leal, 46, has even started a website, bringbacklicks.com, in hopes of convincing school board candidates to sign on to the movement before Saturday's elections.
"Right now, teachers can easily be 70 percent teaching and 30 percent dealing with disruption," Leal said.
So far, he said, three Dallas school board members have expressed interest.
"It's the psychology of it, the threat of licks," Leal said. "That's what I think is so effective."
Leal said he got the idea from Temple Independent School District, which reinstated its corporal punishment policy last year. The district also moved to improve teachers' classroom management techniques, and only one student has been paddled -- with a parent present -- since the policy was reinstated. Disciplinary issues have reportedly improved with the new policies in place
In the five years after DISD banned paddling, student suspensions shot up, according to Dallas Morning News research.
Kimberly Lindsey, a DISD elementary teacher who just returned from leave after a second-grader kicked her and caused a tear to the cartilage in her knee, supports Leal's efforts.
"We have students who don't take teachers seriously," she said. "They're sent on referrals to the office and sent back. It's like a joke to them."
---
RELATED VIDEO CLIP

News report (2 mins 20 secs) from WFAA-TV Texas (6 May 2010) of which the above is a rough transcription. Gilbert Leal of bringbacklicks.com is interviewed.

HERE IS THE CLIP:

IMPORTANT: Copyright in this video material rests with the original copyright holders. This brief excerpt is reproduced under the "fair use" doctrine for private, non-profit, historical research and education purposes only. It must not be redistributed or republished in any commercial context.
---
kltv.com (KLTV-TV 7 News), Tyler, Texas, 6 May 2010
East Texans split over corporal punishment
By Courtney Lane
TYLER, TX (KLTV) - Should corporal punishment be revived in schools? That is one man's mission at Dallas ISD, and it has a lot of folks in East Texas talking, too. You see, Dallas ISD did away with corporal punishment five years ago. Some say the rate of in school suspension has doubled since then. Now, there is a new movement to bring paddling back.
Leal Gilbert is taking a swing at reviving corporal punishment at Dallas ISD. He created BringBackLicks.com after seeing its success at Temple ISD.
"It was fascinating because the cases of disruption just plummeted and ironically they only gave out a few licks, so it's just the psychology, the looming threat," explained Gilbert.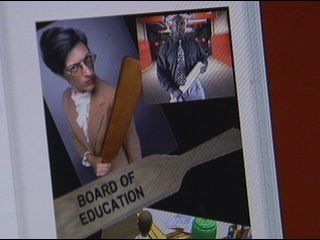 "I think there should be more of it," said Rusk mother Heather Carpenter. "Kids have an easy road and they need to be spanked, be punished in school, out of school and take responsibility for their actions."
But there are plenty of others who want it left out of schools.
"Doesn't work, paddling," explained Lashonda Johnson, another Rusk mom. "I feel like the parents should discipline their children at home because if they accidentally bruise them or something then parents are going to be upset."
Most districts in East Texas, like Longview and Tyler, have corporal punishment but it is up to parents to decide. Tyler ISD says it is rarely used anymore because of alternative methods.
"Detention that might be served or Saturday school that might be served, so there's different consequences related to the child's age," said TISD Communications Director Angela Jenkins.
Bill Martin with Sylvan Learning Center is split on this issue.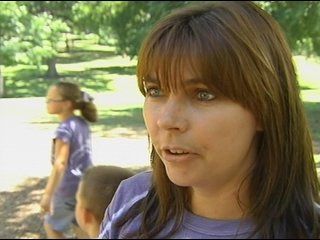 "Corporal punishment, it kept me from behaving badly from time to time but then, as a became older...as I understood psychology and behavior, I understand that the best long term solution is a positive and negative reinforcement schedule," said Martin.
At Sylvan, kids are rewarded for improvement and given nothing if they back-track. Martin believes this is more effective but takes time and patience. He says the biggest problem, is at home where there is a growing lack of discipline.
"The school is there to educate the child," said Martin. "But what's happened is that the schools have become caregivers; they've become daycare workers."
In the meantime, the debate on how to discipline kids continues.
Copyright 2010 KLTV. All rights reserved.
---
RELATED VIDEO CLIP

News report (2 mins 50 secs), of which the above is a text version, KLTV, 6 May 2010. Interviews with parents and officials, and telephone comments by the man who is trying to bring CP back in Dallas.

HERE IS THE CLIP:

IMPORTANT: Copyright in this video material rests with the original copyright holders. This brief excerpt is reproduced under the "fair use" doctrine for private, non-profit, historical research and education purposes only. It must not be redistributed or republished in any commercial context.
---

The Dallas Morning News, 7 May 2010
Paddling crusader loses sub job
Man says principal cited stir he caused at Conner Elementary
By Tawnell D. Hobbs
Staff Writer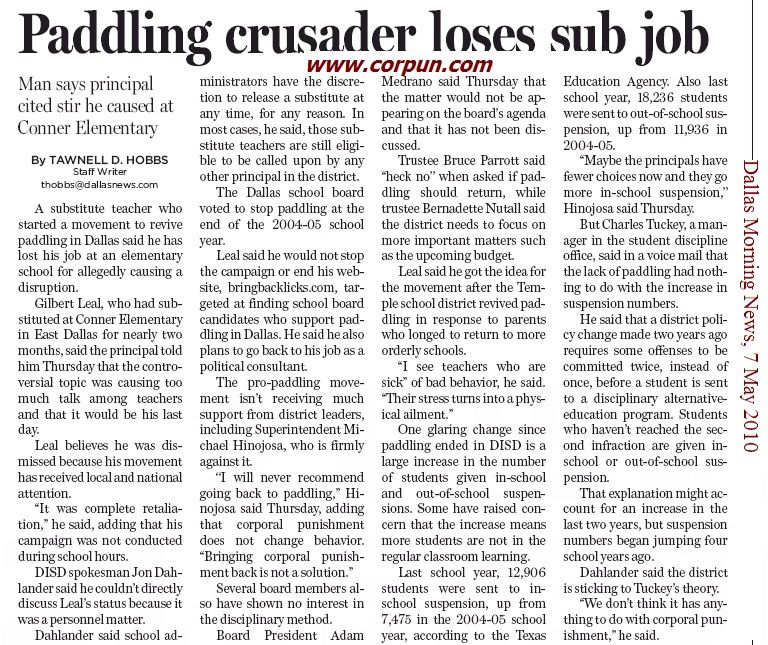 Click to enlarge
A substitute teacher who started a movement to revive paddling in Dallas said he has lost his job at an elementary school for allegedly causing a disruption.
Gilbert Leal, who had substituted at Conner Elementary in East Dallas for nearly two months, said the principal told him Thursday that the controversial topic was causing too much talk among teachers and that it would be his last day.
Leal believes he was dismissed because his movement has received local and national attention.
"It was complete retaliation," he said, adding that his campaign was not conducted during school hours.
DISD spokesman Jon Dahlander said he couldn't directly discuss Leal's status because it was a personnel matter.
Dahlander said school administrators have the discretion to release a substitute at any time, for any reason. In most cases, he said, those substitute teachers are still eligible to be called upon by any other principal in the district.
The Dallas school board voted to stop paddling at the end of the 2004-05 school year.
Leal said he would not stop the campaign or end his website, bringbacklicks.com, targeted at finding school board candidates who support paddling in Dallas. He said he also plans to go back to his job as a political consultant.
The pro-paddling movement isn't receiving much support from district leaders, including Superintendent Michael Hinojosa, who is firmly against it.
"I will never recommend going back to paddling," Hinojosa said Thursday, adding that corporal punishment does not change behavior. "Bringing corporal punishment back is not a solution."
Several board members also have shown no interest in the disciplinary method.
Board President Adam Medrano said Thursday that the matter would not be appearing on the board's agenda and that it has not been discussed.
Trustee Bruce Parrott said "heck no" when asked if paddling should return, while trustee Bernadette Nutall said the district needs to focus on more important matters such as the upcoming budget.
Leal said he got the idea for the movement after the Temple school district revived paddling in response to parents who longed to return to more orderly schools.
"I see teachers who are sick" of bad behavior, he said. "Their stress turns into a physical ailment."
One glaring change since paddling ended in DISD is a large increase in the number of students given in-school and out-of-school suspensions. Some have raised concern that the increase means more students are not in the regular classroom learning.
Last school year, 12,906 students were sent to in-school suspension, up from 7,475 in the 2004-05 school year, according to the Texas Education Agency. Also last school year, 18,236 students were sent to out-of-school suspension, up from 11,936 in 2004-05.
"Maybe the principals have fewer choices now and they go more in-school suspension," Hinojosa said Thursday.
But Charles Tuckey, a manager in the student discipline office, said in a voice mail that the lack of paddling had nothing to do with the increase in suspension numbers.
He said that a district policy change made two years ago requires some offenses to be committed twice, instead of once, before a student is sent to a disciplinary alternative-education program. Students who haven't reached the second infraction are given in-school or out-of-school suspension.
That explanation might account for an increase in the last two years, but suspension numbers began jumping four school years ago.
Dahlander said the district is sticking to Tuckey's theory.
"We don't think it has anything to do with corporal punishment," he said.
© 2010, The Dallas Morning News, Inc. All Rights Reserved.
---
---

wtva.com (WTVA-TV), Tupelo/Columbus, Mississippi, 20 May 2010
Saltillo student paddled, school apologizes

By David Iversen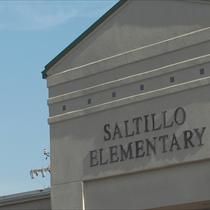 SALTILLO, Miss. (WTVA) -- On Monday, a Saltillo elementary student was involved in a fist fight at school.

Teachers took the students involved to the office and paddled them for their behavior.

The problem was that Austin Eaton is on the "Do Not Paddle" list.

His mother, Michele, took issue with this.

"To me, there's really no excuse," said Michele Eaton. "Sorry's are too late. Its been done to my child."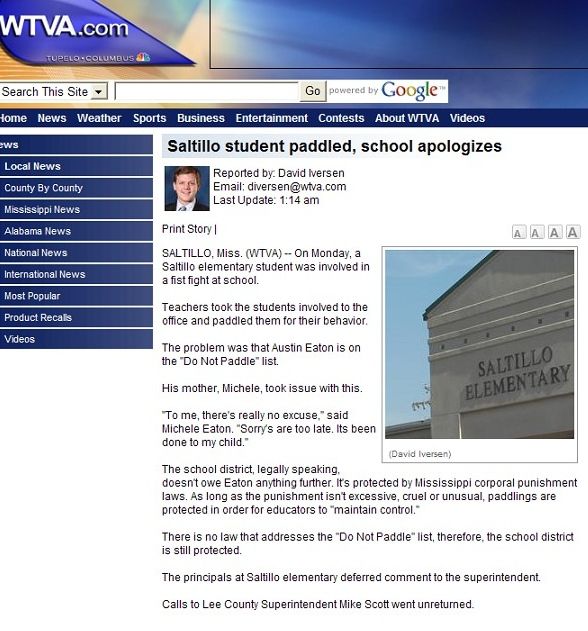 Click to enlarge
The school district, legally speaking, doesn't owe Eaton anything further. It's protected by Mississippi corporal punishment laws. As long as the punishment isn't excessive, cruel or unusual, paddlings are protected in order for educators to "maintain control."

There is no law that addresses the "Do Not Paddle" list, therefore, the school district is still protected.

The principals at Saltillo elementary deferred comment to the superintendent.

Calls to Lee County Superintendent Mike Scott went unreturned.
Copyright © 2009, WTVA Inc.
---
RELATED VIDEO CLIP

News report (1 min 40 secs), of which the above is a text summary, by David Iversen of WTVA News, 20 May 2010. The mother is interviewed about her dissatisfaction that Austin got paddled when he was on the "No paddle" list. There are scenes of the boy playing happily with his dog and his bicycle, clearly, one might think, none the worse for his paddling. Some observers may feel that this is yet another case of a "overprotective mother syndrome" and that, left to his own devices, the boy would have taken the punishment in his stride, learned his lesson and moved on.

HERE IS THE CLIP:

IMPORTANT: Copyright in this video material rests with the original copyright holders. This brief excerpt is reproduced under the "fair use" doctrine for private, non-profit, historical research and education purposes only. It must not be redistributed or republished in any commercial context.
---
---

waff.com (WAFF-TV News 48), Huntsville, Alabama, 26 May 2010
Parents given final say in disciplinary action in Florence schools
By Nick Lough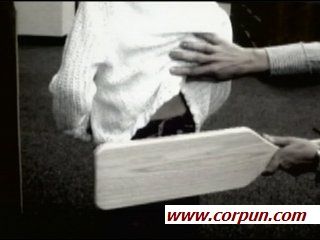 FLORENCE, AL (WAFF) - The Florence City School Board agrees to make changes to its punishment policy after a board member raises concerns over corporal punishment.
Administrators see it as a last resort, and though it does not happen often, Florence City Schools have the right to hand out corporal punishment as a disciplinary option if a student is misbehaving. It is still on the books in Alabama, so it is allowable.
At Tuesday night's school board meeting the board agreed to make some changes to its policy, giving parents the option to submit a letter waiving the school's right to spank their son or daughter if they are acting out of line. The board also banned corporal punishment in grades 7 through 12 but kept it in K through 6.
Corporal punishment has been used in the district for years, and administrators say it is a lot better than just sending a student home with a stern warning.
The child will get one spank on the behind at the principal's office and sent back to the classroom. According to a Florence principal, with many students that never occurs more than once.
Corporal punishment has now shifted gears, giving parents the upper hand above the school system by letting them choose what they feel is best for their son or daughter.
The board plans to revisit the new policy next year. More changes, including banning the practice all together, could take place at that time.
©2010 WAFF. All rights reserved.
---
RELATED VIDEO CLIP

News report (1 minute 50 seconds) from WAFF-TV (26 May 2010) of which the above is an abbreviated text version. Includes photographs of various kinds of paddles, and a couple of still pictures of paddlings, presumably posed.

HERE IS THE CLIP:

IMPORTANT: Copyright in this video material rests with the original copyright holders. This brief excerpt is reproduced under the "fair use" doctrine for private, non-profit, historical research and education purposes only. It must not be redistributed or republished in any commercial context.
---
---
Wilkes Journal-Patriot, North Wilkesboro, N. Carolina, 28 May 2010
No grade below 55 among school policy changes
By Jule Hubbard
(extracts)

Click to enlarge
In a special called meeting this morning, the Wilkes Board of Education discussed proposed changes in policies on grading, corporal punishment, graduation requirements and more.
Dr. Steve Laws, Wilkes school superintendent, said action on the proposed policy changes was expected at the board's June 7 meeting so they could be included in next year's student handbooks. Laws said the two new school board members, Rudy Holbrook and Sharron Huffman would be sworn in then also.
[...]
Corporal punishment
A proposed change in the policy for management of student behavior replaces a sentence that says school employees using corporal punishment (spanking) must follow state statutes and provincial guidelines.
The proposed new "Procedures for corporal punishment" say a parent will be notified before corporal punishment is given. They also say that only a principal or assistant principal can administer corporal punishment, that it can't be done in a classroom with other children present and it must be administered in the presence of another adult.
The policy already said that the school board believes other consequences are generally more appropriate and effective for teaching self control than corporal punishment.
Laws said the proposed additional wording reflects how Wilkes school officials already have been handling corporal punishment.
[...]
© Copyright 2007-2008 Carter-Hubbard Publishing