Pattaya Daily News, 31 August 2010
Thai Catholic School Teacher Caught Caning Students
By John Weston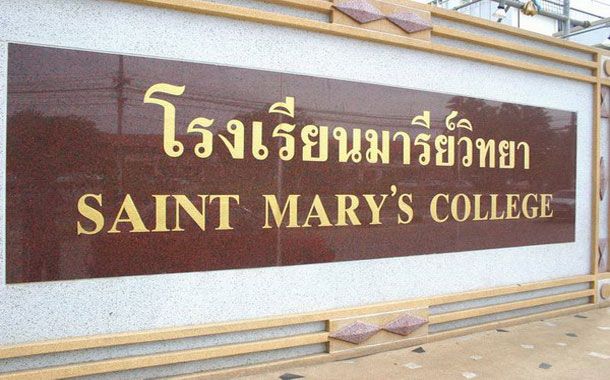 Video footage exposing a Thai teacher caning students at a Catholic boarding school in Nakhon Ratchasima has appeared on Thai television recently. The teacher, not certified by the Teacher's Council of Thailand, has subsequently been suspended by the school.
The controversial footage was aired on Thai television Monday, showing art teacher, Somchai Limthanmaporn caning several students at the St. Mary's School in Thailand's northeastern province of Nakhon Ratchasima. Over 40 students have since come forward complaining of Mr. Limthanmaporn's use of corporal punishment, forcing the school to suspend him from duty.
A school administrator, Nongkran Prathumtri, stated that the school could not condone Mr. Limthanmaporn's actions and has subsequently released him from employment with the facility. No professional sanctions have been taken against Mr. Limthanmaporn, who is not an accredited teacher with the Teacher's Council of Thailand. Parents of the children involved have however filed complaints with police over the beatings.

"He must be responsible for his wrongdoing. There will be no protection from the school," Miss Prathimtri stated to Thai television reporters.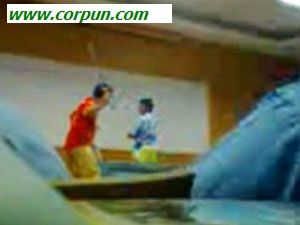 In the video clip, secretly recorded by one student, Mr. Limthanmaporn uses a cane, wrapped with electrical cable, to hit the backside of several students, who were allegedly receiving the punishment over the state of their living quarters. Several pictures of scarred buttocks were shown on Thai television, evidence that Mr. Limthanmaporn had been doling out this punishment for sometime before students took action.
Thailand's Education Ministry allows the use of verbal warnings, probation and termination by teachers were it is deemed necessary, however prohibits the use of inhumane or violent punishment, although the use of corporal punishment is not unusual in rural Thai schools.
© 2009 www.pattayadailynews.com All Rights Reserved.
---
RELATED VIDEO CLIP

Here is the 2½-minute clip referred to above. Give or take the odd theatrical gesture by the teacher, it looks like quite an ordinary caning, such as we have seen in numerous other classroom CP clips from both Thailand and elsewhere. Despite what the news report says, there is no sign that the cane is anything other than the usual rattan. Each boy receives only one stroke. There is the odd yelp (at least I think so -- the soundtrack is rather garbled) and some clutching of buttocks. The punishment is clearly meant to be moderately serious, but it does not appear excessively so. It seems to be purely a matter of chance that this particular clip has gained so much publicity, and it is hard to see why it should have produced such outrage. However, parents made a fuss in this case, the clip got on to local TV, and the teacher was later prosecuted and fined. Caning in Thailand is now technically illegal but, according to informed sources, the ban had not been much enforced and CP up to this point was still fairly common in practice.

HERE IS THE CLIP:
Country files: Corporal punishment in Thailand