Emirates 24/7, Dubai, UAE, 6 December 2010
Two maids jailed, to be lashed for sorcery
Indonesian maids accused of extorting money from employer by magic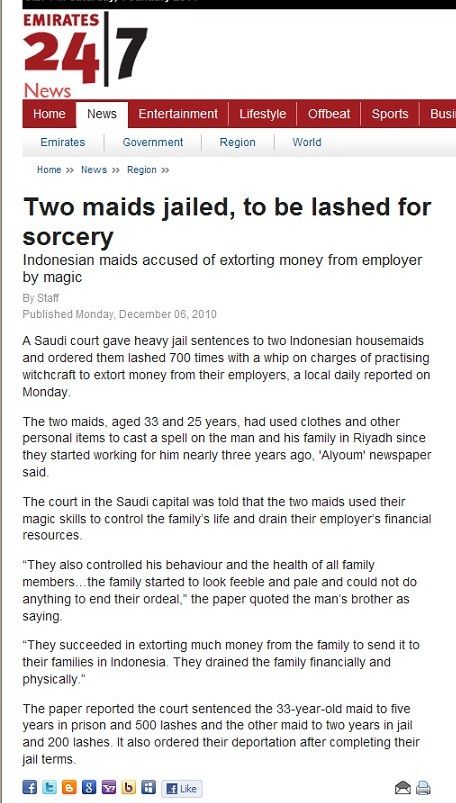 Click to enlarge
A Saudi court gave heavy jail sentences to two Indonesian housemaids and ordered them lashed 700 times with a whip on charges of practising witchcraft to extort money from their employers, a local daily reported on Monday.
The two maids, aged 33 and 25 years, had used clothes and other personal items to cast a spell on the man and his family in Riyadh since they started working for him nearly three years ago, 'Alyoum' newspaper said.
The court in the Saudi capital was told that the two maids used their magic skills to control the family's life and drain their employer's financial resources.
"They also controlled his behaviour and the health of all family members ... the family started to look feeble and pale and could not do anything to end their ordeal," the paper quoted the man's brother as saying.
"They succeeded in extorting much money from the family to send it to their families in Indonesia. They drained the family financially and physically."
The paper reported the court sentenced the 33-year-old maid to five years in prison and 500 lashes and the other maid to two years in jail and 200 lashes. It also ordered their deportation after completing their jail terms.
Copyright © 2010. Dubai Media Incorporated. All rights reserved.
---
---
Emirates 24/7, Dubai, UAE, 15 December 2010
Son of Saudi Islamic police chief to be lashed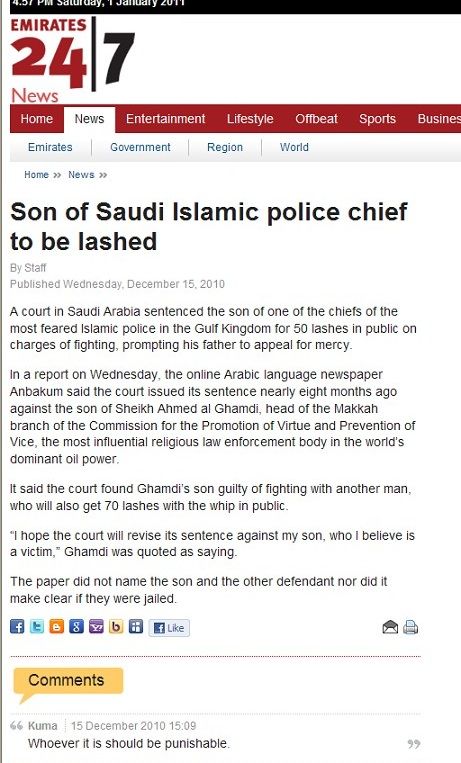 Click to enlarge
A court in Saudi Arabia sentenced the son of one of the chiefs of the most feared Islamic police in the Gulf Kingdom for 50 lashes in public on charges of fighting, prompting his father to appeal for mercy.
In a report on Wednesday, the online Arabic language newspaper Anbakum said the court issued its sentence nearly eight months ago against the son of Sheikh Ahmed al Ghamdi, head of the Makkah branch of the Commission for the Promotion of Virtue and Prevention of Vice, the most influential religious law enforcement body in the world's dominant oil power.
It said the court found Ghamdi's son guilty of fighting with another man, who will also get 70 lashes with the whip in public.
"I hope the court will revise its sentence against my son, who I believe is a victim," Ghamdi was quoted as saying.
The paper did not name the son and the other defendant nor did it make clear if they were jailed.
Copyright © 2010. Dubai Media Incorporated. All rights reserved.
---
---
Emirates 24/7, Dubai, UAE, 23 December 2010
Mobile phone thief gets five years, 500 lashes
Click to enlarge
A Saudi court sentenced a local man for five years in prison and ordered him lashed 500 times in public for robbing another Saudi at knife point, the Arabic language daily Alriyadh reported on Thursday.
The man, in his 20s, and six friends stopped their car near a vehicle that was stuck in sand outside the capital Riyadh and threatened its driver with a knife unless he gives them his mobile phone and money.
After stealing his phone and SR200, they fled the scene but the victim managed to memorize their car number, the paper said.
Police later arrested the man, who was tried and sentenced to five years in prison and 500 lashes with the whip. He insisted that his friends did not help him.
Copyright © 2010. Dubai Media Incorporated. All rights reserved.