PNG Post-Courier, Port Moresby, 19 November 2010
Corporal punishment
By Poreni Umau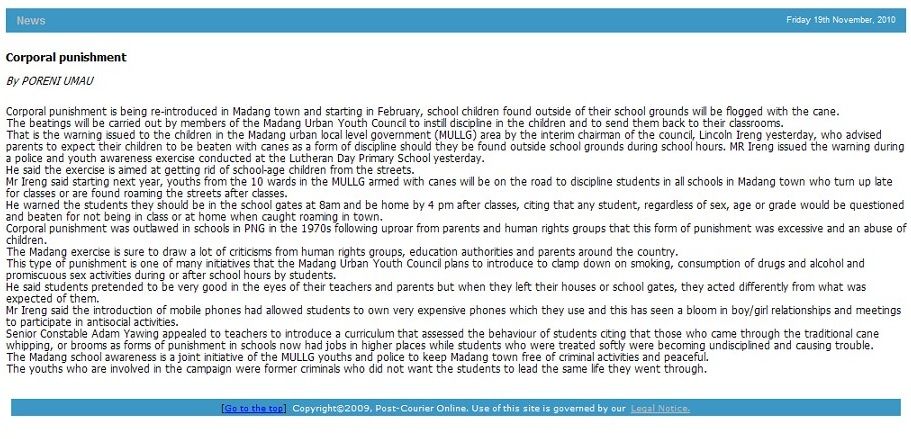 Click to enlarge
Corporal punishment is being re-introduced in Madang town and starting in February, school children found outside of their school grounds will be flogged with the cane.
The beatings will be carried out by members of the Madang Urban Youth Council to instill discipline in the children and to send them back to their classrooms.
That is the warning issued to the children in the Madang urban local level government (MULLG) area by the interim chairman of the council, Lincoln Ireng yesterday, who advised parents to expect their children to be beaten with canes as a form of discipline should they be found outside school grounds during school hours. Mr Ireng issued the warning during a police and youth awareness exercise conducted at the Lutheran Day Primary School yesterday.
He said the exercise is aimed at getting rid of school-age children from the streets.
Mr Ireng said starting next year, youths from the 10 wards in the MULLG armed with canes will be on the road to discipline students in all schools in Madang town who turn up late for classes or are found roaming the streets after classes.
He warned the students they should be in the school gates at 8am and be home by 4 pm after classes, citing that any student, regardless of sex, age or grade would be questioned and beaten for not being in class or at home when caught roaming in town.
Corporal punishment was outlawed in schools in PNG in the 1970s [No, it remains lawful; the government merely asked schools not to use it -- C.F.] following uproar from parents and human rights groups that this form of punishment was excessive and an abuse of children.
The Madang exercise is sure to draw a lot of criticisms from human rights groups, education authorities and parents around the country.
This type of punishment is one of many initiatives that the Madang Urban Youth Council plans to introduce to clamp down on smoking, consumption of drugs and alcohol and promiscuous sex activities during or after school hours by students.
He said students pretended to be very good in the eyes of their teachers and parents but when they left their houses or school gates, they acted differently from what was expected of them.
Mr Ireng said the introduction of mobile phones had allowed students to own very expensive phones which they use and this has seen a bloom in boy/girl relationships and meetings to participate in antisocial activities.
Senior Constable Adam Yawing appealed to teachers to introduce a curriculum that assessed the behaviour of students citing that those who came through the traditional cane whipping, or brooms as forms of punishment in schools now had jobs in higher places while students who were treated softly were becoming undisciplined and causing trouble.
The Madang school awareness is a joint initiative of the MULLG youths and police to keep Madang town free of criminal activities and peaceful.
The youths who are involved in the campaign were former criminals who did not want the students to lead the same life they went through.