PM News, Lagos, 5 August 2010
ATM Fraud: 2 Get 6-Month Jail Term Each Or N2,000 Fine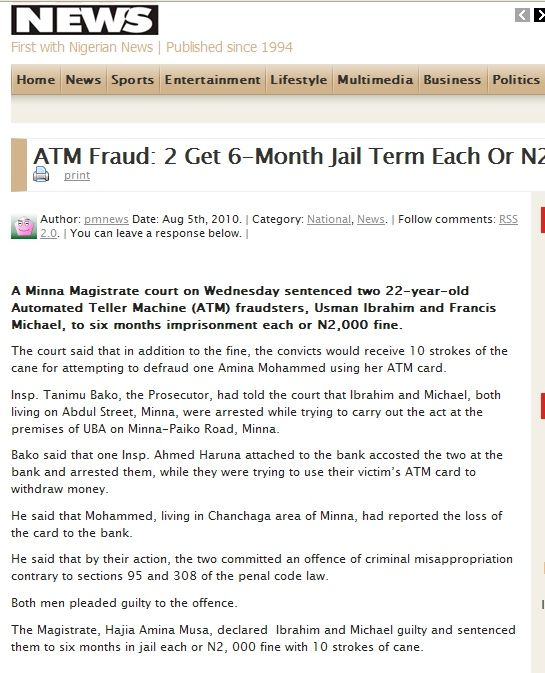 Click to enlarge
A Minna Magistrate court on Wednesday sentenced two 22-year-old Automated Teller Machine (ATM) fraudsters, Usman Ibrahim and Francis Michael, to six months imprisonment each or N2,000 fine.
The court said that in addition to the fine, the convicts would receive 10 strokes of the cane for attempting to defraud one Amina Mohammed using her ATM card.
Insp. Tanimu Bako, the Prosecutor, had told the court that Ibrahim and Michael, both living on Abdul Street, Minna, were arrested while trying to carry out the act at the premises of UBA on Minna-Paiko Road, Minna.
Bako said that one Insp. Ahmed Haruna attached to the bank accosted the two at the bank and arrested them, while they were trying to use their victim's ATM card to withdraw money.
He said that Mohammed, living in Chanchaga area of Minna, had reported the loss of the card to the bank.
He said that by their action, the two committed an offence of criminal misappropriation contrary to sections 95 and 308 of the penal code law.
Both men pleaded guilty to the offence.
The Magistrate, Hajia Amina Musa, declared  Ibrahim and Michael guilty and sentenced them to six months in jail each or N2, 000 fine with 10 strokes of cane.
Copyright © 2010 PM News Nigeria. All rights reserved.
---
---
Daily Trust, Abuja, 29 August 2010
Minor flogged for hawking in Abuja
By Usman A. Bello & Shenjobi Omotoyosi
(extract)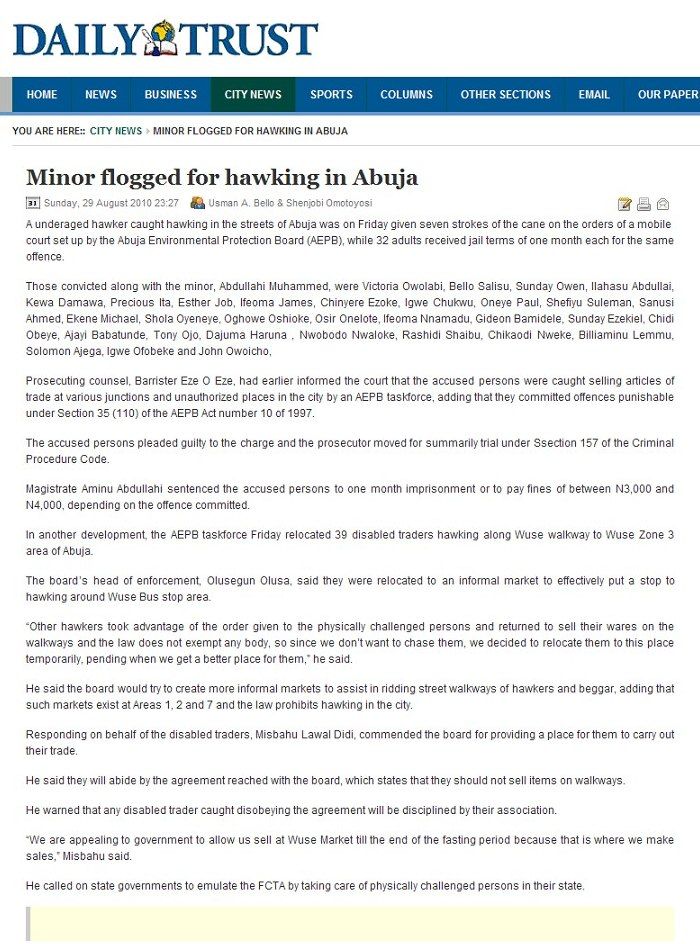 Click to enlarge
A [sic] underaged hawker caught hawking in the streets of Abuja was on Friday given seven strokes of the cane on the orders of a mobile court set up by the Abuja Environmental Protection Board (AEPB), while 32 adults received jail terms of one month each for the same offence.
Those convicted along with the minor, Abdullahi Muhammed, were Victoria Owolabi, Bello Salisu, Sunday Owen, Ilahasu Abdullai, Kewa Damawa, Precious Ita, Esther Job, Ifeoma James, Chinyere Ezoke, Igwe Chukwu, Oneye Paul, Shefiyu Suleman, Sanusi Ahmed, Ekene Michael, Shola Oyeneye, Oghowe Oshioke, Osir Onelote, Ifeoma Nnamadu, Gideon Bamidele, Sunday Ezekiel, Chidi Obeye, Ajayi Babatunde, Tony Ojo, Dajuma Haruna, Nwobodo Nwaloke, Rashidi Shaibu, Chikaodi Nweke, Billiaminu Lemmu, Solomon Ajega, Igwe Ofobeke and John Owoicho.
Prosecuting counsel, Barrister Eze O Eze, had earlier informed the court that the accused persons were caught selling articles of trade at various junctions and unauthorized places in the city by an AEPB taskforce, adding that they committed offences punishable under Section 35 (110) of the AEPB Act number 10 of 1997.
The accused persons pleaded guilty to the charge and the prosecutor moved for summarily trial under Section 157 of the Criminal Procedure Code.
Magistrate Aminu Abdullahi sentenced the accused persons to one month imprisonment or to pay fines of between N3,000 and N4,000, depending on the offence committed.
In another development, the AEPB taskforce Friday relocated 39 disabled traders hawking along Wuse walkway to Wuse Zone 3 area of Abuja.
[...]
Country files: Judicial corporal punishment in Nigeria