The Punch, Lagos, 18 June 2010
Car theft suspect granted bail, another gets strokes of cane
Agency reporter
(extracts)
An Osogbo Chief Magistrate's Court on Thursday granted bail to one Ismail Fadare, 40, accused of stealing a car with registration number Osun 386 RLG, valued at N520,000.
[...]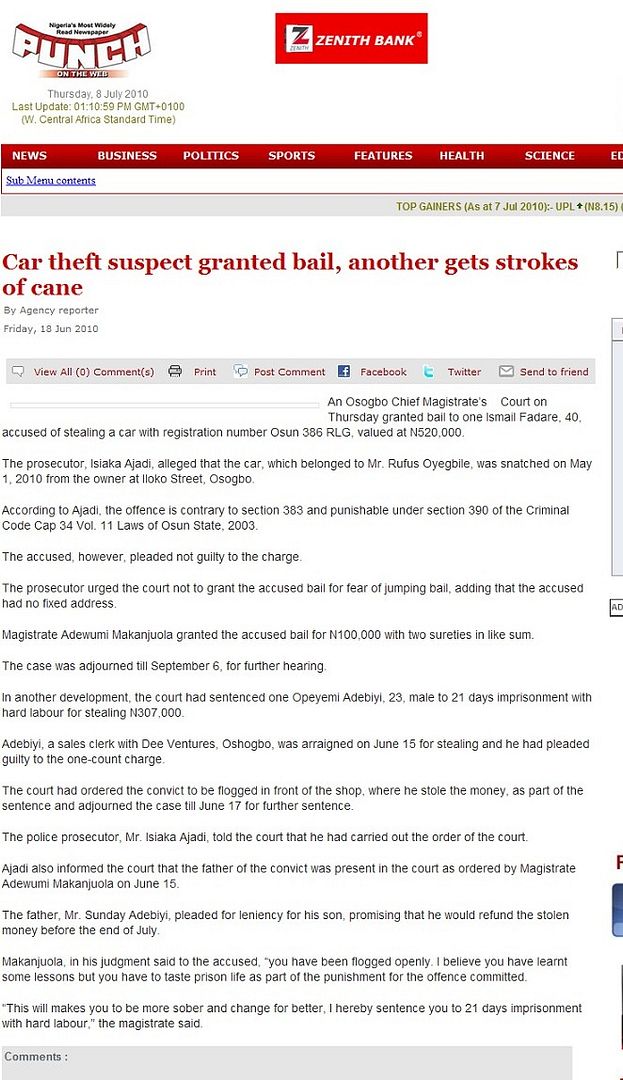 Click to enlarge
In another development, the court had sentenced one Opeyemi Adebiyi, 23, male to 21 days imprisonment with hard labour for stealing N307,000.
Adebiyi, a sales clerk with Dee Ventures, Oshogbo, was arraigned on June 15 for stealing and he had pleaded guilty to the one-count charge.
The court had ordered the convict to be flogged in front of the shop, where he stole the money, as part of the sentence and adjourned the case till June 17 for further sentence.
The police prosecutor, Mr. Isiaka Ajadi, told the court that he had carried out the order of the court.
Ajadi also informed the court that the father of the convict was present in the court as ordered by Magistrate Adewumi Makanjuola on June 15.
The father, Mr. Sunday Adebiyi, pleaded for leniency for his son, promising that he would refund the stolen money before the end of July.
Makanjuola, in his judgment said to the accused, "you have been flogged openly. I believe you have learnt some lessons but you have to taste prison life as part of the punishment for the offence committed.
"This will makes you to be more sober and change for better, I hereby sentence you to 21 days imprisonment with hard labour," the magistrate said.
Copyright 2006 The Punch
---
---
The Daily Trust, Abuja, 23 June 2010
Nigeria: Student Flogged in Open Court for Theft
By Lucas Istifanus and Bunmi Omolehin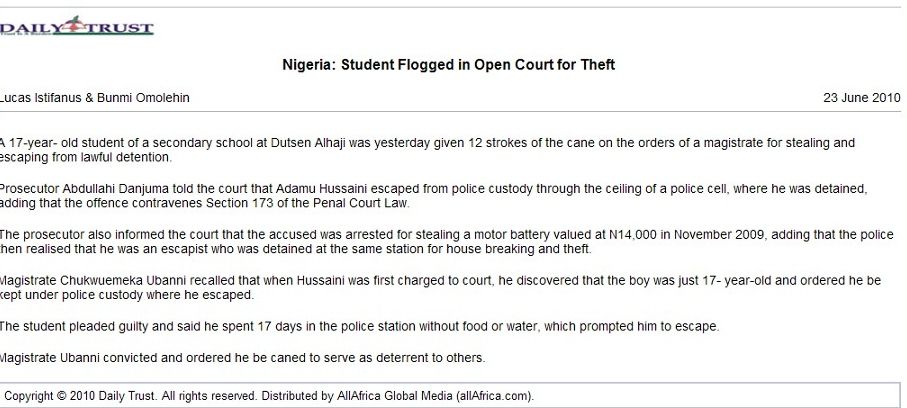 Click to enlarge
A 17-year-old student of a secondary school at Dutsen Alhaji was yesterday given 12 strokes of the cane on the orders of a magistrate for stealing and escaping from lawful detention.
Prosecutor Abdullahi Danjuma told the court that Adamu Hussaini escaped from police custody through the ceiling of a police cell, where he was detained, adding that the offence contravenes Section 173 of the Penal Court Law.
The prosecutor also informed the court that the accused was arrested for stealing a motor battery valued at N14,000 in November 2009, adding that the police then realised that he was an escapist who was detained at the same station for house breaking and theft.
Magistrate Chukwuemeka Ubanni recalled that when Hussaini was first charged to court, he discovered that the boy was just 17-year-old and ordered he be kept under police custody where he escaped.
The student pleaded guilty and said he spent 17 days in the police station without food or water, which prompted him to escape.
Magistrate Ubanni convicted and ordered he be caned to serve as deterrent to others.
Copyright © 2010 Daily Trust. All rights reserved.