Daily Trust, Abuja, 3 March 2010
Student caned for stealing goat
By Hussein Yahaya and Ibraheem A. Fatai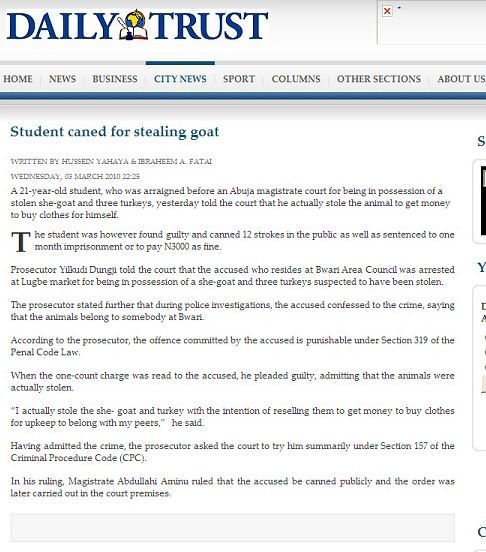 Click to enlarge
A 21-year-old student, who was arraigned before an Abuja magistrate court for being in possession of a stolen she-goat and three turkeys, yesterday told the court that he actually stole the animal to get money to buy clothes for himself.
The student was however found guilty and canned [sic] 12 strokes in the [sic] public as well as sentenced to one month imprisonment or to pay N3000 as fine.
Prosecutor Yilkudi Dungji told the court that the accused who resides at Bwari Area Council was arrested at Lugbe market for being in possession of a she-goat and three turkeys suspected to have been stolen.
The prosecutor stated further that during police investigations, the accused confessed to the crime, saying that the animals belong to somebody at Bwari.
According to the prosecutor, the offence committed by the accused is punishable under Section 319 of the Penal Code Law.
When the one-count charge was read to the accused, he pleaded guilty, admitting that the animals were actually stolen.
"I actually stole the she-goat and turkey with the intention of reselling them to get money to buy clothes for upkeep to belong with my peers," he said.
Having admitted the crime, the prosecutor asked the court to try him summarily under Section 157 of the Criminal Procedure Code (CPC).
In his ruling, Magistrate Abdullahi Aminu ruled that the accused be canned [sic] publicly and the order was later carried out in the court premises.
Copyright (c) 1998 - 2009. Daily Trust