Joong Ang Daily, Seoul, 21 October 2010
Letters to the editor
Resisting Students' Rights
By Joo Na Hyun, a freshman at Daewon Foreign Language High School
(extract)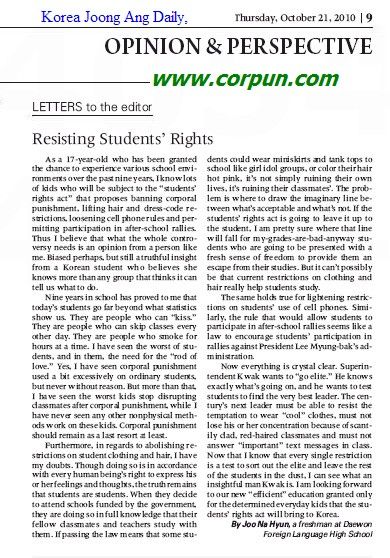 Click to enlarge
As a 17-year-old who has been granted the chance to experience various school environments over the past nine years, I know lots of kids who will be subject to the "students' rights act" that proposes banning corporal punishment, lifting hair and dress-code restrictions, loosening cell phone rules and permitting participation in after-school rallies. Thus I believe that what the whole controversy needs is an opinion from a person like me. Biased perhaps, but still a truthful insight from a Korean student who believes she knows more than any group that thinks it can tell us what to do.

Nine years in school has proved to me that today's students go far beyond what statistics show us. They are people who can "kiss." They are people who can skip classes every other day. They are people who smoke for hours at a time. I have seen the worst of students, and in them, the need for the "rod of love." Yes, I have seen corporal punishment used a bit excessively on ordinary students, but never without reason. But more than that, I have seen the worst kids stop disrupting classmates after corporal punishment, while I have never seen any other nonphysical methods work on these kids. Corporal punishment should remain as a last resort at least.

Furthermore, in regards to abolishing restrictions on student clothing and hair, I have my doubts. Though doing so is in accordance with every human being's right to express his or her feelings and thoughts, the truth remains that students are students. When they decide to attend schools funded by the government, they are doing so in full knowledge that their fellow classmates and teachers study with them. If passing the law means that some students could wear miniskirts and tank tops to school like girl idol groups, or color their hair hot pink, it's not simply ruining their own lives, it's ruining their classmates'. The problem is where to draw the imaginary line between what's acceptable and what's not. If the students' rights act is going to leave it up to the student, I am pretty sure where that line will fall for my-grades-are-bad-anyway students who are going to be presented with a fresh sense of freedom to provide them an escape from their studies. But it can't possibly be that current restrictions on clothing and hair really help students study.
[...]
---
---
Yonhap News Agency, 24 October 2010
Most Seoul schools set new rules to ban corporal punishment
SEOUL, Oct. 24 (Yonhap) -- Most primary and secondary schools in Seoul have recently established rules forbidding corporal punishment in line with a policy proposed by the capital's liberal educational chief, Seoul's educational office said Sunday.

Nearly 80 to 90 percent of high schools and about 50 percent of elementary and middle schools in Seoul have adopted new rules or revised previous rules to ban corporal punishment, the Seoul Metropolitan Office of Education said.

The remaining elementary and middle schools are expected to follow suit in the coming weeks, the office said.

Liberal Superintendent Kwak No-hyun, who was elected in a popular election in June, took office in July and directed all schools not to physically punish their students as part of reforms.

Schools moved slowly until early this month to carry out the direction, but showed progress from the third week after the authority sent supervisors to schools to encourage reforms, the office said.

Despite the presence of new rules, it is unclear whether they will remain effective with some teachers expressing concerns that a growing number students could become unruly because of the "no corporal punishment" policy.
Country files: School corporal punishment in S. Korea
Other months for school CP in South Korea:
March 2002
June 2002
May 2003
September 2003
September 2006
March 2007
August 2010
September 2010