The Voice, Francistown, 16 March 2010
"Give me back my trousers"
By Kelebogile Bale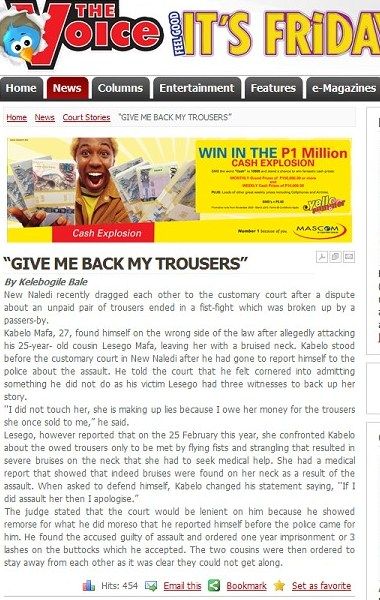 Click to enlarge
New Naledi recently dragged each other to the customary court after a dispute about an unpaid pair of trousers ended in a fist-fight which was broken up by a passers-by.
Kabelo Mafa, 27, found himself on the wrong side of the law after allegedly attacking his 25-year-old cousin Lesego Mafa, leaving her with a bruised neck. Kabelo stood before the customary court in New Naledi after he had gone to report himself to the police about the assault. He told the court that he felt cornered into admitting something he did not do as his victim Lesego had three witnesses to back up her story.
"I did not touch her, she is making up lies because I owe her money for the trousers she once sold to me," he said.
Lesego, however reported that on the 25 February this year, she confronted Kabelo about the owed trousers only to be met by flying fists and strangling that resulted in severe bruises on the neck that she had to seek medical help. She had a medical report that showed that indeed bruises were found on her neck as a result of the assault. When asked to defend himself, Kabelo changed his statement saying, "If I did assault her then I apologise."
The judge stated that the court would be lenient on him because he showed remorse for what he did moreso that he reported himself before the police came for him. He found the accused guilty of assault and ordered one year imprisonment or 3 lashes on the buttocks which he accepted. The two cousins were then ordered to stay away from each other as it was clear they could not get along.
---
---
The Voice, Francistown, 19 March 2010
The wages of theft
Three strokes on bare buttocks
By Kelebogile Bale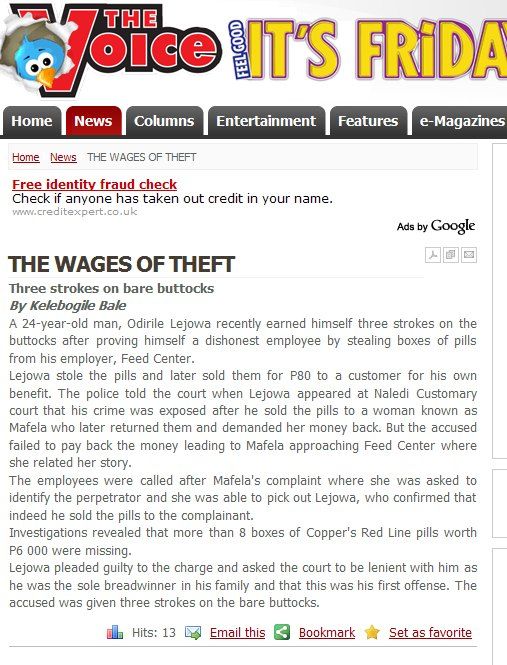 Click to enlarge
A 24-year-old man, Odirile Lejowa recently earned himself three strokes on the buttocks after proving himself a dishonest employee by stealing boxes of pills from his employer, Feed Center.
Lejowa stole the pills and later sold them for P80 to a customer for his own benefit. The police told the court when Lejowa appeared at Naledi Customary court that his crime was exposed after he sold the pills to a woman known as Mafela who later returned them and demanded her money back. But the accused failed to pay back the money leading to Mafela approaching Feed Center where she related her story.
The employees were called after Mafela's complaint where she was asked to identify the perpetrator and she was able to pick out Lejowa, who confirmed that indeed he sold the pills to the complainant.
Investigations revealed that more than 8 boxes of Copper's Red Line pills worth P6 000 were missing.
Lejowa pleaded guilty to the charge and asked the court to be lenient with him as he was the sole breadwinner in his family and that this was his first offense. The accused was given three strokes on the bare buttocks.