Business Day, Johannesburg, 7 August 2009
Eastern Cape teachers call for corporal punishment
Sapa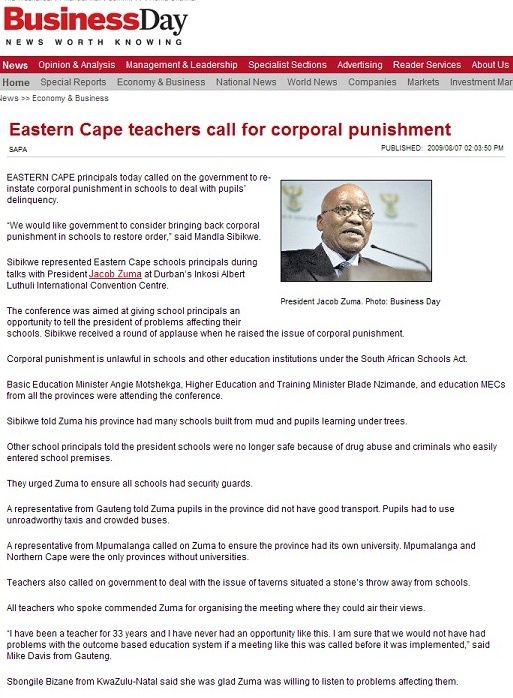 Click to enlarge
EASTERN CAPE principals today called on the government to re-instate corporal punishment in schools to deal with pupils' delinquency.
"We would like government to consider bringing back corporal punishment in schools to restore order," said Mandla Sibikwe.
Sibikwe represented Eastern Cape schools principals during talks with President Jacob Zuma at Durban's Inkosi Albert Luthuli International Convention Centre.
The conference was aimed at giving school principals an opportunity to tell the president of problems affecting their schools. Sibikwe received a round of applause when he raised the issue of corporal punishment.
Corporal punishment is unlawful in schools and other education institutions under the South African Schools Act.
Basic Education Minister Angie Motshekga, Higher Education and Training Minister Blade Nzimande, and education MECs from all the provinces were attending the conference.
Sibikwe told Zuma his province had many schools built from mud and pupils learning under trees.
Other school principals told the president schools were no longer safe because of drug abuse and criminals who easily entered school premises.
They urged Zuma to ensure all schools had security guards.
A representative from Gauteng told Zuma pupils in the province did not have good transport. Pupils had to use unroadworthy taxis and crowded buses.
A representative from Mpumalanga called on Zuma to ensure the province had its own university. Mpumalanga and Northern Cape were the only provinces without universities.
Teachers also called on government to deal with the issue of taverns situated a stone's throw away from schools.
All teachers who spoke commended Zuma for organising the meeting where they could air their views.
"I have been a teacher for 33 years and I have never had an opportunity like this. I am sure that we would not have had problems with the outcome based education system if a meeting like this was called before it was implemented," said Mike Davis from Gauteng.
Sbongile Bizane from KwaZulu-Natal said she was glad Zuma was willing to listen to problems affecting them.
Copyright © 2009 BDFM Publishers (Pty) Ltd. All Rights Reserved