wcpo.com (9 news, WCPO-TV), Cincinnati, Ohio, 13 November 2009
Police: Man Beat Son With Wooden Paddle
By Larry Shields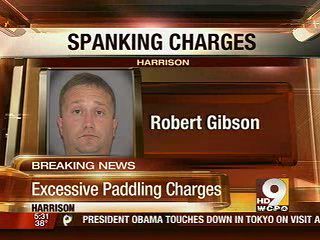 HARRISON, Ohio -- A Harrison man faces charges after police say he excessively paddled his son.
The investigation started after the boy's father, 35-year-old Robert Jamie Gibson, allegedly spanked his son earlier this month at his home on Sunset Avenue.
9News obtained the incident report from Harrison Police.
According to the document, the 10-year-old boy's mother and father, who do not live together, decided that their son should receive a spanking for getting Cs and Ds on his report card in early November.
According to Harrison Police, the boy's mother, who lives in Green Township, contacted Children's Services about injuries to her child.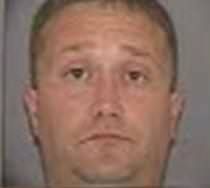 Gibson is charged with domestic violence and child endangering (HCSO, 2009)
Police say Gibson told them he used a homemade wooden paddle to hit his son five times.
Children's Services took photos of the boy's injuries. Police describe them as "severe bruising and skin parching of the boy's entire buttocks."
Dr. Tom Kenstrict, a professor of early childhood education at Xavier University, says when it comes to consequences, parents need to communicate.
"The most effective thing for parents to do is to be on the same page and to know that it's more about communication with the child than it is punitive methods," said Dr. Kenstrict.
Gibson is charged with domestic violence and child endangering. Both are misdemeanors.
Julie Wilson, of the Hamilton County Prosecutors Office, says there are a lot of factors in a child abuse case.
"You have to look at a variety of things. The age of the child is very important," said Wilson.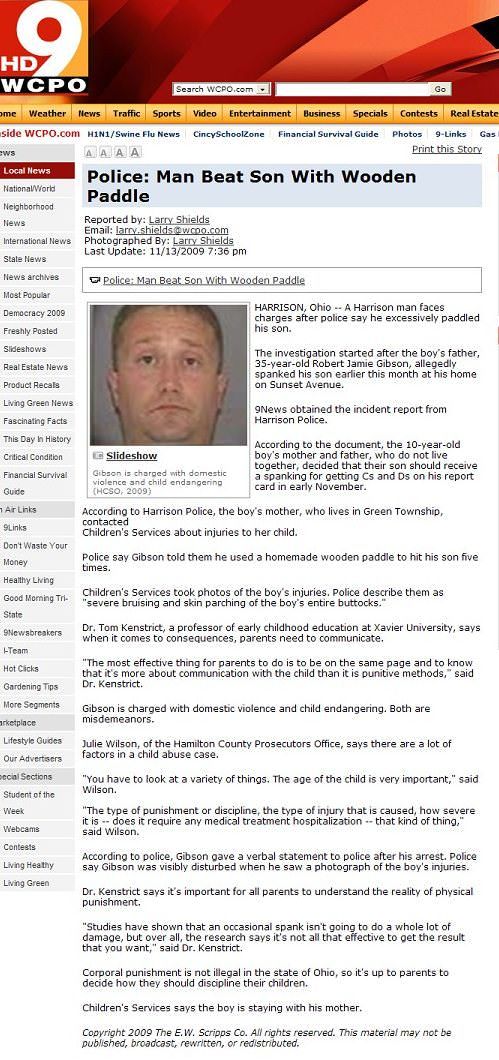 Click to enlarge
"The type of punishment or discipline, the type of injury that is caused, how severe it is -- does it require any medical treatment hospitalization -- that kind of thing," said Wilson.
According to police, Gibson gave a verbal statement to police after his arrest. Police say Gibson was visibly disturbed when he saw a photograph of the boy's injuries.
Dr. Kenstrict says it's important for all parents to understand the reality of physical punishment.
"Studies have shown that an occasional spank isn't going to do a whole lot of damage, but over all, the research says it's not all that effective to get the result that you want," said Dr. Kenstrict.
Corporal punishment is not illegal in the state of Ohio, so it's up to parents to decide how they should discipline their children.
Children's Services says the boy is staying with his mother.
Copyright 2009 The E.W. Scripps Co. All rights reserved.
---
RELATED VIDEO CLIP

TV report (2 minutes 0 seconds) from WCPO 9 News, Cincinnati, Ohio, 13 Nov 2009, of which the above is a text version.

HERE IS THE CLIP:

IMPORTANT: Copyright in this video material rests with the original copyright holders. This brief excerpt is reproduced under the "fair use" doctrine for private, non-profit, historical research and education purposes only. It must not be redistributed or republished in any commercial context.