AsiaOne.com, Singapore, 13 October 2009
Students distressed by public canings just days before exams
Parents wonder if punishment was really necessary and appropriate.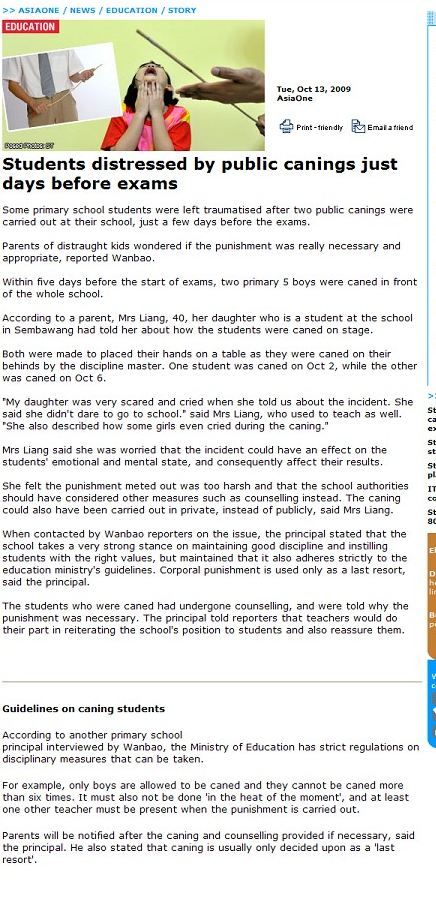 Some primary school students were left traumatised after two public canings were carried out at their school, just a few days before the exams.

Parents of distraught kids wondered if the punishment was really necessary and appropriate, reported Wanbao.

Within five days before the start of exams, two primary 5 boys were caned in front of the whole school.

According to a parent, Mrs Liang, 40, her daughter who is a student at the school in Sembawang had told her about how the students were caned on stage.

Both were made to placed their hands on a table as they were caned on their behinds by the discipline master. One student was caned on Oct 2, while the other was caned on Oct 6.

"My daughter was very scared and cried when she told us about the incident. She said she didn't dare to go to school." said Mrs Liang, who used to teach as well. "She also described how some girls even cried during the caning."

Mrs Liang said she was worried that the incident could have an effect on the students' emotional and mental state, and consequently affect their results.

She felt the punishment meted out was too harsh and that the school authorities should have considered other measures such as counselling instead. The caning could also have been carried out in private, instead of publicly, said Mrs Liang.

When contacted by Wanbao reporters on the issue, the principal stated that the school takes a very strong stance on maintaining good discipline and instilling students with the right values, but maintained that it also adheres strictly to the education ministry's guidelines. Corporal punishment is used only as a last resort, said the principal.

The students who were caned had undergone counselling, and were told why the punishment was necessary. The principal told reporters that teachers would do their part in reiterating the school's position to students and also reassure them.
---
Guidelines on caning students
According to another primary school principal interviewed by Wanbao, the Ministry of Education has strict regulations on disciplinary measures that can be taken.
For example, only boys are allowed to be caned and they cannot be caned more than six times. It must also not be done 'in the heat of the moment', and at least one other teacher must be present when the punishment is carried out.
Parents will be notified after the caning and counselling provided if necessary, said the principal. He also stated that caning is usually only decided upon as a 'last resort'.
About this website

Search this site

Archive 2009: Singapore

Illustrated article: Caning in Singapore schools

Video clips

Picture index