The Daily Star, Beirut, Lebanon, 16 November 2009
LBC's 'Bold Red Line' sex braggart appeals jail sentence
By Agence France Presse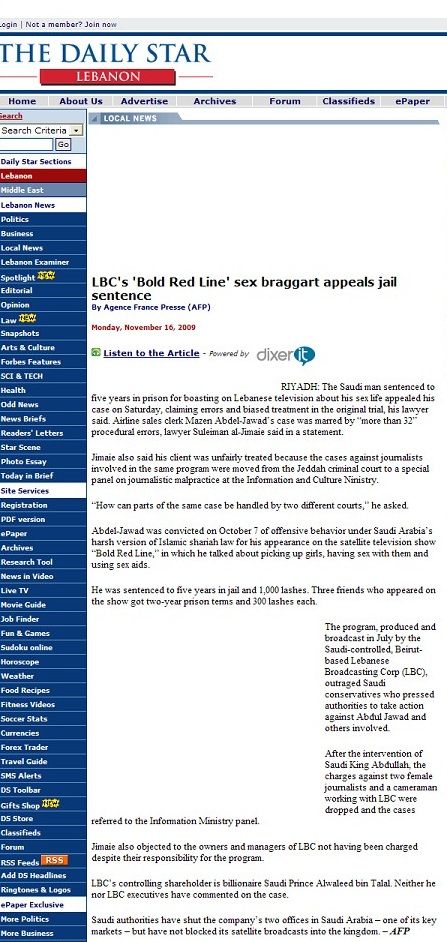 Click to enlarge
RIYADH: The Saudi man sentenced to five years in prison for boasting on Lebanese television about his sex life appealed his case on Saturday, claiming errors and biased treatment in the original trial, his lawyer said. Airline sales clerk Mazen Abdel-Jawad's case was marred by "more than 32" procedural errors, lawyer Suleiman al-Jimaie said in a statement.
Jimaie also said his client was unfairly treated because the cases against journalists involved in the same program were moved from the Jeddah criminal court to a special panel on journalistic malpractice at the Information and Culture Ministry.
"How can parts of the same case be handled by two different courts," he asked.
Abdel-Jawad was convicted on October 7 of offensive behavior under Saudi Arabia's harsh version of Islamic shariah law for his appearance on the satellite television show "Bold Red Line," in which he talked about picking up girls, having sex with them and using sex aids.
He was sentenced to five years in jail and 1,000 lashes. Three friends who appeared on the show got two-year prison terms and 300 lashes each.
The program, produced and broadcast in July by the Saudi-controlled, Beirut-based Lebanese Broadcasting Corp (LBC), outraged Saudi conservatives who pressed authorities to take action against Abdul Jawad and others involved.
After the intervention of Saudi King Abdullah, the charges against two female journalists and a cameraman working with LBC were dropped and the cases referred to the Information Ministry panel.
Jimaie also objected to the owners and managers of LBC not having been charged despite their responsibility for the program.
LBC's controlling shareholder is billionaire Saudi Prince Alwaleed bin Talal. Neither he nor LBC executives have commented on the case.
Saudi authorities have shut the company's two offices in Saudi Arabia -- one of its key markets -- but have not blocked its satellite broadcasts into the kingdom.
Copyright (c) 2009 The Daily Star
---
---
Saudi Gazette, Jeddah, 19 November 2009
2 years, 500 lashes for 'breaking spells'
By Adnan Al-Sharawi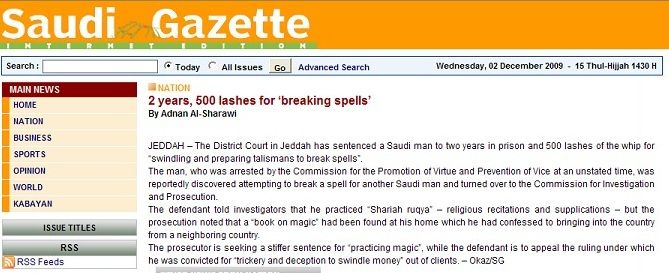 Click to enlarge
JEDDAH -- The District Court in Jeddah has sentenced a Saudi man to two years in prison and 500 lashes of the whip for "swindling and preparing talismans to break spells".
The man, who was arrested by the Commission for the Promotion of Virtue and Prevention of Vice at an unstated time, was reportedly discovered attempting to break a spell for another Saudi man and turned over to the Commission for Investigation and Prosecution.
The defendant told investigators that he practiced "Shariah ruqya" -- religious recitations and supplications -- but the prosecution noted that a "book on magic" had been found at his home which he had confessed to bringing into the country from a neighboring country.
The prosecutor is seeking a stiffer sentence for "practicing magic", while the defendant is to appeal the ruling under which he was convicted for "trickery and deception to swindle money" out of clients. -- Okaz/SG
---
---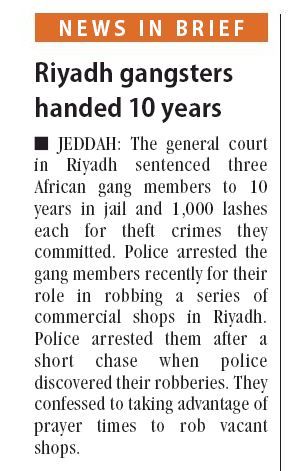 Click to enlarge
Arab News, Riyadh/Jeddah, 20 November 2009
Riyadh gangsters handed 10 years
JEDDAH: The general court in Riyadh sentenced three African gang members to 10 years in jail and 1,000 lashes each for theft crimes they committed. Police arrested the gang members recently for their role in robbing a series of commercial shops in Riyadh. Police arrested them after a short chase when police discovered their robberies. They confessed to taking advantage of prayer times to rob vacant shops.
Copyright: Arab News © 2003 All rights reserved.
---
---
Saudi Gazette, Jeddah, 23 November 2009
Blackmailing womanizer gets 8 yrs and 700 lashes
By Khalid Al-Ruba'i
Click to enlarge
BURAIDAH -- A 45-year-old Saudi man has been sentenced to eight years' prison and 700 lashes of the whip for blackmailing and threatening women after obtaining their telephone numbers and photographs.
The convicted man, who is to appeal the sentence, obtained telephone numbers of various women and "improper" images of them through e-mail after building trusting relationships with them, which then used the materials to demand money and sex, threatening to "ruin their reputations" if they failed to comply. The man was arrested when one of his victims informed the authorities, and officials found incriminating evidence on his mobile telephone and laptop computer.
Also found were identity papers belonging to the husband of one of his victims.
The sentence includes a SR50,000 fine and the publication of the convicted man's photograph in a local newspaper.
The court also ruled that the lashes of the whip be carried out in public with the man's face exposed. -- Okaz/SG