Arab News, Riyadh/Jeddah/Dhahran, 30 September 2009
Dozen teens flogged for role in rampage
By Siraj Wahab and Molouk Y. Ba-Isa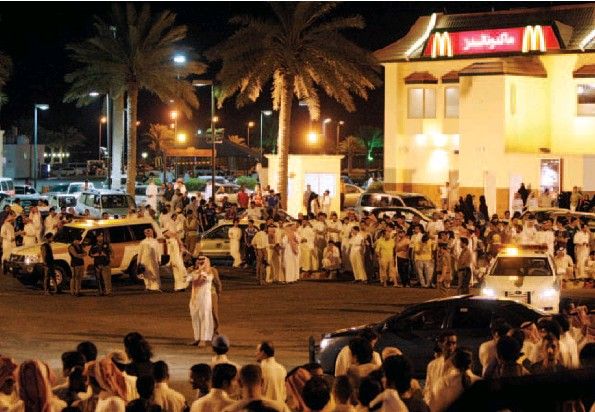 DETERRENT STEP: Police readying a square for the public lashing of rioters in Alkhobar on Monday. (AN photo by Elsa Al-Dobaisi)

ALKHOBAR: Twelve teenagers involved in the Sept. 23 rampage on the Alkhobar Corniche each received 30 lashes during a public flogging Monday night.
Eastern Province police spokesman Brig. Gen. Yousuf Al-Qahtani told Arab News that all the rioting vandals who were flogged were Saudis and that four of them were below the age of 18.
"These were the ones who confessed their roles in the riots," Al-Qahtani said, noting that this was only the first group to be punished. "They are still incarcerated, and investigations are still not complete."
Prominent members of Saudi society by and large welcomed the lashings, but many of them suggested that more needs to be done to avoid recurrence of such incidents.
"This has never happened here before," said Mutlaq Al-Anazi, managing editor of Al-Yaum newspaper. "The Eastern Province is a quiet place. Our youngsters have always been known for their good behavior. Therefore, this is alarming. We have had street brawls before -- especially after soccer matches, but there never was destruction like this. This was pretty violent and calls for a thorough investigation."
The journalist said public opinion about the floggings was divided.
"Some feel they were rightly flogged; others feel they should be made to do community service. Yet others say they should be behind bars and should not be let out. I think flogging is better than putting them in jail. In jail, their attitudes may harden and they may come in contact with criminals and the process of integrating them in society can become extremely difficult," said Al-Anazi. "The primary objective of flogging in public is to shame them. It is to make them realize that what they have done have their consequences."
Al-Anazi said the incidents should make everyone pause and reflect on the causes. "Parents have a greater role in getting these youngsters to behave, but in the absence of any cultural or sport activities, these youngsters tend to spend more time on the Internet," he said. "Rather than the parents educating and informing these youth, they are learning everything from the Internet. Behavioral scientists need to look into these aspects and suggest corrective measures."
Click to enlarge
Writer-columnist Abdullah Al-Alami said: "The men who led the attack that night need to be reprimanded so that they will understand that what they did was absolutely wrong. However, it would have helped if they were asked to put in some time in community service or charity work."
Al-Alami said there was no shortage of blame for the rioting.
"It is still unknown as to why this terrible incident took place. I blame society. We need to allow more space for the youth in terms of sport clubs, movie theaters and recreation facilities. In addition, the segregation of the youth from families is probably unjustified."
He said there was a dire need to tone down the rhetoric against foreigners in mosques and schools. "What is important is that we find solutions, so that this problem doesn't happen again. It is not just a matter of punishing those who had participated in these riots against 'foreign' outlets, we need to accommodate those kids and reform them from early stages wherever we can. What is also important is to stop the hate speeches."
Saeed A. Al-Ghamdi, president of the Saudi Retirees Association, agreed with Al-Alami's suggestion.
"Our youngsters need recreational facilities to spend their energies. We need to arrange cultural and sporting events for them to keep them busy and to keep them happy. If they are unhappy then it does not reflect nicely on us as a society. Where will these youngsters go? They cannot go to the shopping malls; there are not many activities for them to get involved in. As a result, they indulge in anti-social activities. These incidents should serve as a wake-up call for us. These youngsters need to be integrated back in society. They need proper guidance and counseling."
---
---
Arab News, Riyadh/Jeddah/Dhahran, 30 September 2009
Abu Kab loses appeal
By Muhammad Humaidan
Arab News

Click to enlarge
JEDDAH: The Supreme Court on Tuesday upheld a verdict of 3,000 lashes, 20 years in prison and a lifetime ban on driving issued by a Jeddah court against Faisal Al-Otaibi, a Saudi naval officer found guilty of causing the death of three minors in a stunt-driving accident in 2005.
The court rejected an appeal by the plaintiff to reduce the sentence pronounced by Judge Muhammad Amin Mirdad. Mirdad had reduced an earlier death sentence issued in November 2007.
Al-Otaibi, known in the media by nickname "Abu Kab" -- which means roughly "the guy with the baseball cap" -- fought a two-year highly publicized legal battle in a Jeddah court to avoid execution for the deaths of three young passengers accompanying him in his vehicle.
Bader Khethela, the father of two of the three boys killed in that accident (Ahmad, 14, and Abdul Aziz, 11) has been seeking the execution of Al-Otaibi as an exertion of his family's private right under Shariah: The choice between accepting blood money (diyah) or insisting on the death penalty.
The family of the other boy who was killed (Ibrahim, 18) had forgiven Al-Otaibi by giving up their private rights claims.
Abu Kab was the first joyrider to be convicted of murder in the Kingdom. All other joyriders who have caused fatal accidents have received jail sentences ranging from six months to a year in addition to the payment of blood money to the victims' relatives.
This case originated in 2005 when Al-Otaibi rented a car and with passengers in his vehicle performed a so-called "drifting" stunt at 120 kph that resulted in a collision with another vehicle and the death of the three passengers. Two other youths were also injured in the accident.
Opponents to the court verdict said the boys were all willing participants in the incident and that Al-Otaibi was not guilty of premeditation in causing their deaths, and therefore there was no capital offense under Shariah. However, some have argued that it is in the judge's right under Shariah to issue a death sentence on discretionary terms as a means to dissuading the socially corrupt behavior of stunt-driving.
Joyriding is commonplace in the Kingdom with teenagers often performing stunts in public places to draw the attention of onlookers, especially during holidays and school examinations.
Last year a new traffic law, approved by the Cabinet, assigned specific punishments for stunt driving: First time offenders will have their cars seized for 15 days and fined SR1,000. The punishments and fines increase with third-time offenders having their vehicles seized.
Copyright: Arab News © 2003 All rights reserved