New Straits Times, Kuala Lumpur, 7 November 2009
10 years' jail and rotan for raping a minor
By Alina Simon and Rita Jong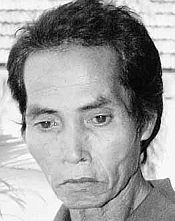 Che Hassan Che Nawang paid the victim between RM5 and RM15 each time he raped her
KUANTAN: A 61-year-old labourer, who lured an underage girl to have sex with him by paying her between RM5 and RM15 for each session, was yesterday sentenced to 10 years' jail and six strokes of the rotan. Che Hassan Che Nawang, of Padang Jaya in Kampung Jaya Gading here, raped the 11-year-old girl for about a year, but was charged with committing the offence at his home in Jaya Gading at 2pm on Oct 19. He pleaded guilty.

Those aged 50 and above are spared the cane except for offences such as rape, carnal intercourse against the order of nature without consent, sexual connection with an object and inciting a child to an act of gross indecency.
Che Hassan's counsel, Zaharman Zainal Abidin, in mitigation, urged the court to spare his client from caning because of his age and poor health.

He said the divorced father of five had repented and was looking after his youngest child, who is mentally handicapped.

He added that his client's admission of guilt had saved the court's time and money.

Deputy public prosecutor Mahadi Abdul Jumaat, however, pressed for a heavy sentence for rapists, especially those who preyed on minors.

"The accused is a mature adult, while the victim was only 11. He should have known that he had a responsibility to protect the girl instead of taking advantage of her.

"If he could commit the crime at his age, then he has the strength to undergo caning."
Click to enlarge
In passing sentence, Sessions Court judge Ahmad Zamzani Mohd Zain ordered the jail term to begin from Nov 1, the date of his arrest.

Che Hassan had befriended the victim at a grocery shop in March last year and persuaded her to go to his house in Jaya Gading, where he raped her on numerous occasions.

Each time, he would give her between RM5 and RM15. The incidents continued until Oct 19.

The girl's ordeal ended when she confided to a neighbour, who lodged a report on Oct 22.

The victim was sent to Tengku Ampuan Afzan Hospital here on Oct 23, where medical checks confirmed that she had been raped. The accused was detained on Nov 1.

The girl and her 9-year-old brother were also victims of abuse by their 40-year-old stepmother, who was recently sentenced by the magistrate's court here to 20 months' jail.

The siblings are under the care of the Welfare Department.
Copyright © 2009 NST Online. All rights reserved.
---
---
The Star, Kuala Lumpur, 17 November 2009
140-year jail sentence for army man
Soldier found guilty of raping daughters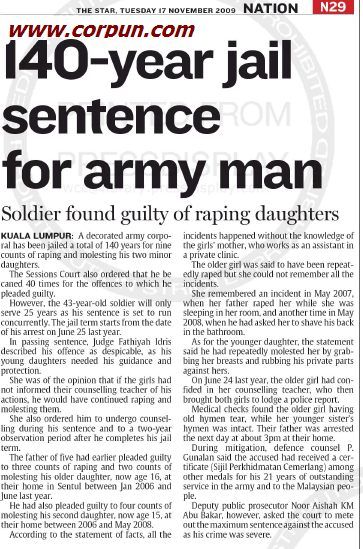 Click to enlarge
KUALA LUMPUR: A decorated army corporal has been jailed a total of 140 years for nine counts of raping and molesting his two minor daughters.
The Sessions Court also ordered that he be caned 40 times for the offences to which he pleaded guilty.
However, the 43-year-old soldier will only serve 25 years as his sentence is set to run concurrently. The jail term starts from the date of his arrest on June 25 last year.
In passing sentence, Judge Fathiyah Idris described his offence as despicable, as his young daughters needed his guidance and protection.
She was of the opinion that if the girls had not informed their counselling teacher of his actions, he would have continued raping and molesting them.
She also ordered him to undergo counselling during his sentence and to a two-year observation period after he completes his jail term.
The father of five had earlier pleaded guilty to three counts of raping and two counts of molesting his older daughter, now age 16, at their home in Sentul between Jan 2006 and June last year.
He had also pleaded guilty to four counts of molesting his second daughter, now age 15, at their home between 2006 and May 2008.
According to the statement of facts, all the incidents happened without the knowledge of the girls' mother, who works as an assistant in a private clinic.
The older girl was said to have been repeatedly raped but she could not remember all the incidents.
She remembered an incident in May 2007, when her father raped her while she was sleeping in her room, and another time in May 2008, when he had asked her to shave his back in the bathroom.
As for the younger daughter, the statement said he had repeatedly molested her by grabbing her breasts and rubbing his private parts against hers.
On June 24 last year, the older girl had confided in her counselling teacher, who then brought both girls to lodge a police report.
Medical checks found the older girl having old hymen tear, while her younger sister's hymen was intact. Their father was arrested the next day at about 3pm at their home.
During mitigation, defence counsel P. Gunalan said the accused had received a certificate (Sijil Perkhidmatan Cemerlang) among other medals for his 21 years of outstanding service in the army and to the Malaysian people.
Deputy public prosecutor Noor Aishah KM Abu Bakar, however, asked the court to mete out the maximum sentence against the accused as his crime was severe.
---
---
Daily Express, Kota Kinabalu, 18 November 2009
Convict's sentence enhanced with six strokes of the cane
Kota Kinabalu: The High Court on Tuesday allowed the public prosecutor's appeal for a 22-year-old convict to be whipped.
Judicial Commissioner Stephen Chung ordered that Jairius Selumin be given six strokes of the cane, enhancing his term of 24 months' jail sentence which the public prosecutor said was insufficient.
Jairius was on Aug 18 this year jailed 24 months after he pleaded guilty to robbing a woman of her handphone and RM100 with a machete at 9.15am on July 3 this year in a house at Kg Minangkob, Tamparuli.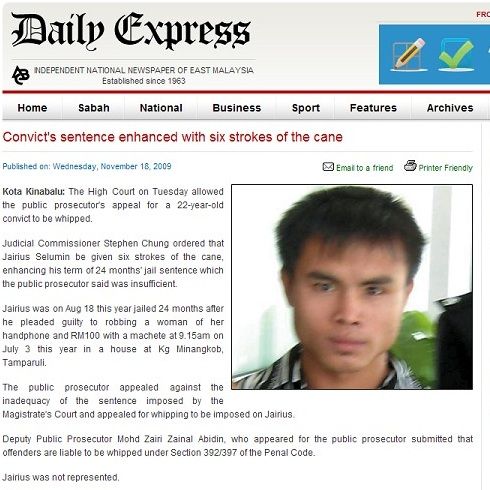 Click to enlarge
The public prosecutor appealed against the inadequacy of the sentence imposed by the Magistrate's Court and appealed for whipping to be imposed on Jairius.
Deputy Public Prosecutor Mohd Zairi Zainal Abidin, who appeared for the public prosecutor submitted that offenders are liable to be whipped under Section 392/397 of the Penal Code.
Jairius was not represented.
Copyright 2009 Sabah Publishing House Sdn. Bhd.
---
---
Borneo Post, Kuching, 30 November 2009
Ten years, 10 strokes for drug possession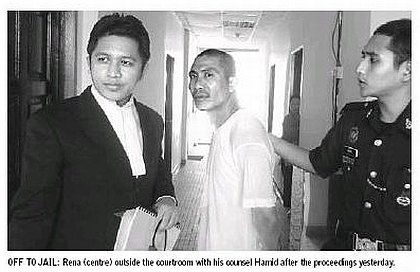 KOTA KINABALU: A Filipino was yesterday jailed 10 years and given 10 strokes of the cane for possessing 195.9 grammes of cannabis two years ago.
High Court Deputy Registrar Zaini Fishir@Fisal,who sat as a Sessions Court judge imposed the sentence on Rena Hassan for committing the offence at a temporary car part behind the Karamunsing complex here at 4.32pm on Sept 18, 2008.
The accused, who is a fisherman, pleaded guilty to the charge under Section 6 of the Dangerous Drugs Act 1952, punishable under Section 39A(2)(f) of the same Act, which provides a sentence of between five years and imprisonment for life and a minimum of 10 whippings, upon conviction.
In passing sentence, Zaini ordered Rena's jail term to start from the date of his arrest on Sept 18, 2008 and to be referred to the Immigration Department after coming out from jail.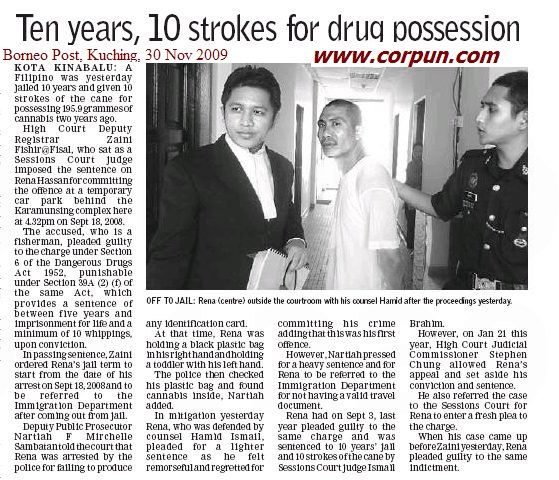 Click to enlarge
Deputy Public Prosecutor Nartiah F Mirchelle Sambatan told the court that Rena was arrested by the police for failing to produce any identification card.
At that time, Rena was holding a black plastic bag in his right hand and holding a toddler with his left hand.
The police then checked his plastic bag, and found cannabis inside, Nartiah added.
In mitigation yesterday Rena, who was defended by counsel Hamid Ismail, pleaded for a lighter sentence as he felt remorseful and regretted for [sic]committing his crime adding that this was his first offence.
However, Nartiah pressed for a heavy sentence and for Rena to be referred to the Immigration Department for not having a valid travel document.
Rena had on Sept 3, last year pleaded guilty to the same charge and was sentenced to 10 years' jail and 10 strokes of the cane by Sessions Court judge Ismail Brahim.
However, on Jan 21 this year, High Court Judicial Commissioner Stephen Chung allowed Rena's appeal and set aside his conviction and sentence.
He also referred the case to the Sessions Court for Rena to enter a fresh plea to the charge.
When his case came up before Zaini yesterday, Rena pleaded guilty to the same indictment.