The Voice, Francistown, 27 November 2009
Royal beating
Man protests unlawful flogging on orders of kgosi
By Dubani-wa-Dubani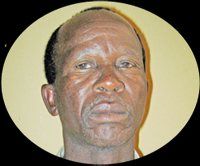 Kgosi Mmusi Kgafela says he is ready for the legal and civil action from a tribesman who has accused him of illegally ordering that he be flogged.
Tselapedi Mooketsi alleges that the youngest of the Bakgatla royals had broken into his house in Artesia and then had him unlawfully thrashed at the Kgotla.
Relating the ordeal which has left him with a badly scarred back Mooketsi said the events leading up to his flogging started in mid September when Mmusi phoned him and requested him to return a bridle set he had bought from a certain Ntutwane Seabelo as it belonged to him.
"'I explained to him that I had never bought any bridle from Ntutwane. I made it clear to him that Ntutwane had once offered to sell me a saddle but they were stolen from him before I could buy them. I could not get him on his cell phone as he had asked me to phone when I was in Mochudi. I never heard from him again until I met him at the Dibete Police Station last Sunday. I had gone to report him for breaking into my house and stealing my bridle set while I was away at my cattle post in Sojwe but ended up being detained,'" Mooketsi said.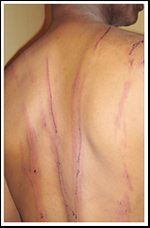 He had learnt from his wife that Mmusi and a group of man armed with sticks had come to his house in Artesia, surrounded it and Mmusi had gone on to open a room in his house and taken the bridle set.
"'I felt what he had done was illegal. That is why I went to the cops. By some strange coincidence Kgafela and his gang found me there and for some reason the police chose to believe his story that I had stolen his bridle set and detained me instead. The following day they transported me to Mochudi Police where it was established that Mmusi had not reported a theft case against me as he had made Dibete police believe. I ended up at the Mochudi Kgotla where I found Mmusi and others waiting for in Kgosi Sekai's office,'" Mooketsi said.
"'Mmusi then related his story accusing me of stealing his bridle set and showing contempt for royalty by not heeding to his call to come to the royal house.  I asked whether I was on trial and Kgosi Sekai said I was not. As events unfolded Mmusi asked that I be whipped for my alleged offences. I pointed out that I could not be flogged because I am older than the legally prescribed age for flogging and added that I could not be thrashed without a trial and having not been seen by a doctor but my pleas where ignored. I was dragged out of the office, suspended in the air by a group of men with two holding each of my limbs and flogged on my bare back at the instruction of Mmusi. I want him to answer for his deeds criminally and I will also sue him,'" he added.
Click to enlarge
Meanwhile Mochudi Station Commander assistant Superintendent Nkape Kealotswe  confirmed that Mooketsi had lodged a case of assault at his station.
And Mooketsi's lawyer Yul Shara Moncho said that they will sue as soon as they have got the medical report and spoken to witnesses.
For his part Mmusi said he is not worried about Mooketsi's lawsuit.
"'Neither the police nor his lawyer has contacted me yet but I am ready for whatever comes because I have done nothing wrong. All that has happened is in accordance with Bakgatla tribal law, which gives the community the right to punish wayward citizens. Flogging happens to be one of the prescribed punishments,'" he said.
Telling his side of what led to Mooketsi's flogging Mmusi said:
"'In July I noticed that three bridle sets were missing from our house in Mochudi. During our investigations we got to learn that a certain Ntutwane who did odd jobs at the royal house and had been at the house at that time had sold one of them to Tselapedi. I phoned Tselapedi about the matter but he denied buying anything from Ntutwane saying Ntutwane had offers to sell him saddles but they had been stolen before he could buy them. I tried to get him to come to the royal house so that we discuss the matter but he refused and we were left with no option but to hunt him down. We did that and after following him to his cattle post in vain we eventually went to his house in Artesia'".
"'At the Kgotla he was flogged because he was uncooperative, arrogant and insolent. In our culture flogging is the punishment you give such a man. The punishment was also for receiving stolen property and refusing a royal call. As kgosikgolo Kgafela's younger brother I am a kgosi and have the powers to summon people to the royal house. Any tribes person who refuses this call must be punished as per our tradition,'" he continued.