Weekend Nation, Bridgetown, 16 October 2009
Getting licks for lateness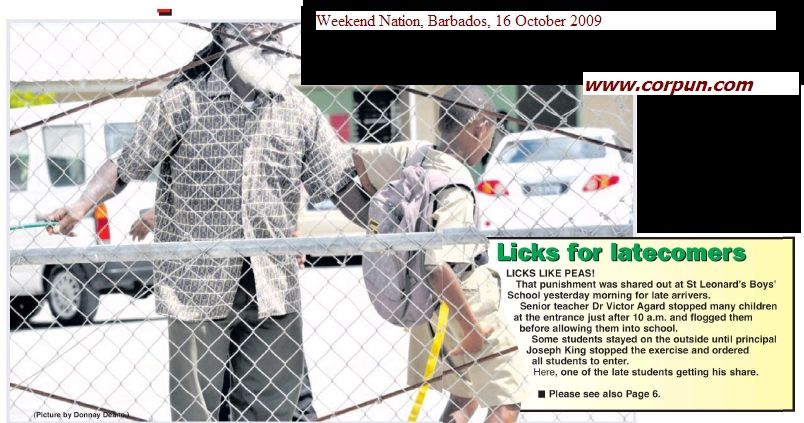 A TOUGH ENFORCEMENT of the rules.
That is what was instituted at St Leonard's Boys' School yesterday as several students were flogged for late arrival.
Senior teacher Dr Victor Agard had the responsibility of administering the punishment, much to the displeasure of the students.
Just after 10 a.m., a WEEKEND NATION team witnessed the boys being flogged one by one before being allowed to enter the school's compound. School there begins at 7:50 a.m.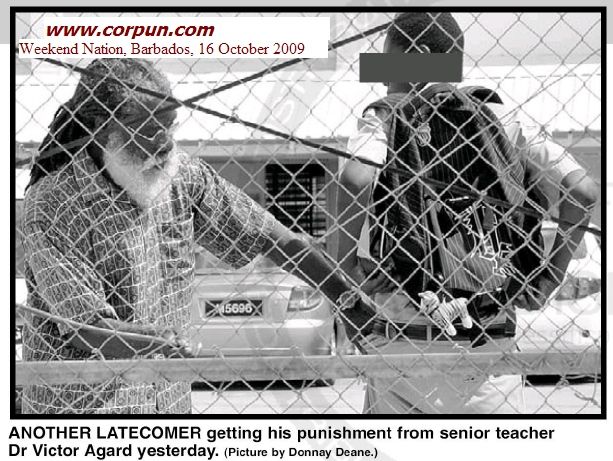 One onlooker disagreed with the action, as did some of the guilty students who refused to line up for the punishment. Principal Joseph King came on the scene and allowed the other students to enter.
When contacted via telephone, King declined to comment on the situation. A WEEKEND NATION team subsequently revisited the school in an effort to speak with him but was unable to do so. The security guard returned with a message that he still would not comment before Monday.
The WEEKEND NATION made a third attempt after the school's 1:40 p.m. closure and King again declined comment after a staff meeting.
---
The Daily Nation, Bridgetown, 19 October 2009
Massiah all for flogging
THERE IS NOTHING WRONG with flogging students.

This was the assertion Reverend Errington Massiah gave the DAILY NATION after the church service at the St Joseph Anglican Church yesterday morning to celebrate 162 years of Public Library service on the island.

"Lashes in school are nothing new. But I don't feel it should have appeared in the paper," the outspoken preacher said.

Massiah was referring to the incident last week where the flogging of a student of the St Leonard's Boys' School by a teacher was caught by one of our photographers and ran on the front page of the WEEKEND NATION.
Known for his candour and fiery sermons, Massiah recalled his own school days at the Federal High School where discipline was guided by the rod.
"When I went to school there were three L's we lived by; learn, licks or leave. I was afraid of [my teacher] Mr Edwards. He would cut you down with a tamarind rod and he did the right thing," he said.

Asked if that kind of discipline was still appropriate for this era when the society and children have changed, he held steadfastly to his take on the subject.

"We've allowed it to get as it is. I see nothing wrong with corporal punishment," he said, adding he never had to flog either of his daughters when they were growing up.
When queried on the view held by contemporary educators and child psychologists against flogging, Massiah disagreed.

"I don't agree with it. When you drive around this country at 10 o'clock you're still seeing children on the street. And, these children are eventually going to go into the workforce. So, if you're late now for school you're going to carry it into the workforce," he said. (MS)
---
The Barbados Advocate, Bridgetown, 25 October 2009
A Guy's View
Corporal punishment has served us well
By R.E. Guyson Mayers
I believe most Barbadians would regard it as an accepted fact that the standard of discipline among our people is not exactly what it used to be a few years ago. The word discipline usually conjures up images of rules designed to control children, but this narrow view conceals the reality that indiscipline is also a feature of the behaviour of our adult population.

It is not children who drive through red traffic lights; it is not children who turn up for their 8:15 am job at 9:00 am and see nothing wrong with doing so; I am not sure, but as far as I know, children do not drive the public service vehicles we observe causing confusion on our streets.
However, I am sure none of our undisciplined adults was born big, so to speak, and few of them, if any, would have developed their attitudes as adults. We often say that children live what they see. If this is true, then it must also be true that what they see and live as children, they practice as adults.

There was a time when the good old adage of "spare the rod and spoil the child" held sway, but that is no longer accepted as a universal truth. In fact, there is a growing school of thought that you do not necessarily spoil the child by sparing the rod. The latter view is not the dominant one in Barbados, but there is a growing sense that it will prevail by imposition in the not too distant future, regardless of its soundness.
The legislation governing education in Barbados provides for the administration of corporal punishment, but there are parents who would object most strenuously to their children being flogged. Once taken for granted and viewed as a natural part of a child's upbringing, corporal punishment has now become one of those issues that is sure to generate lively debate whenever it is raised in a public forum. This is due to the fierceness with which it is opposed by those who stand against it, and the almost total disbelief of those who see, what is for them, its obvious benefits.
The Education Act and Regulations give Principals of schools the authority to administer corporal punishment, and allow them to delegate that authority to senior teachers. Written into this permissive provision is a clear limitation, for it deliberately restricts the exercise of this power to an identified, restricted class of teachers. The days in which I grew up when any teacher could share lashes are gone, and I make bold to say, never to return.
There are very few occasions when corporal punishment is administered irresponsibly these days, and it is hardly the punishment of first choice for teachers. This being the case, one would think that parents and Ministry of Education officials would trust the usually good judgment of teachers when they feel a need to punish in this way, but, unfortunately, this has not proven to be the recent experience in Barbados.
Until it is outlawed, corporal punishment remains a legitimate instrument of discipline in our schools. Once it is administered professionally, we should stop trying to create sensational opportunities to agitate the public to bring unnecessary pressure to bear on those who have charge of our children. Is there any pillar on which our society was built that we will not try to pull down?
Contrary to the deeply flawed view I frequently hear expressed, corporal punishment is not bad or wrong simply because it is old. Further, by looking at those countries that have gone before us in the direction we are now travelling, we can see what lies ahead of us. And yet we proceed. The bath water has been thrown out; where is the baby?