The Daily Mirror, Harare, 13 February 2006
Rapist teenager to be canned [sic]
The Daily Mirror Reporter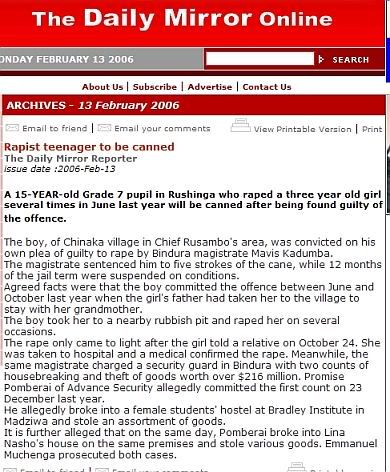 Click to enlarge
A 15-YEAR-old Grade 7 pupil in Rushinga who raped a three year old girl several times in June last year will be canned after being found guilty of the offence.
The boy, of Chinaka village in Chief Rusambo's area, was convicted on his own plea of guilty to rape by Bindura magistrate Mavis Kadumba.
The magistrate sentenced him to five strokes of the cane, while 12 months of the jail term were suspended on conditions.
Agreed facts were that the boy committed the offence between June and October last year when the girl's father had taken her to the village to stay with her grandmother.
The boy took her to a nearby rubbish pit and raped her on several occasions.
The rape only came to light after the girl told a relative on October 24. She was taken to hospital and a medical confirmed the rape.
[...]