East London Daily Dispatch, 7 December 1990
Boys sentenced to strokes for satanic symbols
Daily Dispatch Reporter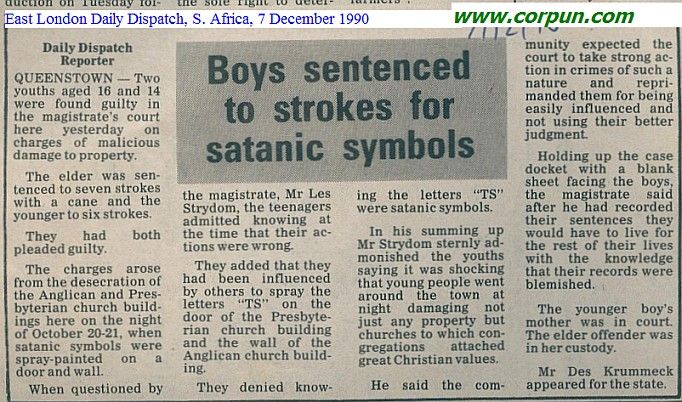 Click to enlarge
QUEENSTOWN -- Two youths aged 16 and 14 were found guilty in the magistrate's court here yesterday on charges of malicious damage to property.
The elder was sentenced to seven strokes with a cane and the younger to six strokes.
They had both pleaded guilty.
The charges arose from the desecration of the Anglican and Presbyterian church buildings here on the night of October 20-21, when satanic symbols were spray-painted on a door and wall.
When questioned by the magistrate, Mr Les Strydom, the teenagers admitted knowing at the time that their actions were wrong.
They added that they had been influenced by others to spray the letters "TS" on the door of the Presbyterian church building and the wall of the Anglican church building.
They denied knowing the letters "TS" were satanic symbols.
In his summing up Mr Strydom sternly admonished the youths saying it was shocking that young people went around the town at night damaging not just any property but churches to which congregations attached great Christian values.
He said the community expected the court to take strong action in crimes of such a nature and reprimanded them for being easily influenced and not using their better judgment.
Holding up the case docket with a blank sheet facing the boys, the magistrate said after he had recorded their sentences they would have to live for the rest of their lives with the knowledge that their records were blemished.
The younger boy's mother was in court. The elder offender was in her custody.
Mr Des Krummeck appeared for the state.