www.corpun.com
Video clips: Venezuela
Girl whipped by man in public ceremony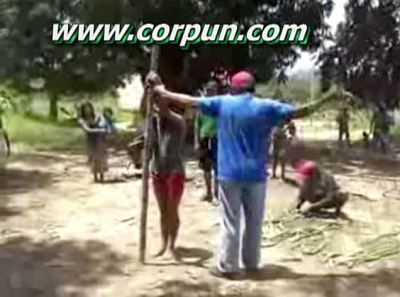 ---
---
In this 30-second clip from Venezuela, a girl receives strokes from a man wielding a whip in a public place in a rural area. The fairly sparse crowd of onlookers includes people of all ages.
Apparently it is a "rite of passage" ceremony from girlhood to womanhood, which takes place when the girl has her first menstruation.
The general atmosphere seems to be mildly light-hearted, with some laughter from the audience. The girl does not appear to be under any sort of duress. After receiving the strokes, she walks calmly back to her place in the crowd. One does not get the impression that anybody present thinks this a particularly extraordinary event.
HERE IS THE CLIP:
---
---
About this website
Video clips
Country files
www.corpun.com Main menu page