INITIATION PADDLINGS
Video clips: Mexico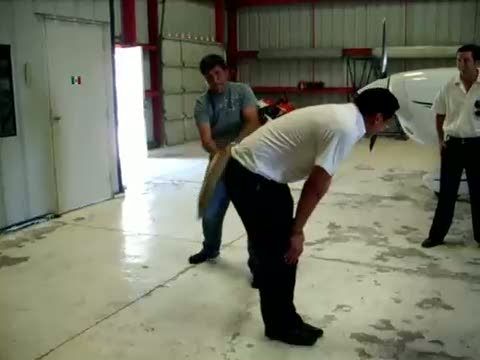 ---
---
Two video clips of "fun" paddling in Mexico.
CLIP 1 OF 2 -- Paddling at a Mexican air training school
In an aircraft hangar belonging to an air training school, a man bends over for three whacks with a big paddle. This appears to be an initiation ceremony -- possibly he has just made his first solo flight, which, other anecdotal evidence suggests, is regarded as an occasion for a spanking in several cultures -- and hence the atmosphere is jocular.
HERE IS THE CLIP:
CLIP 2 OF 2 -- Mexican military paddling
A soldier is bending over to be disciplined with a paddle in an office. I have classified it as a "fun" or "initiation" event rather than as a serious punishment, because we can hear giggling by unseen spectators.
HERE IS THE CLIP:
---
---
Video clips
About this website
Country files
www.corpun.com
Main menu page