www.corpun.com
-- THE ARCHIVE --
---
UNITED STATES
Reformatory CP - January 1956?
---
---
Unknown US publication(1)
Primitive Weapon? Eskimo Snowshoe?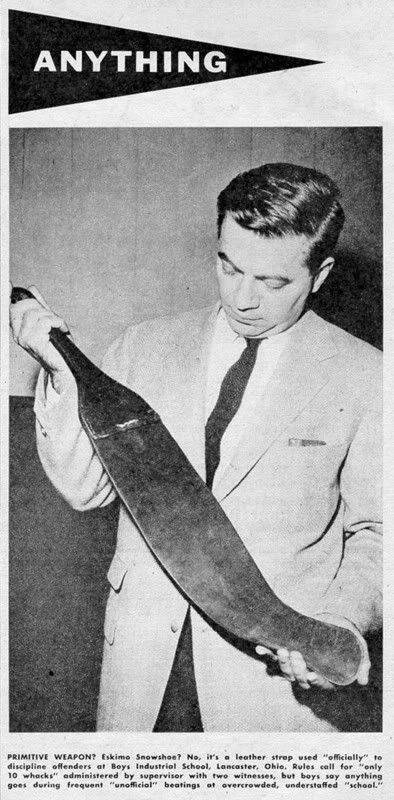 No, it's a leather strap used "officially" to discipline offenders at Boys Industrial School, Lancaster, Ohio. Rules call for "only 10 whacks" administered by supervisor with two witnesses, but boys say anything goes during frequent "unofficial" beatings at overcrowded, understaffed "school".
(1) This was sent to me as being from "Anything Goes, January 1956" but I can find no record (in the Library of Congress catalogue or anywhere else) of a magazine of that name having existed. In view of the interest of this picture I am breaking my normal rule not to use material whose source cannot be accurately cited. If anyone can help identify it, please let me know. -- CF
See also: Details of the CP regime used in this same institution 25 years earlier.
---
---
THE ARCHIVE index
www.corpun.com
Main menu page
Copyright © C. Farrell
Page created: February 2000