The Times, London, 27 May 1919
A Schoolgirl's Caning.
Headmistress Fined.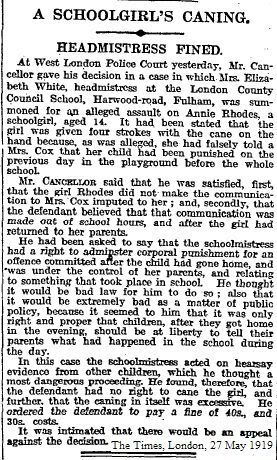 At West London Police Court yesterday, Mr. Cancellor gave his decision in a case in which Mrs. Elizabeth White, headmistress at the London County Council School, Harwood-road, Fulham, was summoned for alleged assault on Annie Rhodes, a schoolgirl, aged 14. It had been stated that the girl was given four strokes with the cane on the hand because, as was alleged, she had falsely told a Mrs. Cox that her child had been punished on the previous day in the playground before the whole school.
Mr. CANCELLOR said that he was satisfied, first, that the girl Rhodes did not make the communication to Mrs. Cox imputed to her; and, secondly, that the defendant believed that that communication was made out of school hours, and after the girl had returned to her parents.
He had been asked to say that the schoolmistress had a right to administer corporal punishment for an offence committed after the child had gone home, and was under the control of her parents, and relating to something that took place in school. He thought it would be bad law for him to do so; also that it would be extremely bad as a matter of public policy, because it seemed to him that it was only right and proper that children, after they had got home in the evening, should be at liberty to tell their parents what had happened in the school during the day.
In this case the schoolmistress acted on hearsay evidence from other children, which he thought a most dangerous proceeding. He found, therefore, that the defendant had no right to cane the girl, and further, that the caning in itself was excessive. He ordered the defendant to pay a fine of 40s. and 30s. costs.
It was intimated that there would be an appeal against the decision.