Bangkok Post, 25 October 2008
Hazing rituals
Caning, expulsions could be revived
By Sirikul Bunnag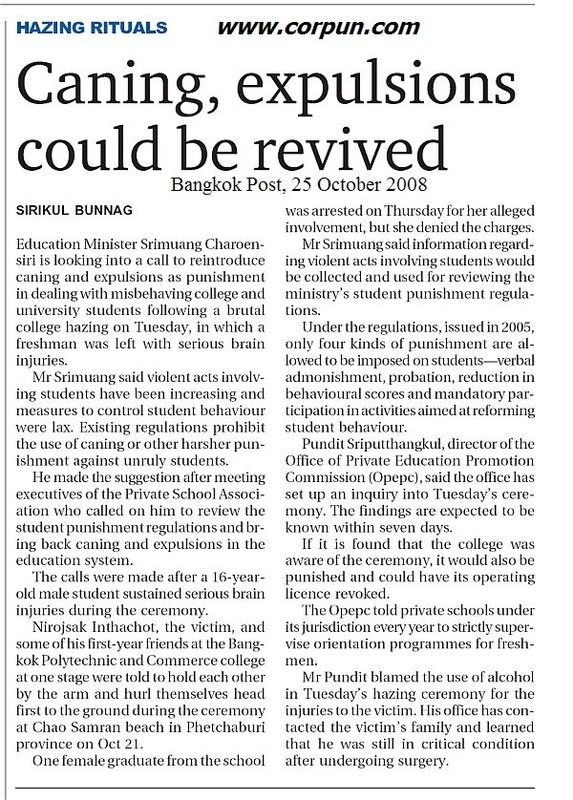 Education Minister Srimuang Charoensiri is looking into a call to reintroduce caning and expulsions as punishment in dealing with misbehaving college and university students following a brutal college hazing on Tuesday, in which a freshman was left with serious brain injuries. Mr Srimuang said violent acts involving students have been increasing and measures to control student behaviour were lax. Existing regulations prohibit the use of caning or other harsher punishment against unruly students.
He made the suggestion after meeting executives of the Private School Association who called on him to review the student punishment regulations and bring back caning and expulsions in the education system.
The calls were made after a 16-year-old male student sustained serious brain injuries during the ceremony.
Nirojsak Inthachot, the victim, and some of his first-year friends at the Bangkok Polytechnic and Commerce college at one stage were told to hold each other by the arm and hurl themselves head first to the ground during the ceremony at Chao Samran beach in Phetchaburi province on Oct 21.
One female graduate from the school was arrested on Thursday for her alleged involvement, but she denied the charges.
Mr Srimuang said information regarding violent acts involving students would be collected and used for reviewing the ministry's student punishment regulations.
Under the regulations, issued in 2005, only four kinds of punishment are allowed to be imposed on students_verbal admonishment, probation, reduction in behavioural scores and mandatory participation in activities aimed at reforming student behaviour.
Pundit Sriputthangkul, director of the Office of Private Education Promotion Commission (Opepc), said the office has set up an inquiry into Tuesday's ceremony. The findings are expected to be known within seven days.
If it is found that the college was aware of the ceremony, it would also be punished and could have its operating licence revoked.
The Opepc told private schools under its jurisdiction every year to strictly supervise orientation programmes for freshmen.
Mr Pundit blamed the use of alcohol in Tuesday's hazing ceremony for the injuries to the victim. His office has contacted the victim's family and learned that he was still in critical condition after undergoing surgery.
© Copyright The Post Publishing Public Co., Ltd. 2006