Shabelle.net, 20 August 2006
Three men caught with marijuana whipped in Mogadishu
By Aweys Osman Yusuf
Jowhar 20, August. 06 ( Sh.M.Network) The Islamic Courts in Hamar Weyne and Hamar Jajabin, central Mogadishu, sentenced yesterday three men caught with using and selling narcotics to different numbers of whipping.
Since the Union of Islamic Courts took full control of the capital Mogadishu, drug addicts have been hiding with some repented and gave up using narcotics like opium and other types of drugs.
The three Somali men in different ages have been nabbed using Marijuana in center of Hamar Weyne district. They included 19-year-old Mohamed Shogow, a drug user, who was whipped with 17 lashes, 58-year old Mohamed Omar, a drug user, who was lashed with 9 whips and 45-year-old Jeylani Isaaq, a drug dealer, who was flogged with thirty-five whips.

Many onlookers gathered at so called Barhadda Yasin (Yasin Square) in Hamar Weyne where the lashing event took place.
Viewers told to Shabelle that the punished drug offenders were screaming harshly as they were being beaten by one of the cleric of The Islamists.
The Islamists, afterwards, set the seized marijuana on fire.
On another development yesterday, the Islamists in Hamar Weyne alienated [sic] a house powerfully held by a man to the owner. Such operations of giving back all properties forcefully seized by other people before the Union of Islamic Courts to their owners have begun in Mogadishu very recently.
Mohamed Shogow 19-year old, one of drug users with extremely screaming [sic] after being flogged with 17 slashes by Islamist cleric in open ground at Yasin square in Hamar-Weyne district of Mogadishu Saturday August 19 2006.
Three alleged with drug dealing inside police station in Hamar-weyne district of Mogadishu and in state of shock after sentencing with several slashes by Islamic Court on Saturday August 19 2006.
Jeylani Isaaq, 45-year old, a drug user waiting as he was flogged with 35 slashes by Islamic cleric at Yasin Square known as 'Barxada-Yaasiin' while many residents watching in Hamar-Weyne district of Mogadishu city, Saturday August 19 2006.
Mohamed Omar, 58-year old, a drug dealer bearing as beaten with 9 slashes in front of many crowded people in Hamar-Weyne district of Mogadishu Saturday August 19 2006.
© 2005 Shabelle Media Network All Rights Reserved
---
---
BBC News Online, London, 24 August 2006
Somali woman is flogged for drugs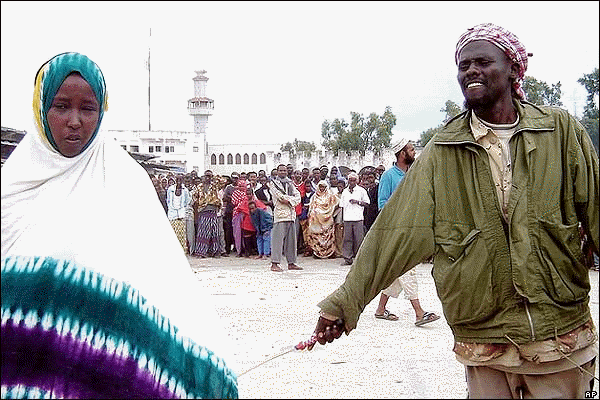 The woman protested her innocence as she was flogged
A Somali woman has been flogged in public for selling cannabis by Islamist militias who now control the capital.
This is the first time a woman has received this kind of punishment since the Union of Islamic Courts seized Mogadishu in June. She got 11 lashes.
Arrested for a small bundle of the drug worth $1, she pleaded innocence while being beaten, AP news agency reports.
Most sellers of the mild narcotic khat, widely used in Somalia, are women but the UIC has not opposed this trade.
The BBC's Hassan Barise in Mogadishu says women often sell khat because during the long civil war, they aroused less suspicion than men when crossing between areas controlled by rival factions.
The UIC was set up two years ago by businessmen who wanted some law and order. Somalia has not had a functioning government since 1991.
Five men were also whipped in Thursday's ceremony, in which the seized drugs were burnt.
This is only the second time that the UIC has carried out a public flogging in Mogadishu.
The UIC is divided between radicals, who want to impose a Taleban-style state in Somalia, and moderates, who say they have no such plans.
It controls much of southern Somalia, while the internationally recognised government remains confined to Baidoa, some 200km to the north of Mogadishu.
East African diplomats have been trying to bring the Islamists and the government together for talks.