The New Paper, Singapore, 1 October 2005
Letters
Boy's caning sends right signals
YOUR report, 'Student gets publicly caned' (The New Paper, 27 Sep) highlights the problems blogs can create if no discipline is observed.
A few students have gone too far in their online activities in defaming or 'flaming' their teachers, causing them great distress.
Blogging does not mean that students can and say whatever they like, even if they hate the teacher.
The civil law of defamation applies to the spoken as well as the written word, including the online version.
With such wild and irresponsible remarks, respect for teachers can be undermined.
Have these students no respect for their teachers who are their mentors and elders?
I laud the action taken by a top boys' school to publicly cane a student for breaking into a teacher's iLearning account and indulging in such a serious violation of proper conduct.
I hope the caning sends a strong signal to others that there is responsibility and accountability in freedom of speech and that those who flout this must face disciplinary action.
As the saying goes, sometimes you must be cruel to be kind.
- Nelson Quah
Copyright © 2005 Singapore Press Holdings Ltd. Co. Regn. No. 198402868E. All rights reserved.
---
---
The New Paper, Singapore, 3 October 2005
Yew Tee cigarette touts return
Their new target: students
By Zaihan Mohamed Yusof
THE illegal cigarette touts of Yew Tee are at it again.
Except this time, their targets are not just adult smokers, but students as well.
The peddlers, who sell their wares at less than half the usual price, are brazenly carrying on their illegal trade in the open.
Students in school uniforms head for Yew Tee industrial estate to buy the cigarettes.
Some buy in groups, while others confidently approach the foreign vendors alone.
Under the law, it is an offence to sell cigarettes to anyone under 18 years old.
Offenders can be punished with a maximum fine of $5,000 for the first conviction and not more than $10,000 for the second and subsequent convictions.
On 22 Sep, The New Paper reported that a syndicate was selling cheap cigarettes in the industrial estate.
Packs of a certain brand of cigarette, with duty unpaid, were going for $5 each.
The same brand of cigarettes bought in coffeeshops costs between $10.50 and $11.
After their operations were exposed by the report, the peddlers laid low. But two days later, they re-surfaced - with a twist.
They started peddling their cheap smokes to students from schools in the neighbourhood.
This got parents upset.
Said Mr Adi S, 43, a delivery man, living in Choa Chu Kang: 'I don't care if adults buy cigarettes from the illegal vendors but I think it's too much when they target students.
'You would think the school uniform would at least deter the men from approaching the students. But it doesn't. They approach the students the same way they approach adults.'
Mr Adi, who has five children - two of whom are in schools in the Choa Chu Kang area - was concerned that encouraging students to buy cigarettes could lead to other addictions.
He said: 'For now, it's cigarettes. In the future the peddlers could be tempted to sell drugs as well. Once you get addicted, it's hard to quit.
'Something should be done to stop the peddlers.'
Another resident e-mailed The New Paper on Sunday when he spotted the students, who were 'barely of legal age to watch an NC16 movie', buying cigarettes at Yew Tee.
He witnessed the transaction several times when he was using an ATM there.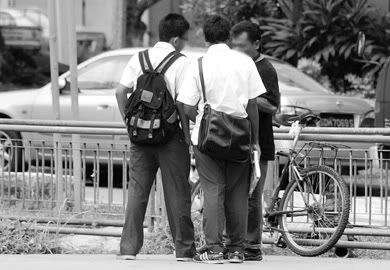 On Wednesday afternoon, The New Paper On Sunday watched peddlers with red plastic bags containing cigarettes touting their goods.
GROUP 'EXCURSION'
At about 1.30pm, as many as 20 students made their way into the industrial estate.
Five students cycled there.
It was evident from their school uniforms that the youths were from schools in the area. It seemed like an easy sale for the vendors.
Most times, it was the students who approached the vendors.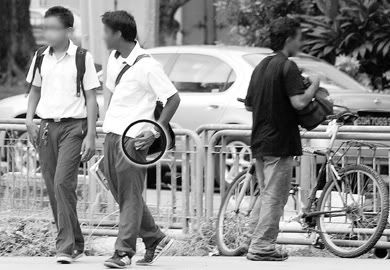 Still carrying their schoolbags, they paid up and slipped the packs into their pockets.
Simple, quick transactions which were carried out near parked lorries which perhaps offered some form of privacy.
A few students approached the peddlers from the rear of the estate. This path is overgrown with vegetation.
While most of the students left the area immediately after their purchases, three students in school shorts were seen sharing a cigarette from a pack they had just bought.
They smoked in an open field in the estate.
Later, when The New Paper on Sunday approached two other students, both denied they had bought cigarettes.
But one of them owned up when he was told their transactions had been captured by our camera.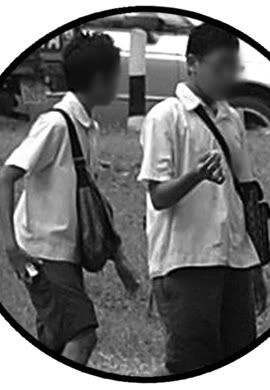 The visibly-shaken lower-secondary student ran away after saying: 'Sorry uncle... this is my first time (buying cigarettes). My friends told me it was easy to buy cigarettes here.
'The packet is not for me, but for my friends. Please don't tell my principal.'
2 school principals: Guilty students counselled and caned
TWO principals from schools in Choa Chu Kang said they were aware some of their students had been buying contraband cigarettes from the illegal vendors.
One of the principals told The New Paper on Sunday that some of her students had been caught buying cigarettes from nearby provision shops.
Residents had reported the matter to her, she added.
But she was unaware that Yew Tee industrial estate had become a meeting point for students and these illegal peddlers.
CAUGHT
Two weeks ago, a student was caught buying cigarettes at the industrial estate.
Said the student's vice-principal: 'We were informed by another student who saw this incident.
'The student said he did it because he was in financial difficulties.'
The vice-principal explained that the student, who was a non-smoker, bought a packet for $5 and sold the cigarettes by the stick to his schoolmates.
'He didn't know there were other avenues in school to get financial aid. He acted out of desperation,' said the vice-principal.
The student has been counselled and caned, said the vice-principal.
Underaged persons caught smoking can be fined up to $300 upon conviction, said a spokesman for the Health Sciences Authority (HSA).
Anybody with information on the illegal sale of tobacco products to the underaged are [sic] encouraged to contact HSA's tobacco regulation unit at 6866-3501.
Copyright © 2005 Singapore Press Holdings Ltd. Co. Regn. No. 198402868E. All rights reserved.
---
See also: Notes on Singapore school caning