The Independent On Sunday, London, 15 May 1994
'Flogging' MP had two freebie trips to Middle East emirate
By Paul Routledge
Political Correspondent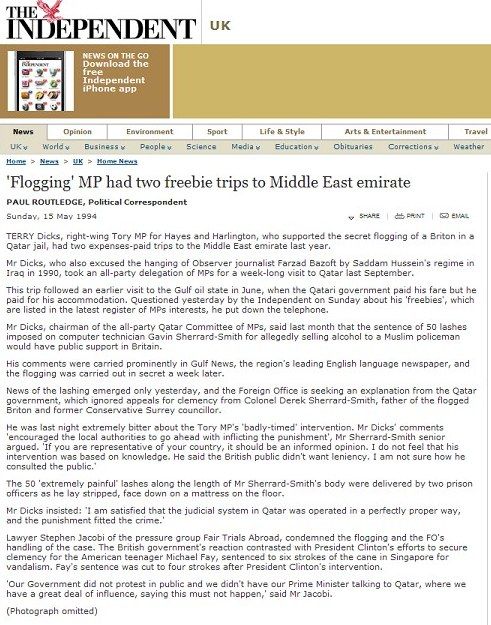 Click to enlarge
TERRY Dicks, right-wing Tory MP for Hayes and Harlington, who supported the secret flogging of a Briton in a Qatar jail, had two expenses-paid trips to the Middle East emirate last year.
Mr Dicks, who also excused the hanging of Observer journalist Farzad Bazoft by Saddam Hussein's regime in Iraq in 1990, took an all-party delegation of MPs for a week-long visit to Qatar last September.
This trip followed an earlier visit to the Gulf oil state in June, when the Qatari government paid his fare but he paid for his accommodation. Questioned yesterday by the Independent on Sunday about his 'freebies', which are listed in the latest register of MPs interests, he put down the telephone.
Mr Dicks, chairman of the all-party Qatar Committee of MPs, said last month that the sentence of 50 lashes imposed on computer technician Gavin Sherrard-Smith for allegedly selling alcohol to a Muslim policeman would have public support in Britain.
His comments were carried prominently in Gulf News, the region's leading English language newspaper, and the flogging was carried out in secret a week later.
News of the lashing emerged only yesterday, and the Foreign Office is seeking an explanation from the Qatar government, which ignored appeals for clemency from Colonel Derek Sherrard-Smith, father of the flogged Briton and former Conservative Surrey councillor.
He was last night extremely bitter about the Tory MP's 'badly-timed' intervention. Mr Dicks' comments 'encouraged the local authorities to go ahead with inflicting the punishment', Mr Sherrard-Smith senior argued. 'If you are representative of your country, it should be an informed opinion. I do not feel that his intervention was based on knowledge. He said the British public didn't want leniency. I am not sure how he consulted the public.'
The 50 'extremely painful' lashes along the length of Mr Sherrard-Smith's body were delivered by two prison officers as he lay stripped, face down on a mattress on the floor.
Mr Dicks insisted: 'I am satisfied that the judicial system in Qatar was operated in a perfectly proper way, and the punishment fitted the crime.'
Lawyer Stephen Jacobi of the pressure group Fair Trials Abroad, condemned the flogging and the FO's handling of the case. The British government's reaction contrasted with President Clinton's efforts to secure clemency for the American teenager Michael Fay, sentenced to six strokes of the cane in Singapore for vandalism. Fay's sentence was cut to four strokes after President Clinton's intervention.
'Our Government did not protest in public and we didn't have our Prime Minister talking to Qatar, where we have a great deal of influence, saying this must not happen,' said Mr Jacobi.
---
Follow-up: 28 November 2007 - 'My whole back felt like it was on fire'