Evening Post, Wellington, 22 February 1890
A Sensational School Incident
By Telegraph.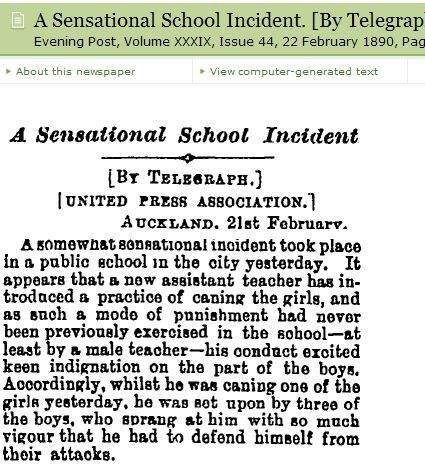 Click to enlarge
United Press Association.
Auckland, 21st February.
A somewhat sensational incident took place in a public school in the city yesterday. It appears that a new assistant teacher has introduced a practice of caning the girls, and as such a mode of punishment had never been previously exercised in the school -- at least by a male teacher -- his conduct excited keen indignation on the part of the boys. Accordingly, whilst he was caning one of the girls yesterday, he was set upon by three of the boys, who sprang at him with so much vigour that he had to defend himself from their attacks.
Country files: School CP in New Zealand