Washington Post, 14 November 2005
School Beatings Draw New Scrutiny in Africa
By Emily Wax
Washington Post Foreign Service
(extracts)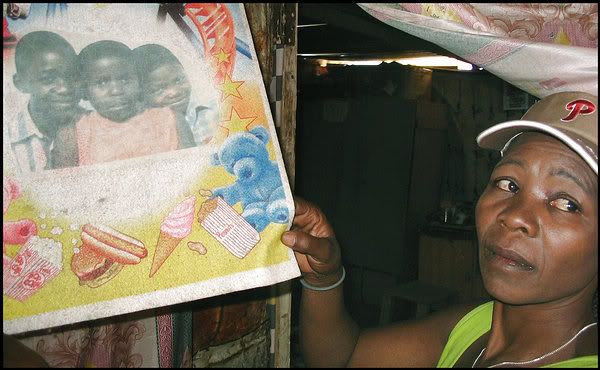 Kapurunje Uirab, 13, is shown in the middle of a group of three boys on a poster his mother, Rita Uirab, had made to publicize his plight. (Photos By Emily Wax -- The Washington Post)
KATUTURA, Namibia -- When Kapurunje Uirab, 13, was accused of stealing a classmate's cell phone, his sixth-grade teacher beat him with a heavy metal pipe until he could barely walk. His family took him to a clinic where he was treated for lacerations and sore kidneys, according to medical records.
"It really hurt to move my legs," said Kapurunje, speaking by phone from the distant town of Rundu, where he now attends a different school.
"He had bleeding welts on his back and more on his legs," said his mother, Rita Uirab, 40, a housekeeper. "And his face, it had changed from a boy's face to a serious face of a man. We had to do something."
Corporal punishment was far from unusual at Olof Palme primary school, where most classrooms had a metal pipe, goatskin whip or wooden paddle leaning in one corner. If students got a math problem wrong or arrived late, they could be beaten.
Recently, this long-accepted tool of classroom discipline has come under unprecedented scrutiny, in part because of cases like Kapurunje's, in which the teacher was convicted of assault after the boy's mother filed charges.
Corporal punishment is practiced across much of Africa. And as Kapurunje's case illustrates, tradition remains a powerful force in determining what educators, officials and parents view as the proper way to raise and control children.
In many African societies, authority is rarely questioned, wife-beating is permitted, and women and children have low status. Underpaid teachers with little training -- many of whom were once beaten by colonial schoolmasters -- must handle classrooms with as many as 100 students.
"I wasn't doing anything wrong or that other teachers or parents hadn't done," said Kapurunje's sixth-grade teacher, Aaron Tjatindi, 34. A wiry man with glasses and a neat mustache, he said he only pinched and hit the boy lightly. "There are a lot of teachers who think our professions are no longer safe," he said.
[...]
Many educators staunchly defend the tradition. After the case of Kapurunje Uirab was decided against Tjatindi, who was fined one year's salary, worth $8,330, the local teachers' union held protests, saying some beatings were justified. Other teachers' groups have suggested rules that would at least permit them to strike unruly students on the palms.
[...]
Accusations of Theft
On a sunny October morning in 2004, the students at Olof Palme assembled around the flagpole in the courtyard, according to teachers and students. The school, named after a slain Swedish prime minister, is the largest in Katutura, a township of 200,000 outside the capital, Windhoek.
Dressed in blue uniforms, the students stood in perfect rows for the daily ritual, they recalled. The teachers, as they did each morning, led the singing of the national anthem, made announcements and ordered disciplinary measures against students who had broken the rules.
On this day, a female student was hysterical over her missing cell phone. In front of the assembly, she accused Kapurunje and his friend Leslie Urikhole, 15, of taking it.
Tjatindi later said he was embarrassed to hear that two of his students were stealing. He had beaten both boys before, but not severely. This time, he said, he lost patience. He called them from the assembly and led them to his classroom while the other students watched.
"I brought the two boys in front of the class and demanded to know if they took the phone," Tjatindi said in an interview, his voice hoarse. "They said they didn't take it. They had to be taught right from wrong."
What happened next is the subject of dispute. Tjatindi said he pinched the boys on the arms and hit them lightly, but he denied in court that he had hurt them. Students in the class said he struck the boys with the pipe for several minutes. Teachers said they noticed both boys limping later that day. Both boys said they were clubbed repeatedly.
"I said nothing and just focused on trying not to cry, because I knew the other kids would laugh if I did," Kapurunje said in the telephone interview. "We didn't take the cell phone. So I thought this truth would be found out soon."
In school the next day, the girl complained again, saying her parents would beat her if she didn't find the phone.
Tjatindi punished the boys a second time, taking them outside to be whipped. Some of their classmates came out to watch, cringing at the sound.
"In front of everyone, I started to cry," Kapurunje said. "I couldn't stop, because it felt like fire on my legs."
Afterward, both boys went home. When Kapurunje arrived, said his sister Maria, 22, she noticed that his legs were dragging and his back was bent.
"I asked him . . . 'Why are you walking all wobbly?' " she recalled. "Then I looked at his back, and I was shocked. I made him lie down."
That night, said his mother, Rita, Kapurunje cried out in his sleep, "Please don't hit me!" After her employer urged her to get help, she took the boy to a clinic, where his injuries were photographed. In the pictures, later used as evidence, his legs and back were covered with thick red welts.
"I hated being beaten like that," Kapurunje said from Rundu. "The teacher never listened to us when we said we didn't steal. He just hit us."
Later, it emerged that the girl had lost her phone and was afraid to admit it.
'No More Violence'
Julia Hangula, the principal of Olof Palme, is a lively, petite woman of 45 with frosted gray hair. She once lived in New York and is addicted to "Oprah." She thinks of herself as modern and says she opposes "teaching with the rod."
But during five "painful" hours of testimony in Kapurunje's case before the High Court of Namibia, she said, she admitted that she knew some teachers were practicing corporal punishment. Both embarrassed and enraged by the public controversy, she called a staff meeting.
"We are no longer hitting at this school," Hangula said she told the teachers. "We must find other ways to punish the students." The next morning, she warned students that they would still be punished if they misbehaved -- by having to clean the school grounds or weed the garden.
[...]
Rudolph A. Kamburona, 52, a retired educator and former legislator from Katutura, said many teachers were forced to endure beatings by colonial schoolmasters and are simply passing on a tradition of strictness. "It's a hard reform to make, because the older generation believes that today's children are spoiled," he said.
Kamburona, who once taught Tjatindi, said the teacher was not a bad man. But he added that he was not surprised by what happened, "because I beat him in my class, just like the white teachers beat me. They would say, 'You must learn by the leather strap.' "
One group missing from the corporal punishment debate has been parents. The families of Katutura are working-class poor -- housemaids, ranch hands, cement mixers at construction sites. Many are afraid to question school authorities or are embarrassed to expose their own illiteracy.
In her 20 years as an educator, Hangula said, she has rarely met with a parent. Even when she requested meetings to discuss a student's problems, she said, the parents rarely attended.
"The parents worry that they can't read well enough" to help with homework, Hangula said. "This adds to the discipline problem. The teacher is in full responsibility to enforce rules with the child. There isn't a history or culture here of involving the parents."
Rita Uirab, whose children all attended Olof Palme, said she had always been afraid to visit and had never made a complaint until Kapurunje's beating.
"I never went to the school because I didn't want to disturb the teachers," she said. "None of the parents go. We don't feel it's our right."
[...]
© 2005 The Washington Post Company