The Star, Kuala Lumpur, 9 May 2006
Dad jailed 54 years for sodomising daughter
MUAR: A father of four children was sentenced to a total of 54 years in jail and ordered to be caned 24 times on three counts of sodomising his 12-year-old daughter.
The 32-year-old furniture factory worker pleaded guilty to the charges before Sessions Court judge Norazlan Ahmad yesterday.
The offences took place in the family house at about 2pm on April 21 and on two other occasions on April 23.
Norazlan sentenced the man to 18 years' jail and eight strokes of the rotan on each charge, with the second and third sentences to run concurrently after the man had served the first jail term.
Earlier, the man pleaded for a lenient sentence and for the jail terms to run concurrently.
He said he had a wife, four children and an aged and sick father to care for.
Deputy Public Prosecutor Wirna Arifin asked for a deterrent sentence as the man had committed a very serious crime against his own daughter.
She said he should receive the maximum jail sentence of 20 years on each charge, the sentences to run consecutively, besides whipping.
© 1995-2005 Star Publications (Malaysia) Bhd (Co No 10894-D)
---
---
New Straits Times, Kuala Lumpur, 10 May 2006
Man gets 20 years' jail for causing death during robbery
MUAR: It is 20 years' jail and 12 strokes of the rotan for an odd-job worker found guilty of armed robbery and causing the death of a trader.

Yeoh Kang, 54, who traded in pangolins, received a telephone call that someone had pangolins for sale.

He and his 23-year-old daughter went to the appointed place, where the accused, Ahmad Sulaiman, 37, was waiting with a plastic sack.

However, the sack contained not pangolins but two coconuts.


Ahmad pulled out a parang, held it to Yeoh's neck and robbed him of RM2,000, a handphone worth RM400 and a RM300 wristwatch.

He handcuffed Yeoh and pushed him into the boot of his car, while his daughter was bundled into the rear seat.

Ahmad then drove the car to Kampong Teratai, near Bukit Serampang, followed by an accomplice on a motorcycle.

When they reached the village, Ahmad made a U-turn causing the car to skid and land in a ditch. Ahmad then fled with the accomplice on the motorcycle.

The woman freed herself and found her father dead in the car boot. A post-mortem found he died of suffocation.

In the Sessions Court yesterday, judge Mohd Fauzi Mohd Nasir jailed Ahmad eight years for causing the death of Yeoh near the Spring Quarry in Sagil here at 10pm on Oct 19 last year, and 12 years' jail and 12 strokes of the cane for armed robbery.

Ahmad, who was unrepresented, pleaded guilty to committing the offences with another man still at large.

Assistant Superintendent Lim Ah Bah, prosecuting, told the court that Ahmad, who was arrested on April 6, had a string of criminal offences. He urged the court to impose a deterrent sentence because a life had been lost.

Ahmad pleaded for leniency, saying he had to support a sick grandmother.
Copyright © 2006 NST Online. All rights reserved.
---
---
The Star, Kuala Lumpur, 11 May 2006
Jail and rotan for drug possession
PENANG: An unemployed man was jailed 12 years and ordered to be whipped 10 times by a High Court after he admitted to an alternative charge of drug possession.
Japar @ Jaafar Hasan, 40, admitted possessing 7.54gm of heroin and 13gm of mono-acetylmorphines in a house at Jalan Bagan Ajam, Butterworth on April 26, 2002.
He was originally charged with trafficking in the drugs.
Judicial Commissioner Abdul Rahim Uda ordered Japar, represented by V. Partiban, to serve his jail term from the date of his arrest on April 26, 2002.
© 1995-2005 Star Publications (Malaysia) Bhd (Co No 10894-D)
---
---
New Sabah Times, Kota Kinabalu, 18 May 2006
Court Beat
40 illegal immigrants to serve between three and six months
By Mariayati Murshidi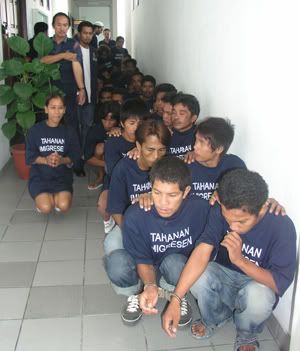 The illegal aliens were sentenced to jail for various immigration violations
KOTA KINABALU: A total of 42 foreigners were sentenced to between three and six months' jail by the Sessions Court for committing various immigration violations.
One of them, Basaud Andum, 50, was given six months' jail by Judge Caroline Bee Majanil as it was the former's second offence for entering the country illegally.
Basaud would not be caned due to his age.
Prosecuting officer C/Insp. Tan Hiap Wah told the court that Basaud was convicted on July 12 2002 and was jailed four months for a similar offence. He had been blacklisted by the Home Ministry.
When he was arrested on May 4, at about 9.30 pm at Kampung Tanjung Kapor, Kudat, Basaud did not have any document.
Another 23 foreigners were sentenced to three months' jail and given a stroke of the rotan except a woman and a 54-year-old man, also for illegal entry.
A total of 18 men were each given three months' jail for overstaying while another also received a similar jail term for possessing a fake IMM13 document.
The foreigners comprising Filipinos, Indonesians and Pakistanis aged between 20 and 54 were arrested in Kota Kinabalu, Penampang, Putatan, Ranau, Kudat, Ranau and Keningau in the past one month.
They will be deported after coming out from prison. Clarence Moncigil from the Immigration Department and C/Insp. Tan Hiap Wah carried out the prosecution.
Copyright © 1999-2000 New Sabah Times. All Rights Reserved.
---
---
The Star, Kuala Lumpur, 25 May 2006
Fruit seller jailed six years for having cannabis
MUAR: The Sessions Court here sentenced a fruit seller to six years' jail and ordered that he be given 10 strokes of the rotan for drug possession.
Ahari Aliman, 26, who was jointly charged with his wife Norhashimah Ibrahim, 24, pleaded guilty to possessing 261g of cannabis before Judge Norazlan Ahmad yesterday.
Norhashimah claimed trial.
The couple were arrested when a police team raided a house in Kampung Terus near Panchor on April 20 last year.
During the trial, Norhashimah, complained to the court that some policemen harassed her when they accompanied her from Kluang to the Muar police station.
Judge Norazlan then allowed her counsel K.T. Lee to lodge a police report on the matter.
[...]
? 1995-2005 Star Publications (Malaysia) Bhd (Co No 10894-D)